30.6.20
Our latest consultation is around computing. We are reflecting on the learning of all things IT, as well as internet safety. We would love to hear your thoughts.
There are two surveys below which we would really appreciate you taking the time to complete. It will help us evaluate the quality of our computing curriculum as well as understand more about the IT activities our pupils enjoy.
We will also take this opportunity to ensure our pupils are keeping safe on the internet.
Parents/Carers, click here for your survey
Pupils, please click here for your survey
We thank you for taking time to provide this valuable feedback.
Our Curriculum
At Irlam Endowed, from Y1, our pupils follow the National Curriculum. This clearly sets out the objectives to be taught throughout Key Stage One (Yrs 1 & 2) and Key Stage Two (Yrs 3, 4, 5 & 6). Prior to that, the children follow the Early Years Foundation Stage Curriculum in our Nursery and Reception classes. Please click on the links below to read in more detail what your children will learn about and when.
We have also pasted the Year group long term curriculum overviews, so you can see the topics your children will study.
If you have any further queries over the school's curriculum, please email the school or speak to the school's Headteacher or Deputy Headteacher.
The curriculum is divided between three phases - Foundation Stage, Key Stage One and Key Stage Two. The Foundation Stage curriculum is wholly thematic and cross-curricular based on the Early Learning Goals.
At Key Stage 1 and 2, the curriculum is predominantly thematic with some subject specific work.
All pupils from the age of 3 have experience of and study the core subjects of English, Mathematics and Science at a level appropriate to their age and ability. The school holds daily Mathematics and English sessions for children from Reception onwards.
Pupils also cover an appropriate curriculum in the foundation subjects of History, Geography, PE, Music, Art, Design Technology, Information Technology and RE. All the children will have to study a Modern Foreign Language.
Play is an integral part of the Foundation Stage curriculum, decreasing in importance as the children progress through the infants. The curriculum is based on the National Literacy and Numeracy Strategies, the National Curriculum and is enhanced by LEA and school priorities.
Reading starts in the Foundation Stage through games and book sharing packs sent home. Home readers then come from the reading stages and regular guided reads in school promote essential learning. We follow the phonics programme 'Letters and Sounds' which is integrated into daily literacy lessons.

Regularly throughout the year, children's reading and maths are tested, and continuous teacher assessment ensures pupils' work is matched to their abilities. A thorough process of target setting for each child is ongoing in order to set up the next steps of learning.
Classes are of mixed ability and pupil groupings are flexible dependant upon the task. Children will sometimes work independently, in mixed ability or ability groups or as a whole class. A variety of teaching approaches and strategies are used.
It is extremely important that home supports learning by completing homework, reading books and encouraging the children to have a positive attitude towards school.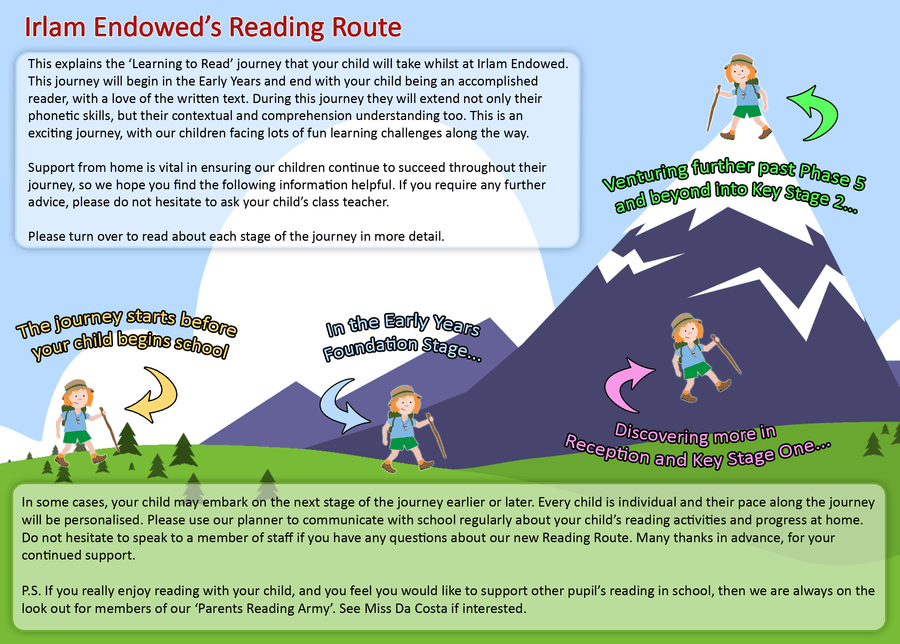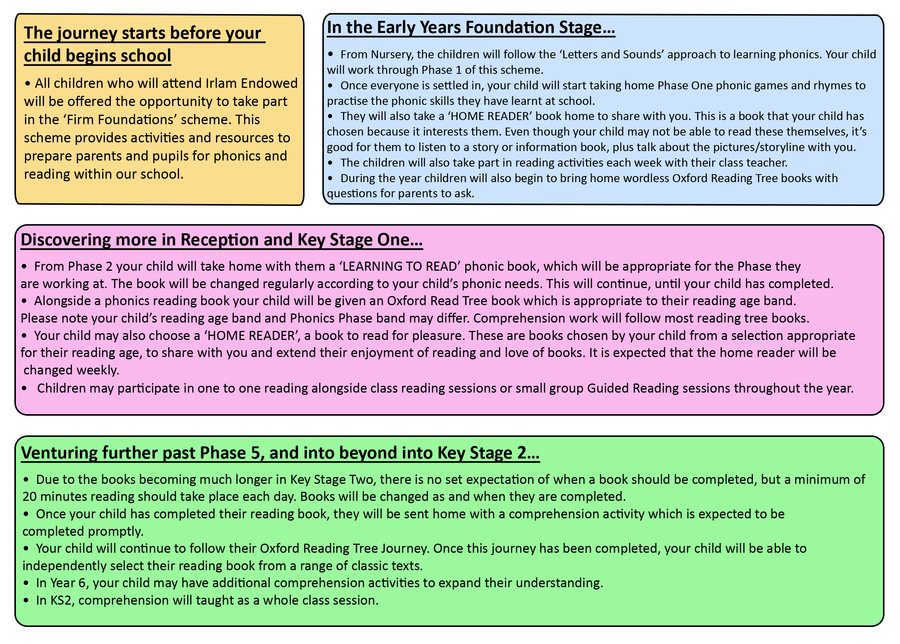 Our Year Plans for 2019 / 2020