Welcome to Irlam Endowed Primary School website!
This week's events and diary
Mon 13th – Y3 swimming
Tues 14th – Nursery Open Day
Wed 15th – Y2 Sharing Assembly
Thurs 16th – Rec to Y4 Flu Vaccines
Fri 17th – Chd in Need Day £1 – Wear spots
Harvest
Irlam and Cadishead Food Bank
As you know, each year Irlam Endowed take part in Harvest celebrations. The Trussel Trust organisation have expressed the need for non-perishable foods to provide to Irlam and Cadishead Food Bank. We have decided to make donations to this local charity.
The charity is asking for donations to give to families who are in poverty and unable to afford essential items. To show our support, we are hoping to collect donations to give to this charity. We have decided to allocate each year group with a food item to be donated, please see below for your child's year group.
Nursery – Rice
Reception – Rice pudding
Year 1 – Pasta
Year 2 and Language Resource– Tinned potatoes/Instant Mash
Year 3 – Tinned Tomatoes
Year 4 – Instant Coffee
Year 5 – Sugar
Year 6 – Biscuits
Thank you very much for your support, Mrs McMahon
Reminder that from September 2017, pupils in Y1-Y6 will be completing a running activity for approximately 10 mins, a few times a week. Due to this 'Daily Mile', we have advised that pupils may wear black trainer type shoes to school. This means they can participate in the activity without having to change shoes. Examples of the types of trainer/shoes which are appropriate are shown in the photos below. Anything similar, with black soles are acceptable.
Please remember that the children will still need to bring in a PE kit including pumps as usual, for their PE sessions.
100% Attendance Prize Draw
Well done to all of our 100% attendance prize draw winners!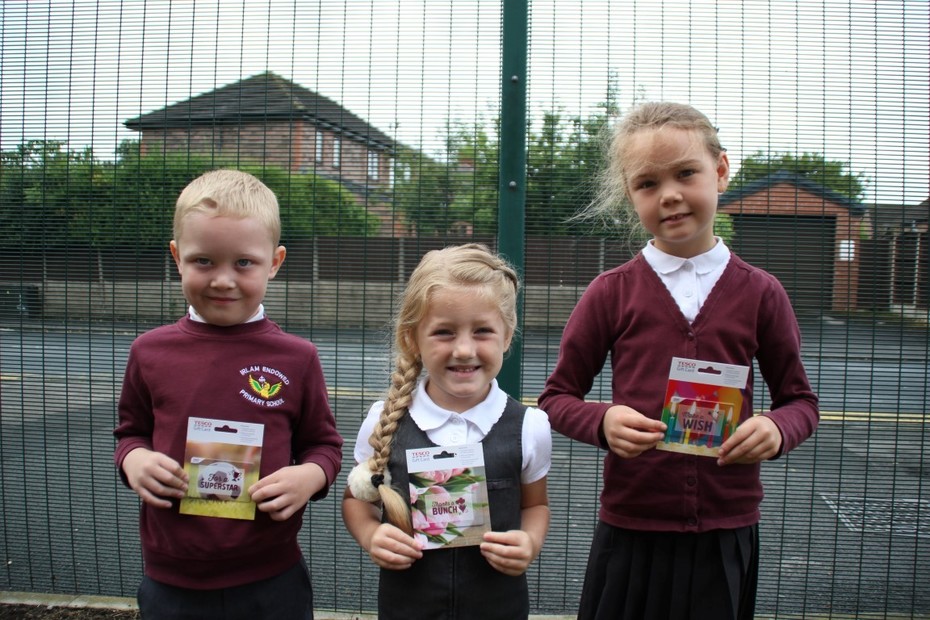 KS1
In first place winning a £25 Gift Card: Thomas (Reception)
In second place winning a £15 Gift Card: Lacie (Reception)
In third place winning a £10 Gift Card: Lilly (Year One)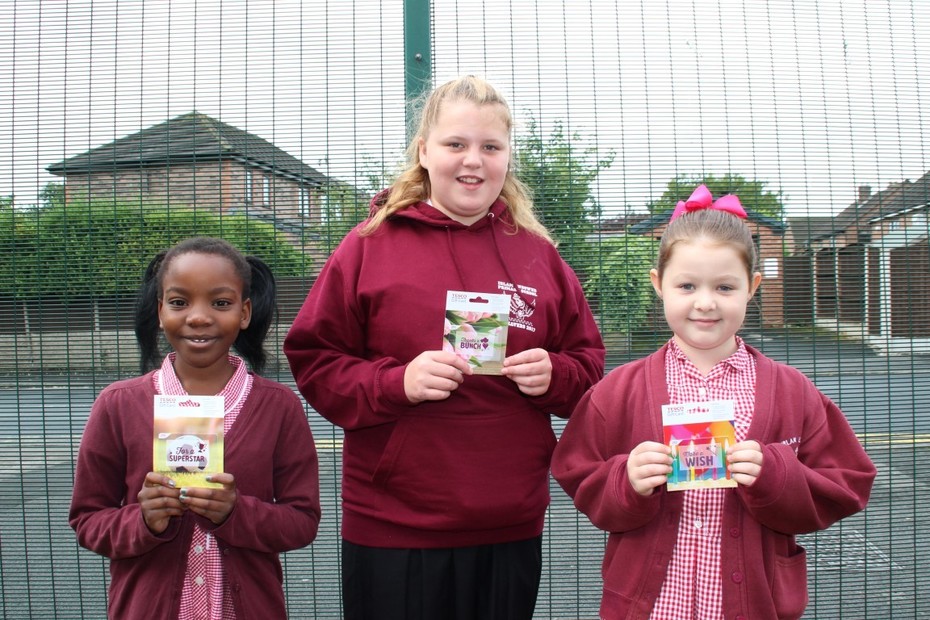 KS2
In first place winning a £25 Gift Card: Kgomotso (Year Five)
In second place winning a £15 Gift Card: Ruby (Year Six)
In third place winning a £10 Gift Card: Emily (Year Three)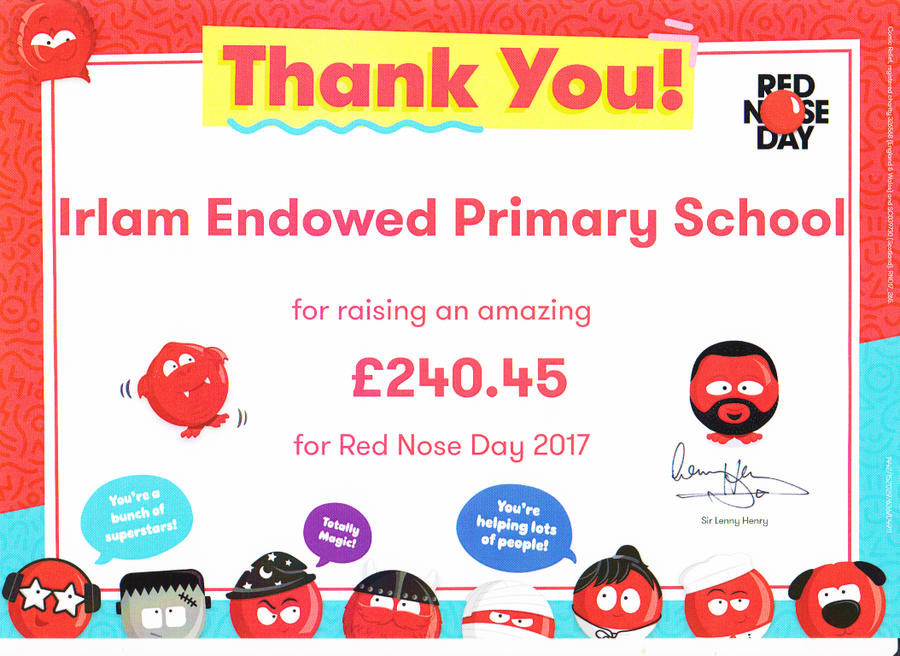 Red Pepper
This half term some of our families have been completing healthy challenges, with the health team from Salford. They have been learning about the different food groups. Here they are playing a game with the different foods. They have also been trying lots of new foods; hummus and vegetables and making our own wraps. They have had lots of fun while learning how to keep healthy.
Daily Mile
This term, children in Year 4 and Year 2 are trialling the Daily Mile. Every day children will do 15 minutes of non-stop jogging around the school field or playground. The Daily Mile is something that started in Scotland and the benefits to children's health and wellbeing are being widely reported. It is hoped that it will have a positive impact on the children of IEPS. If successful we will be looking at doing it in more classes next year.
Professor Brainstorm
On Tuesday 25th April 2017 Professor Brainstorm came to visit Irlam Endowed Primary School.
Year 1 and Year 2 had great fun watching the 'Magical Science Experience'. We particularly enjoyed the disappearing water trick. The exploding Pringles containers using liquid nitrogen gave us quite a shock too.
'Professor Brainstorm put liquid into the Pringle pot. The lid popped off and it really made me laugh'.
Melody Year 2
Year 3 and Year 4 were thrilled to watch the 'Amazing Sound and Light Show'. The 'Boomwhackers' reinforced our learning on sound and pitch from class. We enjoyed learning about optical illusions, especially with Einstein's face.
'I liked the sound experiments. Before I watched the show I had made a basic loom band guitar. But after I watched Professor Brainstorm's experiments I knew how to change the pitch of the strings on my home-made guitar.'
William Year 4
Year 5 and 6 really enjoyed the 'Fantastic Forces' show. They were especially pleased to see the famous 'Tablecloth Trick' and now know how they can perform this at home. They enjoyed watching the variety of powered rockets, especially the 'Potato Gun'.
'I liked how Professor Brainstorm used a tablet to launch a rocket. He added water to a tablet and as they mixed they made a chemical reaction. It produced so much gas that it shot the rocket off'.
Lily-Rose Year 5
After school we invited Nursery and Reception parents and carers to come along and watch the 'Magical Science Show' together with their children. We particularly enjoyed watching the effects of immersing bananas and flowers into liquid nitrogen.
It was lovely to see lots of other examples of fun, science activities that parents and carers can enjoy with their children at home.
'It was a fun and enjoyable way to explore science. My son loved getting involved with the sound experiment.'
Parent of a Nursery Child
Watch as our year one pupils star in the national sports promo video.
Click on link below to see latest guidance on keeping your child safe on the internet.
Scan the QR to see the latest events from school.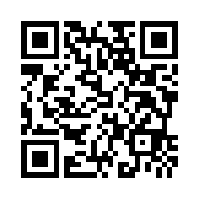 Scan to view our recent events
Page Translation
We now have the ability to have our website pages translated into other languages. If there are any pages you would like us to add this to please let us know at the office or email us on irlamendowed.primaryschool@salford.gov.uk.
Copyright Statement
The copyright of all material produced by pupils for display on the school's web pages belongs to the pupil and may not be copied without permission from the author. Copyright of other materials produced by the school on the website belongs to the school.
Latest School Events
There are currently no events.
Calendars page(s): School >>