Robinwood
6th - 8th February 2019
1.30pm
We've all had a fantastic time at Robinwood. A big thanks to all of our leaders Ben, Jake, Sash & Katrina, they were amazing! We've said our goodbyes and packed all of our stuff onto the buses and are on our way home. We're expected to be back at school before home time.
12.15pm
Just finished our last activities and are about to head for lunch.
11.10am
Forest are just finishing up in Archery. Corey impressed us all with 4 shots in the gold area!
The rain has added extra challenge to the challenge course for Wood and Hill, but that's not enough to stop them.
10am
Hill team have just escaped the dungeon of doom by the skin of their teeth. The heavens have opened up but it's not stopping Forests fun on the Zip Wire.
8.00am
Good morning! We are all up and are heading for breakfast.
9.30pm
All children settled in bed, nearly time for lights outs. Good night.
8.15pm
Lots of fun was had in our last activities of the day before team challenge, Climbing and Crate Challenge. We are having Lego rocket building challenge in team challenge and Devon's looks very impressive! Looking forward to the hot chocolate later.
5.45pm
Just finishing our puddings. Pictures soon of our last activities soon. Piranha pool and night line.
2.20pm
Forest has just finished on the challenge course and will soon be braving it through the nightline. Hill and Wood are getting their waterproofs on ready for canoeing after their turn on the climbing wall.
12.30pm
After a lovely lunch, we've just filled up on sugar at the tuck shop. Up next is the Challenge Course for Forest and the Climbing Wall for Hill and Wood.
11am
Hill group have mastered the art of caving, fought off a horde zombies and rescued a casualty from deep within the caves. Wood group are exploring a different cave and Forest are having a go on the Giant Swing.
9.30am
It's a bit rainy this morning but luckily we're indoors all morning. We are enjoying our first activity of the day, Hill and Wood in Archery and Forest in the Crate challenge.
7.20am
We're up and dressed and about to head to breakfast. We're very excited for the day ahead of us!
9.20pm
Some very tired teddies off to their beds after a fun packed team challenge and a hot chocolate and biscuit. Forest took the lead after some flips from Milly and funky moves from Freddie in the dance challenge. Night night for now, all in bed having a quiet chat, lights out at 9.45pm
6.30pm
Fish fingers or pizza is on the menu tonight.
5.50pm
Hill and Wood have just finished in the piranha pool and it was a close call. Harley almost lost a finger. They are getting showered now and soon we'll be lined up for the fire drill before going for our evening meal.
3.45pm
We are all together again and we are getting ready to begin the knight's quest!
3.20pm
We've just finished our second activities. Forest are in the showers after a lot of fun in the canoes on the Robinwood lake and Wood and Hill have just finished their turn on the trapeze.
11.45am
We've met our leaders and have been to our rooms to make our beds. We are just eating our lunch before we head to our first activity. Forest will be tackling the trapeze and Hill and Wood will be having a go on the Giant Swing.
10.40am
We have all arrived safely at Dobroyd Castle and are waiting to meet our leaders.
9.45am
We are all in the minibusses strapped in and ready to go and saying our goodbyes to the school until Friday.
"Robinwood, here we come!" - Corey
9.10am
We are all in and very excited. We are expected to set off at 9.45am.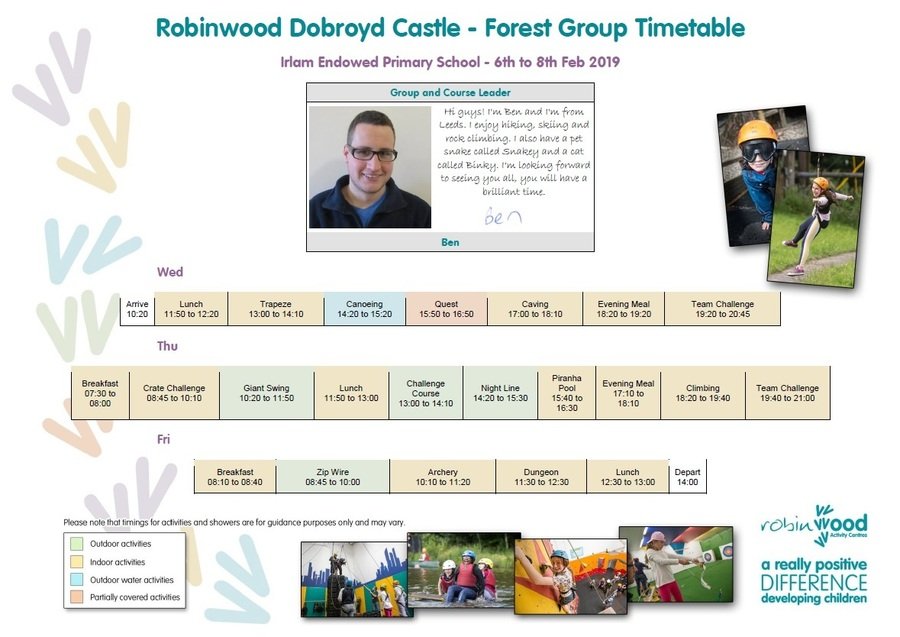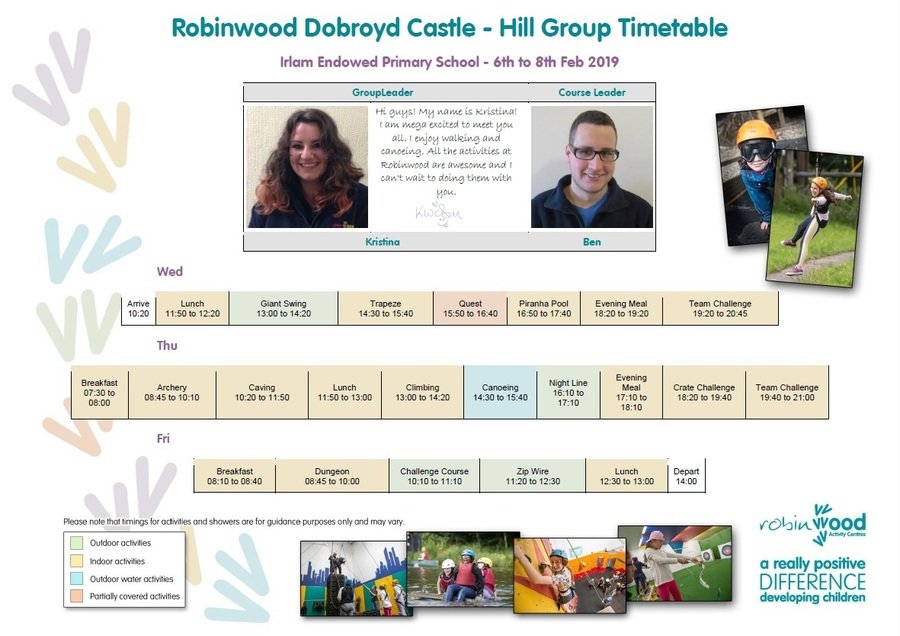 Suggested clothing list
3 T-shirts

3 Sweatshirts / tops

3 Pairs of trousers

1 Pair of shorts

6 Sets of underwear

6 Pairs of socks

1 Pair of trainers (indoor use)

1 Pair of outdoor shoes/boots

2 Towels

1 Coat (if required for the journey)

1 Warm hat

1 Set of nightwear

1 Bag of toiletries