PE and Sports
Home Learning
National School Sport Week at Home 2020
The annual National School Sport Week campaign takes place in the last week of June every year to celebrate the important role of Physical Education and school sport in enhancing young people's wellbeing.
These activities are good and designed to be done at home with limited resources and people.
https://www.youthsporttrust.org/pe-home-learning
Message from Manchester United Foundation:
Manchester United Foundation is committed to supporting the young people and schools that we work with. Following the government guidelines of staying home, we have developed fun and creative worksheets that incorporate educational themes such as healthy eating, maths and geography. The links are below. There will be a new worksheet and challenge each week, we are also in the process of setting up a webpage to house all the worksheets this should be live by the end of this week and I will share this with you once it is set up.
Worksheet: https://assets.manutd.com/AssetPicker/images//0/0/13/202/903748/Activity_Worksheets_Week_1_v21585652104082.pdf
Challenge: https://assets.manutd.com/AssetPicker/images//0/0/13/203/903988/Activity_Challenge_Week_1_v41585917580987.pdf
Running alongside this, our Foundation social media channels will continue to share engaging and inspiring content. There will also be two videos per week where coaches from across our projects will share fun challenges, skills or advice, so if the school isn't already, please follow us to benefit from those resources. We also plan on housing those videos on the webpage too.
For reference our social channels are below:
Twitter @MU_Foundation
Facebook @manchesterunitedfoundation
Instagram @manchesterunitedfoundation
Sport England have provided some useful ideas about how to stay active if you are at home.
They can be accessed from their website on https://www.sportengland.org/news/how-stay-active-while-youre-home
and https://www.sportengland.org/stayinworkout#get_active_at_home
Here are some great active learning videos to join in with. Great for if the children are getting stressed working at home to do something fun, active and cross curricular:
Active learning KS1
https://www.bbc.co.uk/teach/supermovers/ks1-collection/zbr4scw
Active Learning KS2
https://www.bbc.co.uk/teach/supermovers/ks2-collection/zr4ky9q
HELP DURING THIS PERIOD OF UNCERTAINTY
The Launch Project: Doing emergency packs for people self-isolating or finding it hard to get out 0161 883 3192
Salford Assist: People in crisis who don't have money for food or heating call 0800 694 3695
Costcutter Eccles: Offering free delivery for elderly and vulnerable 07958241154/ 07544371341
The Tatton: Ordsall Café. Hold the bread and butter project. Family Shopping from £7 0161 872 6011
Iceland Salford Precinct: Open for over 65's 9-11 on a Wednesday
If you are down to £4 on your gas and electric pay and go. You can phone your provider and ask for a fuel voucher. You can do this twice a year and don't have to pay it back. £40 credit will be given to you.
If you can't get baby formula, if you ring your local pharmacy they should be able to order you some. Or if you look on the back of the baby formula tin some have helpline numbers and they should be able to deliver some to you.
Keeping Active During School Closures
Year 6 Gymnastics Routine
Have been working on their whole group gymnastic routines. They are working together to try and create interesting routines that relate to what the whole group is doing.
Year 6 Dances
In Yr6 we have created our own dances to the theme of 'Synchronised Swimming' The music 'Blue Danube' by Johann Strauss II was used to inspire the movement. Children's use of formations, cannons and waves were used to make the movements. I also wanted the dances to have a comical element to them. Enjoy!
Coach Right UK Football Tournament
IEPS entered two teams to the inaugural Coach Right UK launch tournament.
This is a new league that is hoping to start soon and give regular level 2 competition for our footballers.
This will be a good chance to reward the 70 plus children who currently regularly attend our afterschool football clubs.
Yesterday 2 teams finished in 2nd and 5th place. Massive well done to all of our players who played with a good spirit and the right way.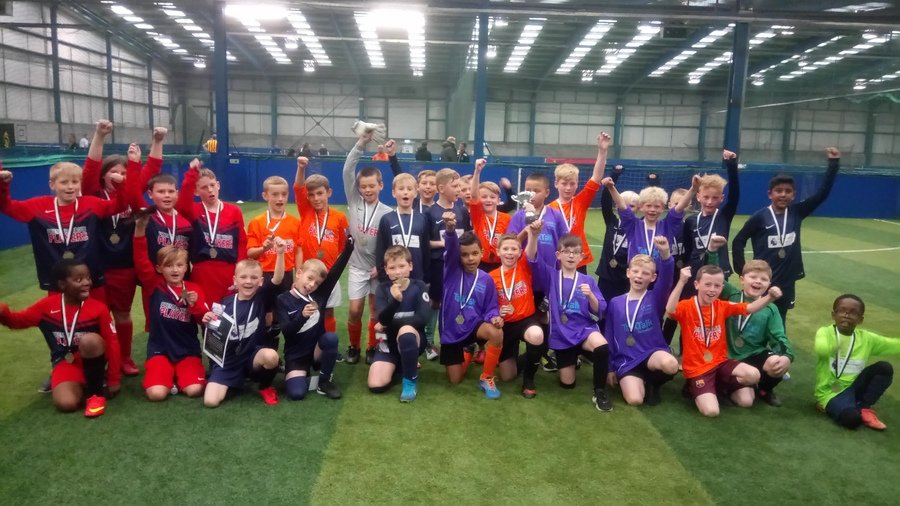 Quidditch - Fiddler's Lane
As part of our commitment to PE, other schools can book special days in their schools. St Joseph's and Cadishead have booked Leadership days where the juniors learn to host an infant sports day. Irlam Primary have booked a Rock-it Ball day for their upper KS2 in March. Last week, Fiddler's Lane booked a Quidditch Day.
This was a really big success and saw all of the children from Yr1 – Yr6 learn how to be seekers, beaters and Chasers. Just like in the Harry Potter books. Quidditch is a magical game where witches and wizards fly but it is also a game that muggles play now.
Here are some fantastic pictures showing the event.
Sportsperson's Dinner
The big night in the IEPS calendar is always the Sports Dinner and we have been running these events for 9 years now. Each year we try and get someone to support us from our new sports for the year. This year 2016/17, we introduced Freestyle (Olympic) wrestling. Charlie Bowling, who is about to compete for Team GB at the commonwealth games was our special guest this year. His club is not too far from us ; in Aspull, Wigan. Aspull Warriors train on Monday and weds nights (5:30 - 5:30 – 4-8 yrs and 6:30-7:30 8-12 yrs).
The event was jam packed this year with other 90 pupils from KS2 representing school in at least one sport. Some children were lucky enough to represent school in more than 10 sports which is a fantastic achievement.
Will you be there this year for our 10th Annual Sports Person's Dinner.
Irlam Endowed
The staff and children at Irlam Endowed's commitment to excellence of PE and school sports have been validated with multiple awards this year that once again highlight the excellence of our provision: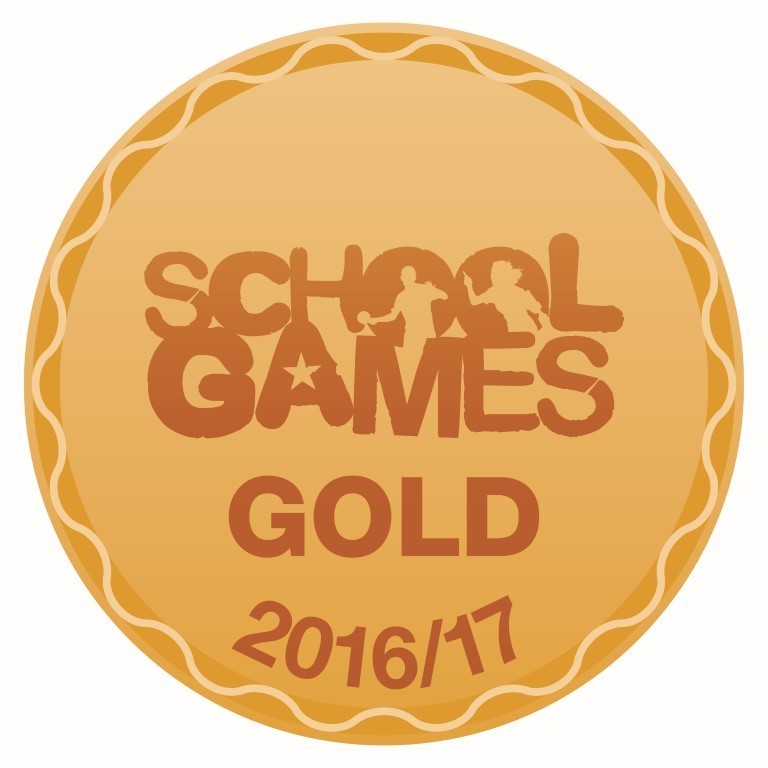 Gold Kitemark
Since 2013, Youth Sports Trust have awarded Irlam Endowed have been awarded the top award for PE and school sport. Again we have achieved Gold for 2016-17. However, we are one of 2 primary schools in Salford that are able to apply for an extra award this year. Platinum Award has been introduced to recognise schools who consistently achieve excellence every year. We should find out if we have successfully achieved this new award shortly.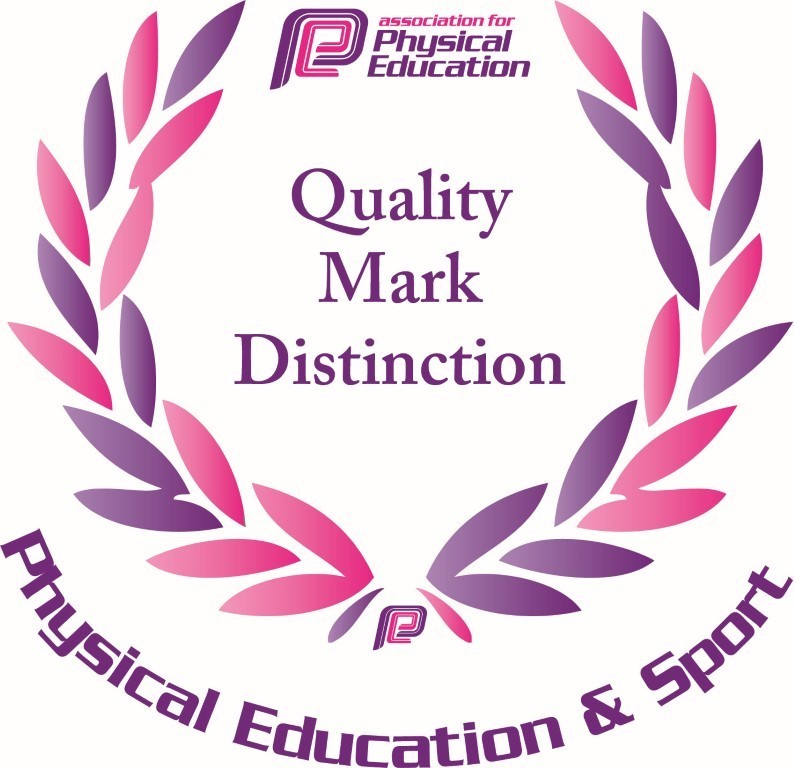 afPE Award with Distinction
This award is a three year award and it fully analyses the PE and School Sports provision for all children. It is the gold standard award and is the hardest award to achieve. Irlam Endowed were first awarded with this in 2014 and were the first school in Salford and only 1 of 12 schools nationally to achieve the award. We were assessed again last year and became the only school in Salford and Greater Manchester to be awarded this high standard. To achieve this there is first a lengthy application form to complete. The school is then visited by an expert from afPE who meets with the Headteacher and the PE lead, observes PE in school, speaks to the sports council and talks to children throughout the school.
The staff and children were delighted to have been given this prestigious award for another three years.

There are 5 primary schools (nationally), including IEPS, who have re-applied and gained Distinction for a second time.

The award means that we are a beacon school for other schools to receive support from. On her visit, Eileen Marchant (afPE assessor) was very impressed with the standards of the children's behaviour and the obvious passion for School PE and Sports shown by the children and all of the staff.
"For Irlam Endowed to gain this highest award for the second time is testament to the commitment of all involved with the school. Particular praise must be given to Mr Scrutton as he has continued to drive PE and School Sport forward for the benefit of the children at IEPS." Dean Gilmore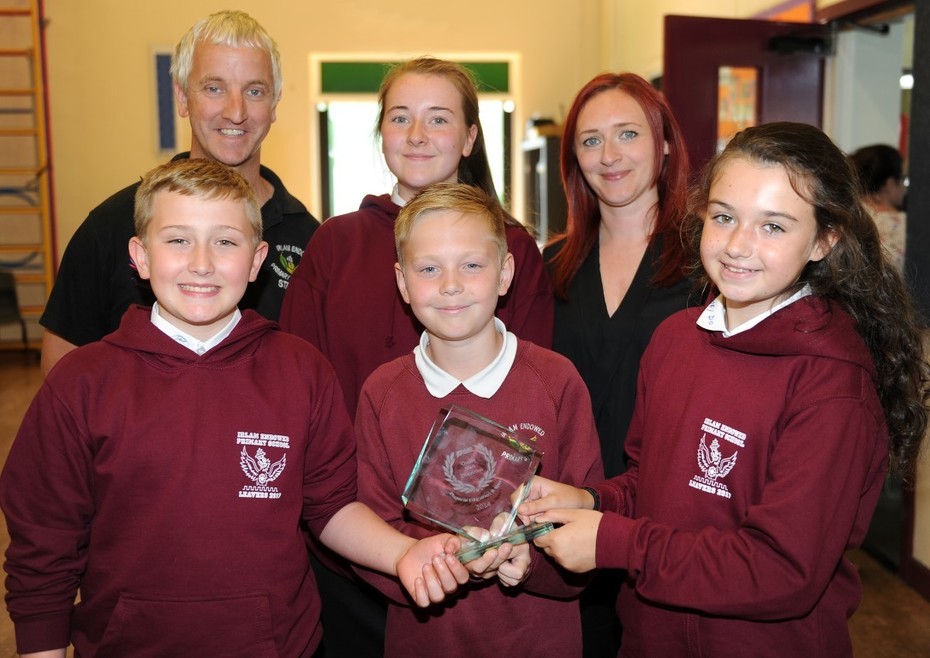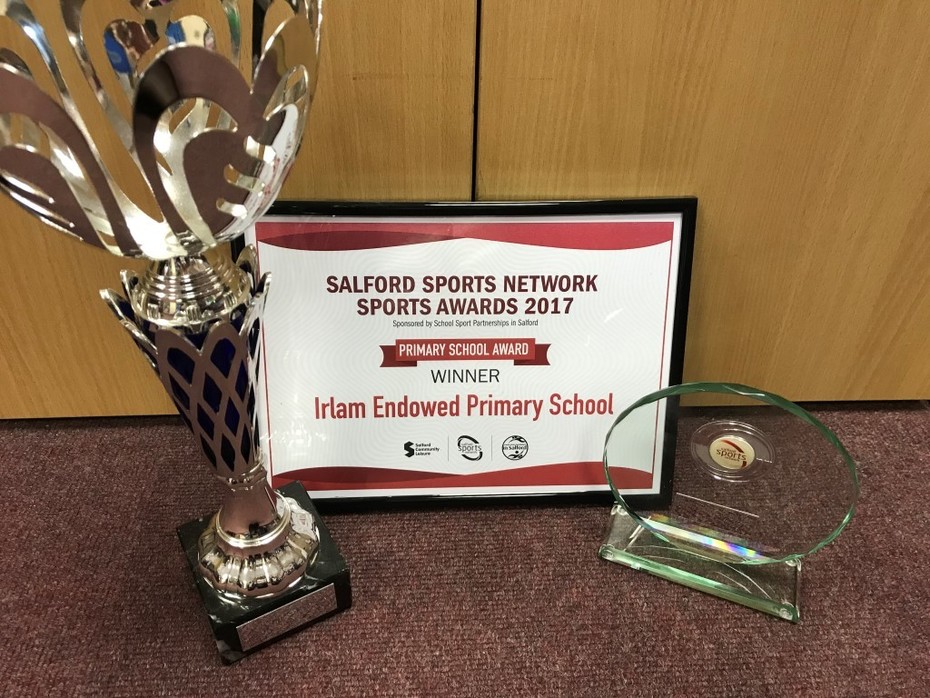 Salford Schools Network 'School of the Year'
In September Ms Da Costa and Mr Scrutton were invited to the Salford School's Network for the annual sports awards. It is the first time that there has been an education award for PE and school sports. We had been nominated for the School of the Year. We were lucky enough to win the Primary School of the year and then the Overall School of the Year too.
This is a great honour and would not have been possible without the commitment of the all school staff, parent's enthusiasm for PE and School sports and the fabulous children at our school.
We will be representing Salford at the Greater Manchester awards on Friday 17th November. I am sure you will wish us luck.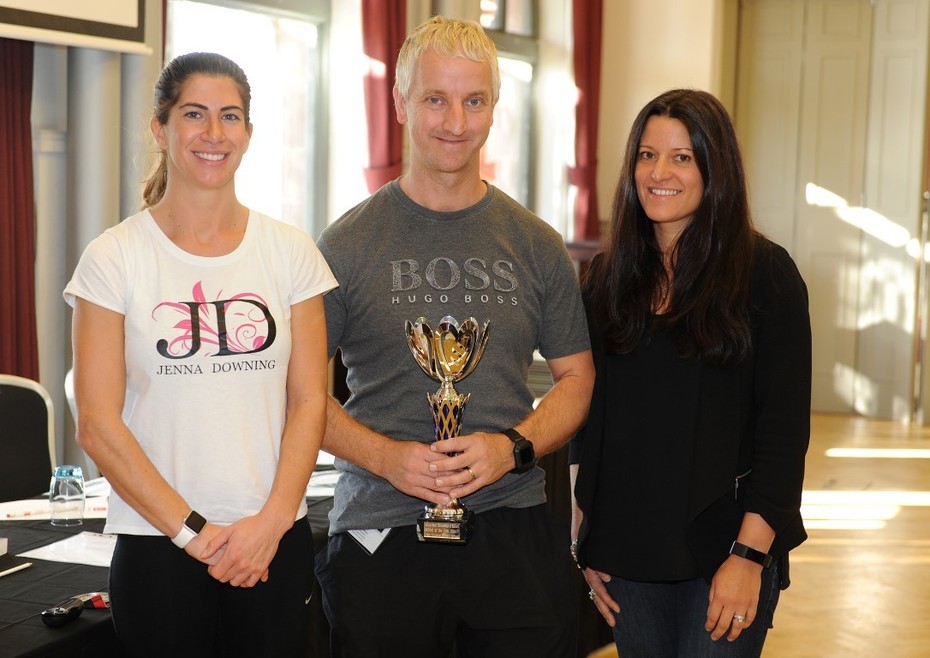 Basket Ball
In November, all 8 schools from Irlam and Cadishead met at Irlam and Cadishead College and competed in 3 hours of non stop basketball. The competition was very close with children trying very hard all afternoon in non stop action. Again, because there was over 100 children present, the competition was split into 3 leagues (a,b and c) with the winners from league A representing the cluster in the Salford final. The A league was very close with the result between Irlam Primary and St Teresa's (the last fixture in the league) being a decider and resulting in a narrow win for St Teresa's. The B league was won by Irlam Endowed and the C league being won by St Mary's (their first win in a cluster competition. Well done to all involved
Quick Sticks Hockey
Irlam Endowed entered three teams in to the Irlam and Cadishead Cluster Quick Sticks tournament. It was a cold afternoon, hosted by Irlam and Cadishead College who generously lent us use of their Astroturf facility.
Over 90 children played 3 hours of nonstop action. Because of the amount of teams present the competition was split into three tiers with the winners and runners up of the cluster competition going through to the Salford finals.
It was a great afternoon with the standard of hockey getting better every year. Irlam Endowed won a clean sweep finishing as winners of group a, b and c with St Teresa's coming a close second. Both schools went through to the Salford finals where St Teresa's showed even greater improvement by getting to the final and losing narrowly to Bridgewater Primary School
Well done to all of the teams.
BMXing
This term Yr1 children have been learning to ride BMX's at the National cycling centre. This is where 'friend of the school' and professional Team GB BMX rider 'Quillian Isidore' trains. The children use balance bikes (small bikes without pedals) to learn how to balance on two wheels. Once they have mastered this they move onto the humps and bumps to ride like the professionals.
Not only have the children learnt to become more stable on two wheels but they have learnt to be resilient as they have fallen off, dusted themselves off and got back on again. They have conquered any fears they might have had. This should help the children in school to have more confidence when doing their cycling proficiency and riding proper BMXs in Yr6.
Summer games 2017
Our Tri-Golf team were superb this year winning their Salford Final at Albert Park. This meant they were lucky enough have the 'once in a lifetime' experience of representing Salford at the Annual Summer Games. The event starts with an opening ceremony at the Etihad stadium. After this they went to the Armitage Centre a world class venue to compete against other regions.
Cricket - Girls Team
Back in the Summer our brilliant girls represented the cluster at the Girls' annual Salford competition. The competition was very tough but there was some great cricket played and the girls enjoyed the afternoon very much. Tournament organiser Mr Dean Gilmore said 'all the girls played with great determination and spirit.'
Girls Futsal
Last years' Girls Futsal at the power league soccer dome. The girls are improving all the time and representing the school excellently.
Tri Golf
The children at our school are amazing. At the cluster Tri-golf they demonstrate this again by showing their brilliant leadership skills by hosting and leading the Tri-golf competition at ICC. A great afternoon was enjoyed by other 100 children. Well done Year 5.
Wrestling
Our new sport this year was Wrestling. Yr2 and Yr4 had 10 hours of curriculum time sessions and Ks2 had 5 hours of afterschool curriculum time sessions. 8 children were lucky enough to compete in a Salford final and some children even won their competitions. There are 4 children who have gone on to join their local wrestling clubs from this. Well done to all involved.
Cricket Festival - Year 5 Leaders
In the summer of 2017, the year 5 children from Irlam Endowed led the children of Irlam and Cadishead in an afternoon of cricket activities. It was a great success and children from all 8 schools had the opportunity to improve their catching, throwing, hitting and fielding skills as well as play cricket like games in competition.
The level of leadership shown by the 9-10 yr old pupils shows how important leadership skills are at Irlam Endowed and the children did a brilliant job making sure the other children were safe whist having fun and learning. Well done to all involved.
Archery
The sporting calendar at IEPS doesn't just reward the children who excel in Sport but also has opportunities for all children to compete against children from other schools. One such tournament is the archery tournament. One of the rules of the archery tournament is that only children who haven't competed in any other tournament can play.
The game is played in teams taking it in turns to move up a snakes a ladders board by hitting a number on the archery board. They have to try and avoid the snakes and be the first to 100 to win.
It is a lovely competition where all the teachers and adults get stuck in and help out.
Here are some great pictures:
Rugby
Another great Salford tournament for Yr3/4 was held at the AJ Bell stadium. 3 teams from Irlam and Cadishead all featured and reached the semi Finals (Irlam Primary, St Teresa's and IEPS). St Teresa's and IEPS met in the final and could not be separated. They finished 2-2 at final time. The game had to be decided with a golden goal with one player being removed every 1 minute. A goal could not be scored until the two teams were left with two players. St Teresa's broke away at this point and scored.Its great to have such strong teams always making the finals in Salford competitions and it is a credit to the clusters strength.
Altringham Ice Rink
As Part of the family active project, 15 families from Irlam Endowed Primary School enjoyed an evening at Altringham Ice Rink. It was a fantastic evening of family fun.
Skills2achieve
Watch as our year one pupils star in the national sports promo video.