100% Attendance Prize Draw for the Last School Term
Well done to all of our 100% attendance prize draw winners!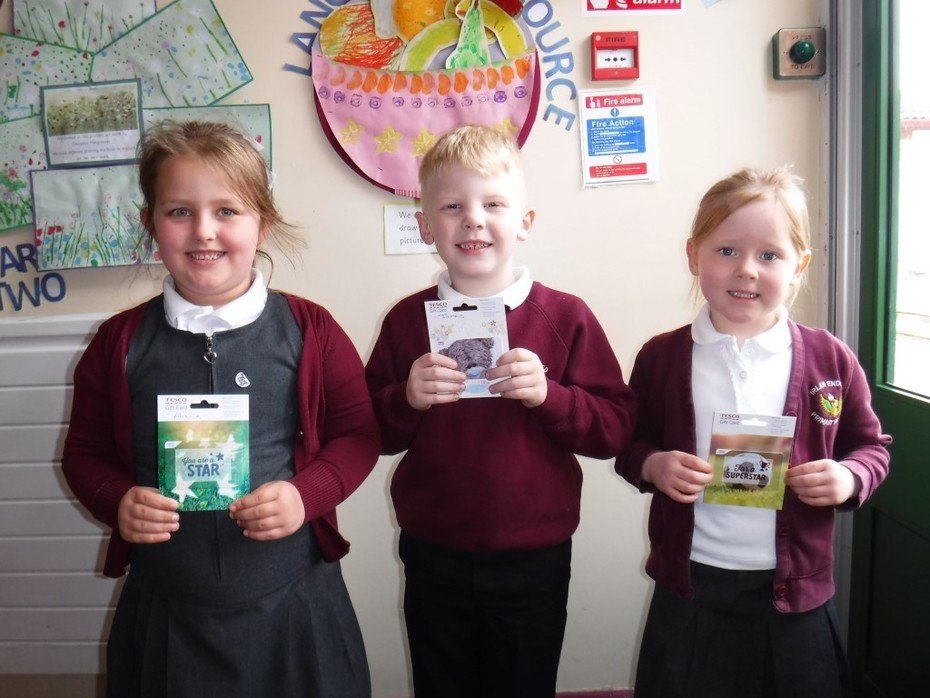 EYFS + KS1
In first place winning a £20 Gift Card: Alissia (Year One)
In second place winning a £15 Gift Card: James (Year One)
In third place winning a £10 Gift Card: Molly (Nursery)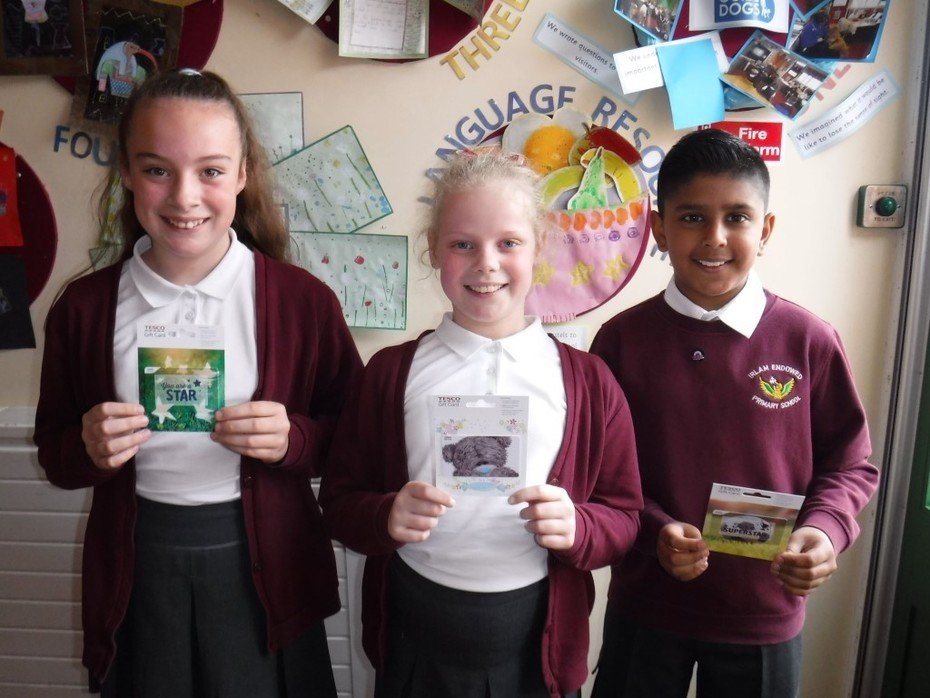 KS2
In first place winning a £20 Gift Card: Milliejane (Year Six)
In second place winning a £15 Gift Card: Sophie (Year Four)
In third place winning a £10 Gift Card: Naveen (Year Four)

Collect Your Coloured Badges and Certificates Each Half Term for 100% Attendance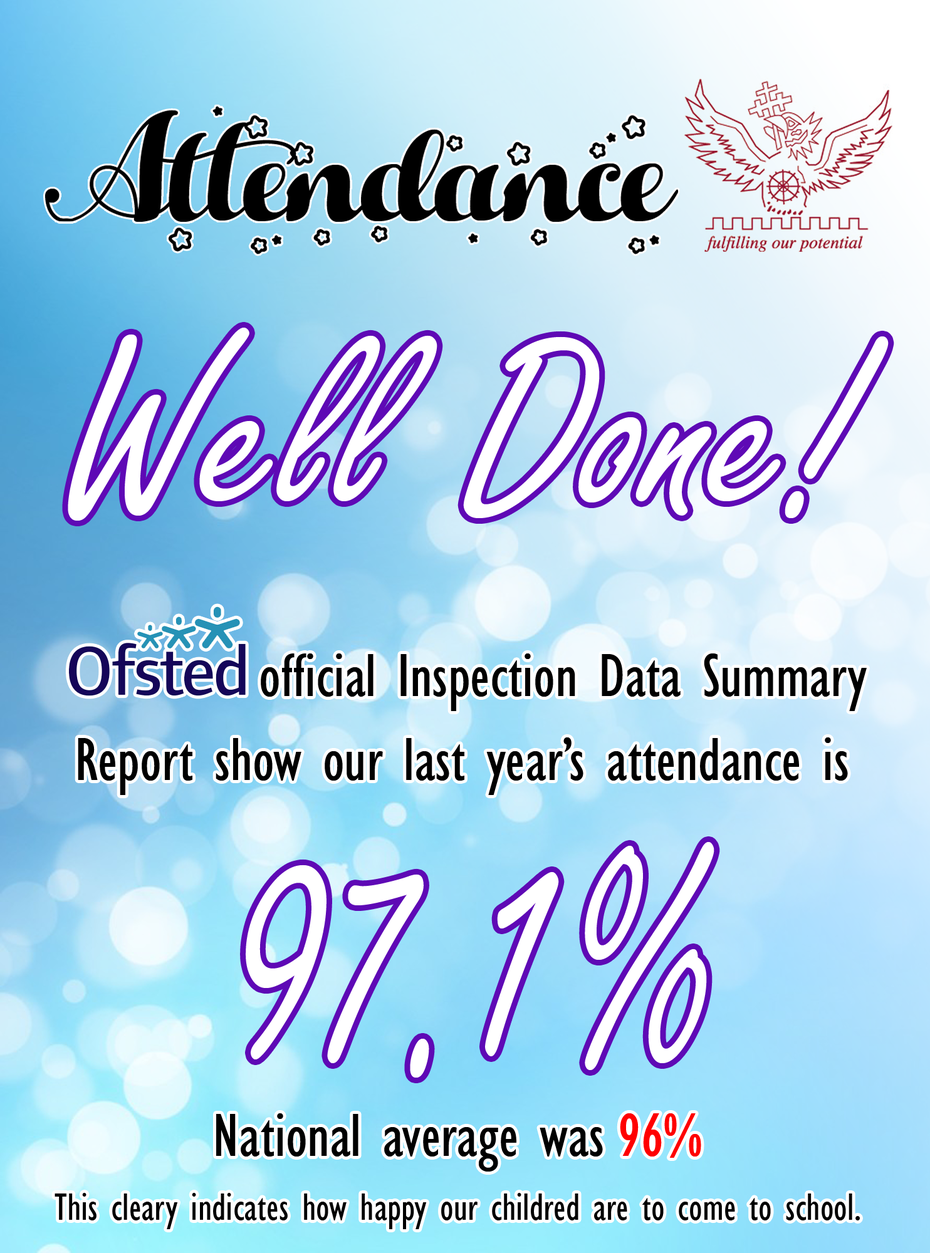 Our Weekly Percentages

Week

Nursery

Whole School

1

96.1%
92.9%

2

97%
96.4%

3

99%
97.8%

4

93%
95.7%

5

6

7
The National average is above 95%

Well done to this week's class attendance winners!
Year 5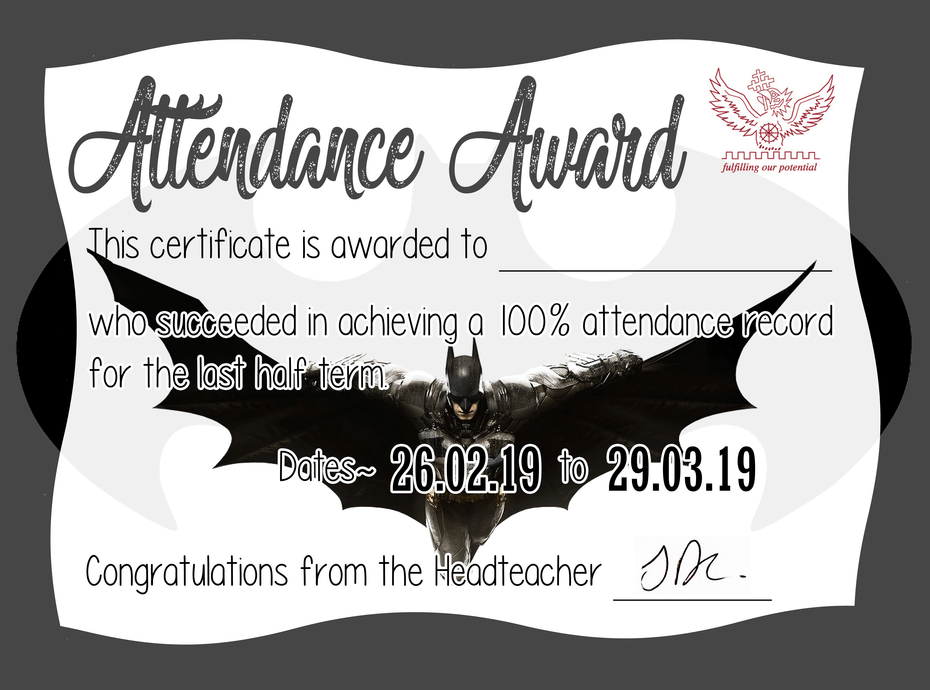 As parents, you have a legal responsibility to ensure that your child attends school and that they are punctual. Registers are monitored each term and letters sent to parents of pupils whose attendance and punctuality is deemed to be unsatisfactory.
We actively encourage good attendance by regularly presenting certificates and awards to those pupils who have good or improved attendance. This year's school attendance figures can be found on the school profile website.

Should your child be absent through illness, it is essential that they bring a note to school upon their return or that you leave a phone message with the secretary. If we fail to receive notification of your child's absence, it will be recorded as unauthorised and may be viewed as truancy which will result in you receiving a visit from the Education Welfare Officer.

We thoroughly discourage the taking of annual holidays and short breaks during term time as this may mean your child will miss some vital work which they will not be able to make up. Staff will only be able to provide work for children who have missed work through long term illness.

If you are planning a term time holiday of any length please submit the request in writing to the Headteacher, stating the dates your child/ren will be absent from school. Please take the time to read the term time holiday policy below.

There may be unavoidable times when your child will arrive late. It is essential they report to the school office on arrival to obtain their attendance mark.

The class register closes at 9.10am. After the school bell indicating the start of the day, all the children enter school and walk down to their classes. The children's entrances will be locked at 9.05am to safeguard the pupils. Parents arriving with their children late will not be able to accompany them to class. A member of staff can take them plus any message to their teacher. If you need to speak to your child's teacher about an urgent situation, then inform the school secretary, otherwise the teacher will contact you at the first opportunity. Staff are usually available at the end of the day to speak to parents/carers, please organise this at the school office too.