Our Trip To The Magma Science Adventure Centre
Year three had a fantastic trip to the Magna Science Adventure Centre. The children took part in a wonderful magnets workshop in which the children sorted scrap materials into magnetic and non-magnetic. The children found out about the history of magnetism. Furthermore, the children played games and attracted and repelled with simple toys. The children got to race toy cars by using a magnet to move the car without touching it.
The children explored the centre, there were lots of different places to visit such as air, fire and earth. In the air section, the children got to go inside an air balloon and explore the different activities they absolutely loved it. When the children got to fire they were so amazed at seeing a fire tornado. In the earth section, the children got to drive diggers. It was such a brilliant day!​
This half term our topic is Mighty Metals. For homework, year three were asked to pick and complete a mighty metals task such as metal artwork, my perfect playground, investigating surfaces or robots of the future. The children created some impressive work.​
In Geography, we have been learning about sustainability. Firstly, we discussed what being sustainable means. We looked at a range of images and came up with some ideas such as being green and good to the environment. We found out the word sustainable means being able to do something forever without having a negative impact on the environment that supports life on Earth or on people living elsewhere in the world. We discussed ways of being more sustainable and we wanted to create posters to show the importance of sustainability. We wanted to encourage others to have a positive impact on our environment.
Art Day - Robots!
We had a great art day with Mrs Clare the children worked extremely hard creating some magnificent robots. The children experimented with different materials such as tinfoil, nuts, bolts and screws to create different effects. We explored shading and the children shaded different parts of their robots to make them stand out. We discussed what we liked about our work. The children were very proud of their amazing work well done year three!
Sharing Assembly
Thank you for coming to Year Three's sharing assembly the children did an amazing job sharing all their wonderful work. The children enjoyed showing off their magnificent homework projects and how they did them. Thanks to all the parents for all of your continued help and support. The children shared their wonderful performance poetry for the poem "My Shadow" it was fantastic. They also loved singing their favourite song planet earth, the singing and dancing from all children was phenomenal. I am extremely proud of them all!​
Science Investigation Forces
In Science, we have been investigating how things move. We wanted to find out how far a toy vehicle travels on different surfaces. The surfaces we decided on were grass, carpet, lino, wooden and stone. We completed our enquiry and made predictions about what we thought would happen then we carried out our investigation. We used a graph to record our results and to show how far the vehicle travelled on different surfaces. We used metre sticks to measure the distance. Then we wrote our conclusions about what happened. We found out friction is a force generated when surfaces move across each other and that friction is a force that slows moving objects. We found out the tougher the surface the more friction is produced and on smoother surfaces there is less friction.
Tremors
Our topic for this half term has been 'Tremors.' The children have thoroughly enjoyed this topic. In English, we read the story of Pompeii and acted out the story. The children have learnt of lots of new vocabulary such as wreckage, tremor, rumble, trembled, pumice, Mount Vesuvius and lots more. The children found the meaning of these new words in the dictionary. The children have investigated direct speech and how to use speech marks in their writing. The children created some wonderful dilemma stories using speech. Here is our English display.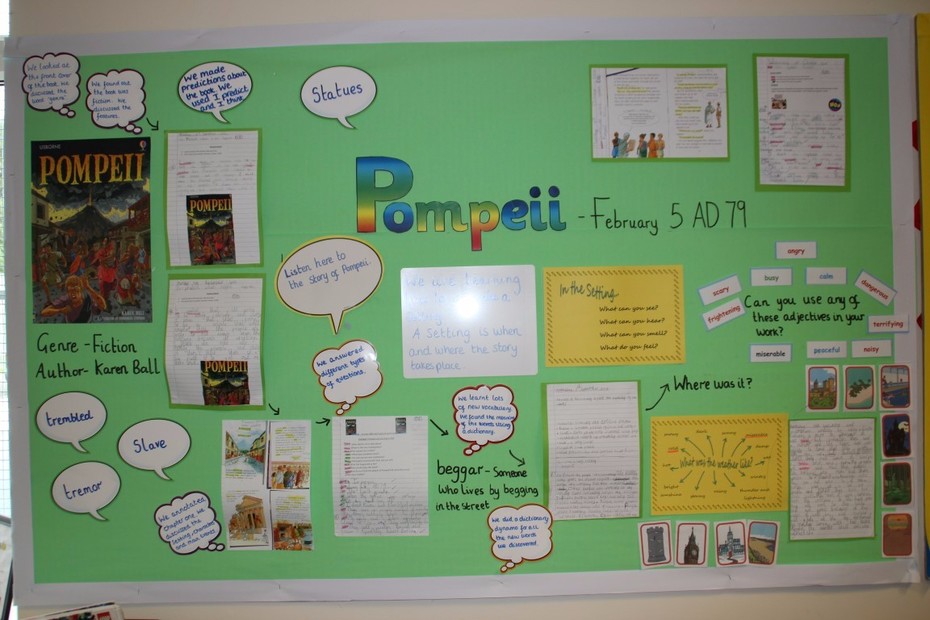 During our topic learning, we have learnt the different parts of a volcano. We have also used the internet to research volcanoes and earthquakes. Then we created our own power points. In addition to this, we have learnt lots about Mount Vesuvius. Here is our topic display.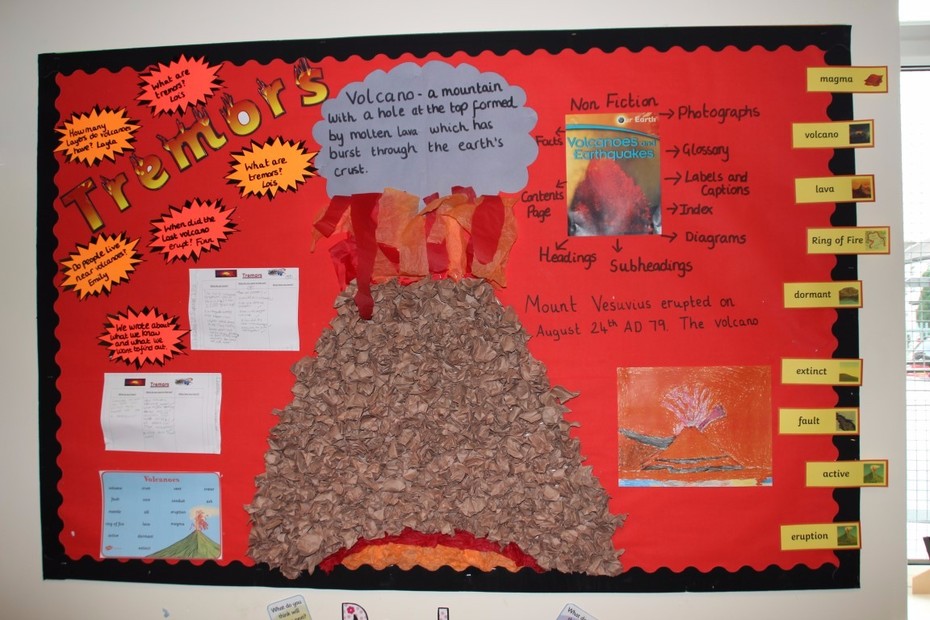 In Art, we investigated Andy Warhol's creation of Mount Vesuvius. We discussed the colours and techniques he used. Then we created our own versions. The children created some wonderful masterpieces!
Coal Mines
Year Three had a fantastic day at Wakefield Coal Museum. The children had a truly unforgettable experience and had an ex-coal miner as their personal guide. The children went in the cage 140 metres underground to discover first-hand what life was like as a miner.
"It was the best experience ever. I enjoyed going in the mines because it was dark and it was an adventure and I learnt lots about the past" said Summer.
"I enjoyed going through the mine and using my light to guide me. It was very dark!" said Jamie.
"I liked going down in the cage to the mines" said Max.
"I enjoyed when the lift dropped really quickly. In the mine, I enjoyed getting a piece of coal and learning about the past' said Jake C.
"I enjoyed when we went down the coal mine and we learnt that little children at the age of six worked in the coal mines" Milly.
"I enjoyed going down in the coal mine and going through all the tunnels and learning about History. It wasn't very nice for people in the past working in the mines" explained Freya.
"Ten year old children were pushing a cart with lots of coal in. I wouldn't like to do that. It wasn't very fair on children in the past" said Finn.
Our Class Prayer