Giuseppe Arcimboldo
In order for us to stay healthy we have to eat a healthy, balanced diet which includes fruit and vegetables. The Italian painter Giuseppe Arcimboldo was famous for creating imaginative portrait heads made entirely of objects such as fruits and vegetables. We created our own portraits using this idea.
Healthy Bones
As part of our topic on Healthy Bones we have been looking at our different body parts. We drew around Alex and then labelled all the parts of the body we could name.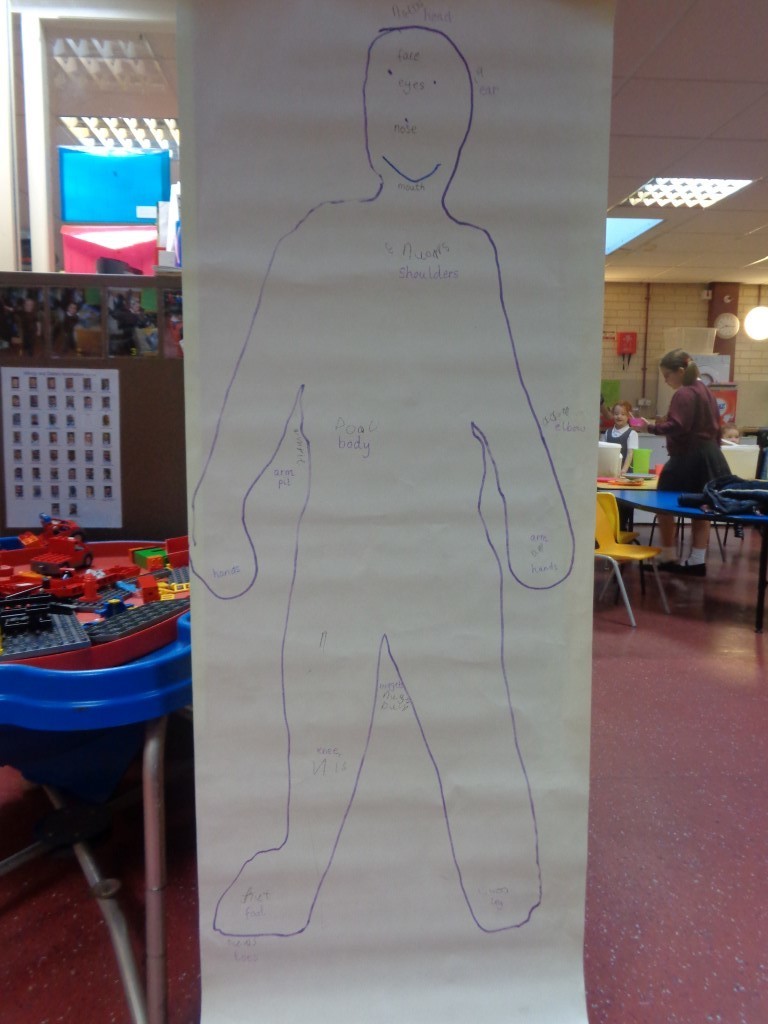 We used pasta shapes to make skeleton bodies, just like big skeleton and little skeleton from the book Funny Bones which we have been reading.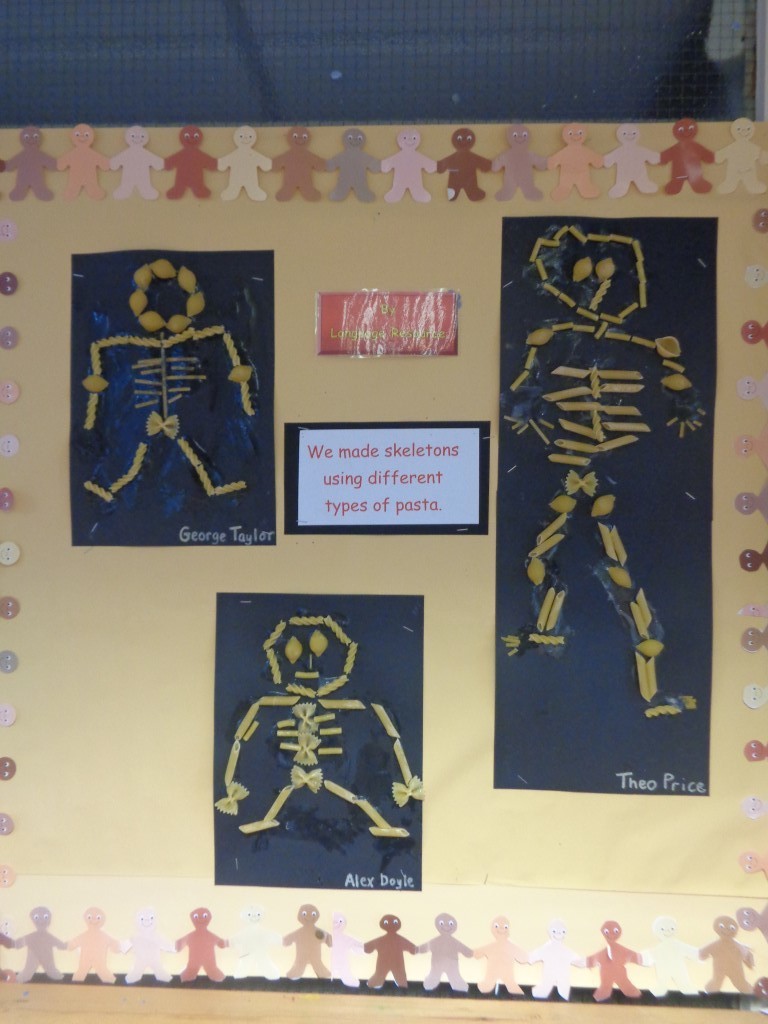 Remembrance Day
As part of our History / British Values work we have found out about Remembrance Day. We learnt that on Remembrance Day we think of all the soldiers who have died fighting in the wars. We wear poppies as during World War 1 the soldiers remembered seeing poppies growing in the fields near to the battlefields.
We looked at a painting of poppy fields by the French painter Claude Monet. We painted our own poppy fields in the style of Monet.
The Good Samaritan
In RE we have been learning about Christianity and how important the bible is to Christians. We have read different stories from the bible. One of our favourites was The Good Samaritan. We acted out the story and talked about the message in the story - how we should always help each other.
Art
During Art sessions this half term we created owls using different materials and techniques. We painted owls, used autumn leaves to create a collage and even used felt and other fabrics sewn together and then stuffed to create 3d Owls. Cole and Jenson tried very hard with their sewing.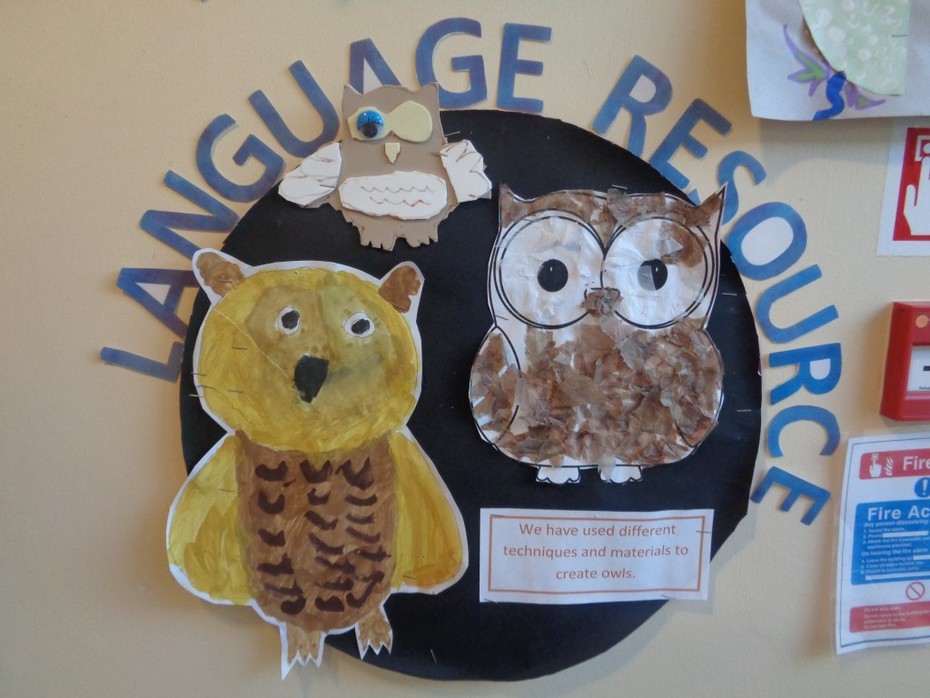 Olly The Owl
In class we have read the book Big Bad Owl. In the story Scowl the Big Bad Owl sits on a grumpy branch when he is feeling grumpy. We have our own grumpy branch in our classroom. We have shared what makes us feel grumpy and pulled our best grumpy faces.
Theo and James pulled very grumpy faces!
We have also added other words to our branch which we can use instead of grumpy, such as mad or cross.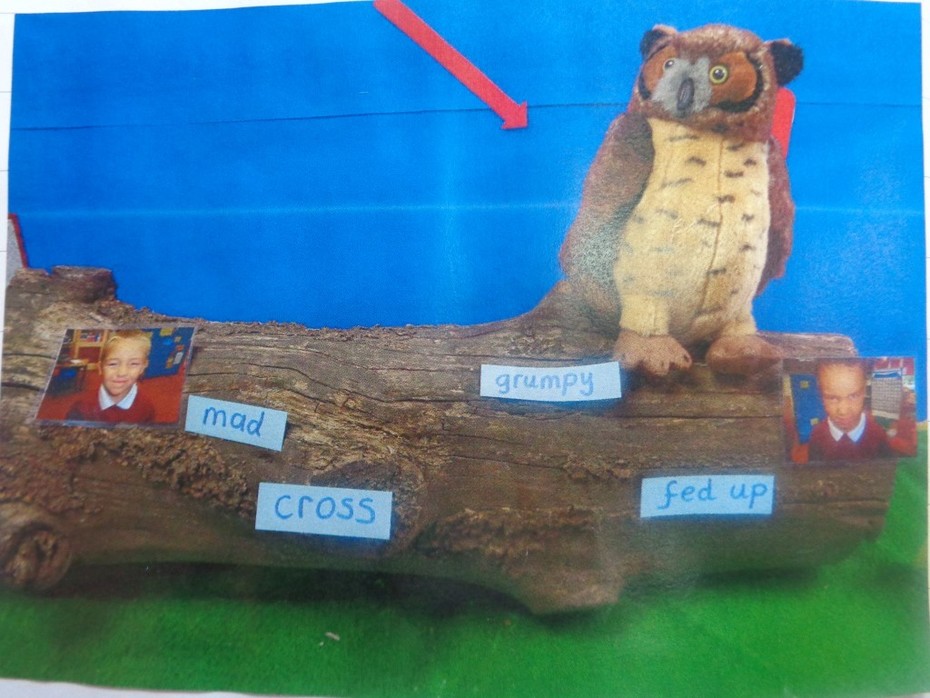 Our Class Prayer