London Y4
8.01pm
Just passing through the toll booth. Back at 9.15pm.
First rain we have seen.
Please do not park outside the school gates. The coach needs to park up.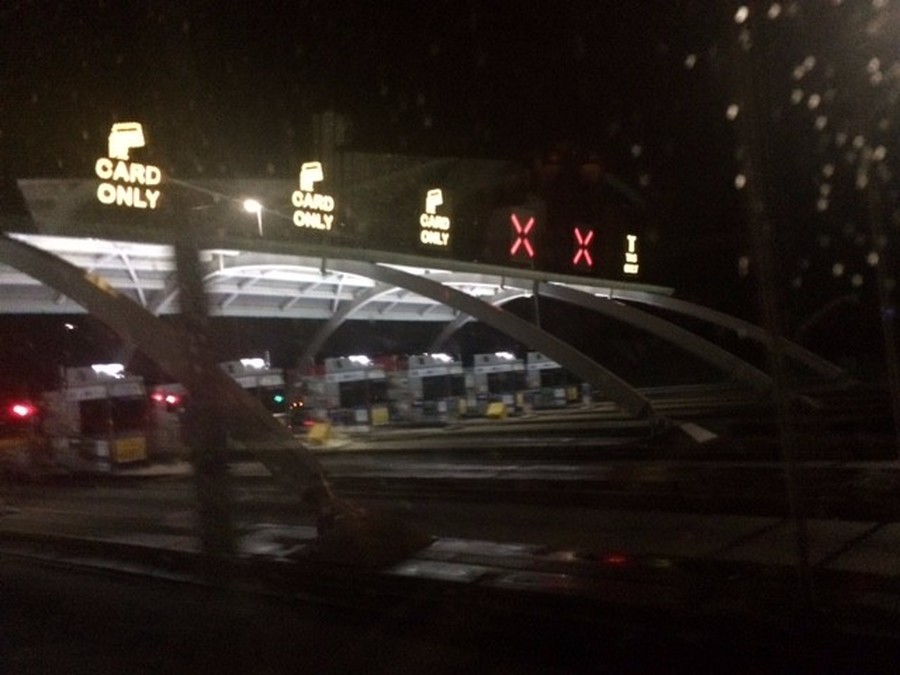 7.45pm
Just finished our tea at the services.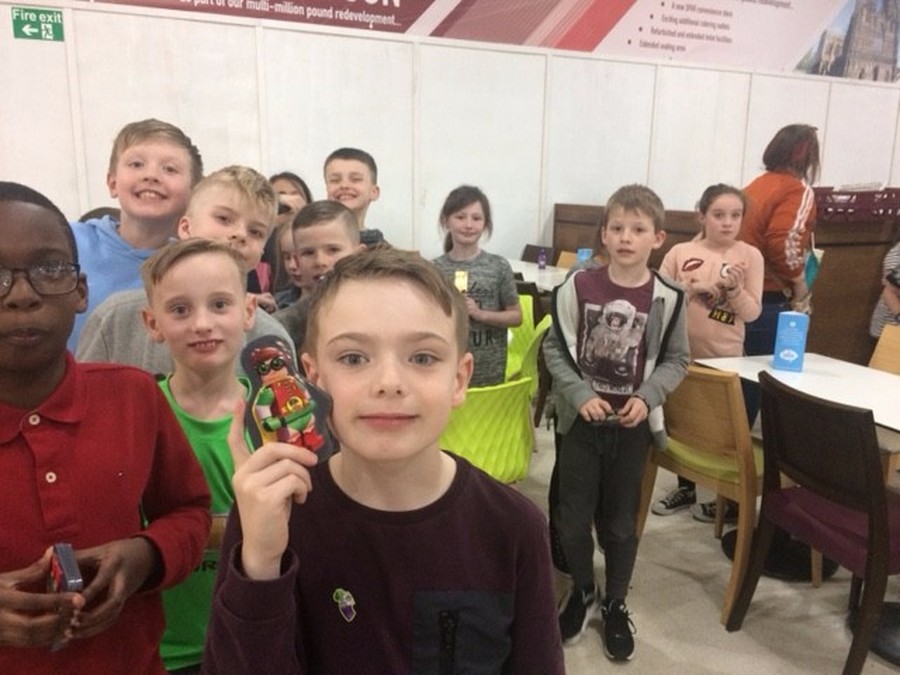 5.45pm
We have passed Cambridge and are due to arrive at Norton Canes for our Macdonalds at about 7pm. We have changed where we are stopping because we have come a different way home out of London.
4.14pm
We are all back on coach again now, and are on our way home. We have had an amazing time and loved every second. See you all later. Keep watching the blog and for texts about expected time back.
3.44pm
Mrs Degg was the last one to come down the slide. Everyone loved it, but it was scary.
3.15pm
Arrived at the Arcelormittal Orbit. Unbelievable views of the Olympic stadium.
We are walking round the platforms and then some of us are braving the slide.
2.09pm
We are back on the coach now, heading to the east, to the Olympic Park.
2pm
Just finishing our dinner in Jubilee Gardens near the Eye.
1.02pm
On the Eye, great fun!!!
12.46pm
Queuing to get on the London Eye, all 135m of it!!!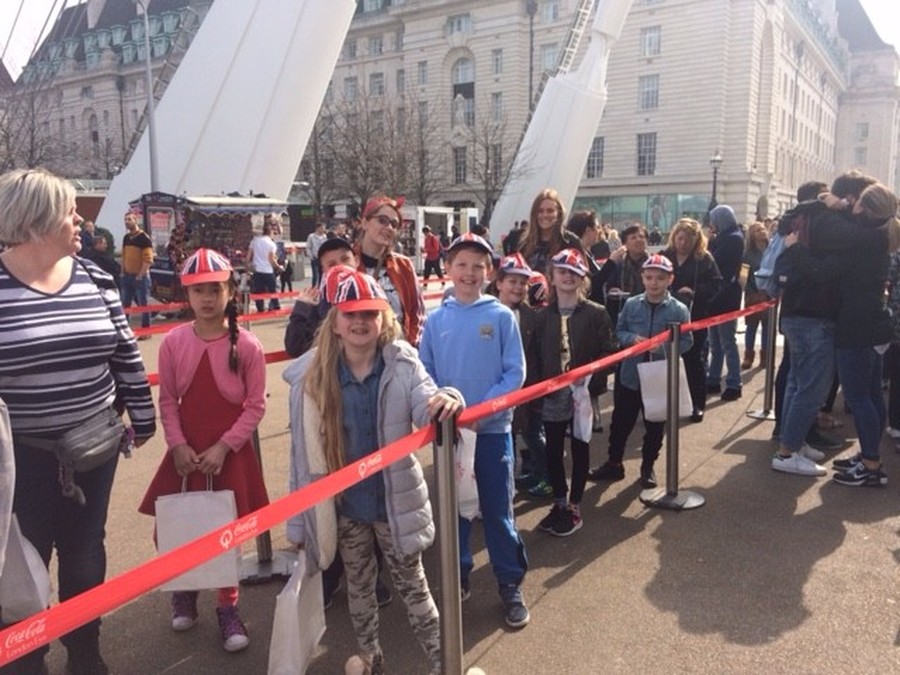 12.10pm
Seeing amazing sights in London- the Shard, Tower of London, Tower Bridge.
11.47am
We are on the Thames cruiser now, travelling down the Thames, spotting all the landmarks.
11.30am
We are hitting the souvenir shops buying ourselves lots of presents.
10.31am
Arrived at the Eye. Miss Dacosta is getting the tickets, so we are admiring the wonderful Thames view. Can you spot Big Ben?
9.45am
Royal coach just passed us.
9.37am
Arrived at Buckingham Palace. The Royal Standard flag is up! This means the queen is in today. Lots of important people arriving. (Mainly us!)
9.14am
We are all on the coach heading for brekkie with the queen.
8.28pm
All eating breakfast, cereal, toast, Nutella, fruit etc etc. Lovely spread!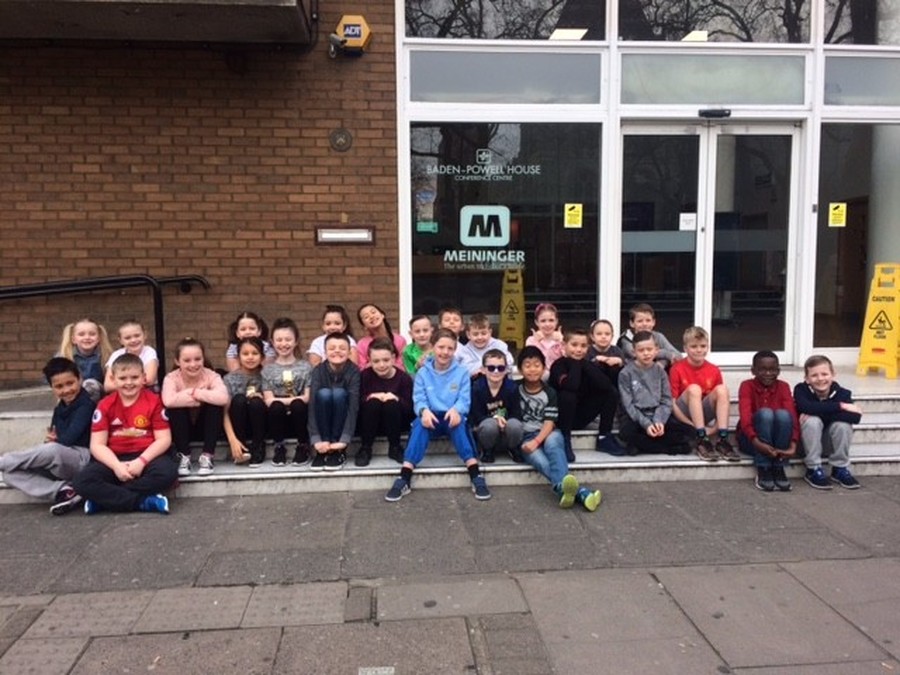 7.35am
Some of us are still having our hair done (Miss Smid), but the rest of us are out the front getting some 'fresh' air outside the hotel. Waiting for breakfast / it's at 8am. We have already seen Ray, our driver, he has gone to collect our coach.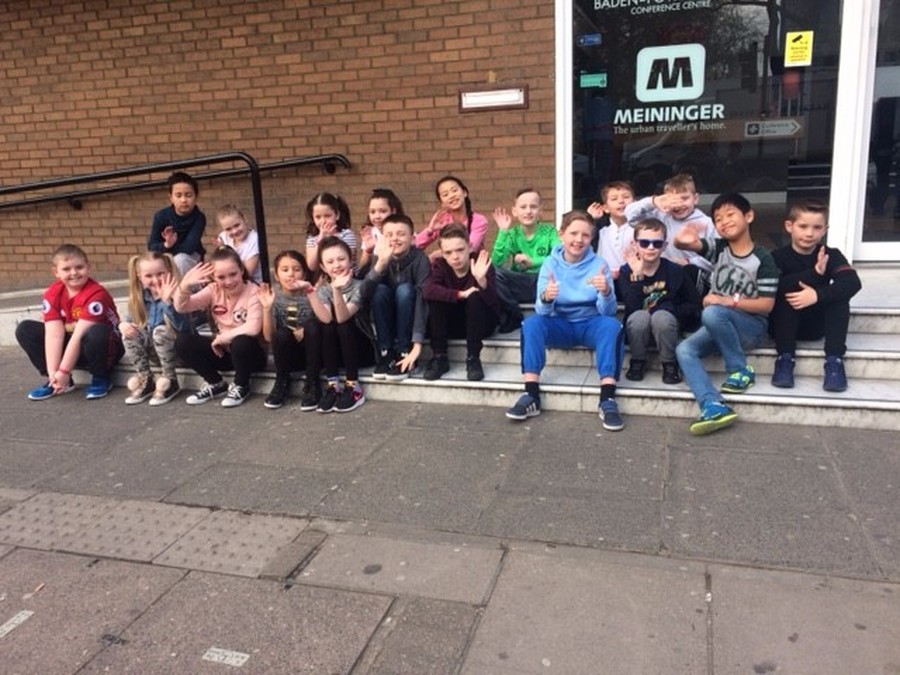 6.24am
Some of us are awake, and half still dreaming, but all safe and sound. Everyone was fast asleep by 9.30pm last night. We were exhausted.
It is very noisy in London, the traffic never stops and you can hear how busy it is. It didn't keep us awake though.
We are going down to breakfast about 7.50am, so we will add more once the day gets properly started.
Wednesday 15th March
8.16pm
Lights out very soon. Night, Night,.second day of fun tomorrow.
7.10pm
We have all had a fantastic meal for tea, chicken nuggets and chocolate cake!
Everyone has had enough to eat. We are heading back to our rooms to get into our pjs before lights out. Not too early a start tomorrow, and hopefully we are so tired we nod off really quickly.
Fingers crossed says Miss Da Costa.
6.04pm
We are all back in our rooms at the hotel now. We are unpacking and sorting our beds.
Loui's tooth fell out earlier, but he wants to put it under his pillow at home, as he is not convinced that tooth fairies come to hotels!
5.17pm
Seen lots of interesting things at the museum. Playing in their special amphitheatre now. Getting fresh air and tiring us out, Miss Dacosta says.
5pm
Face to face with TRex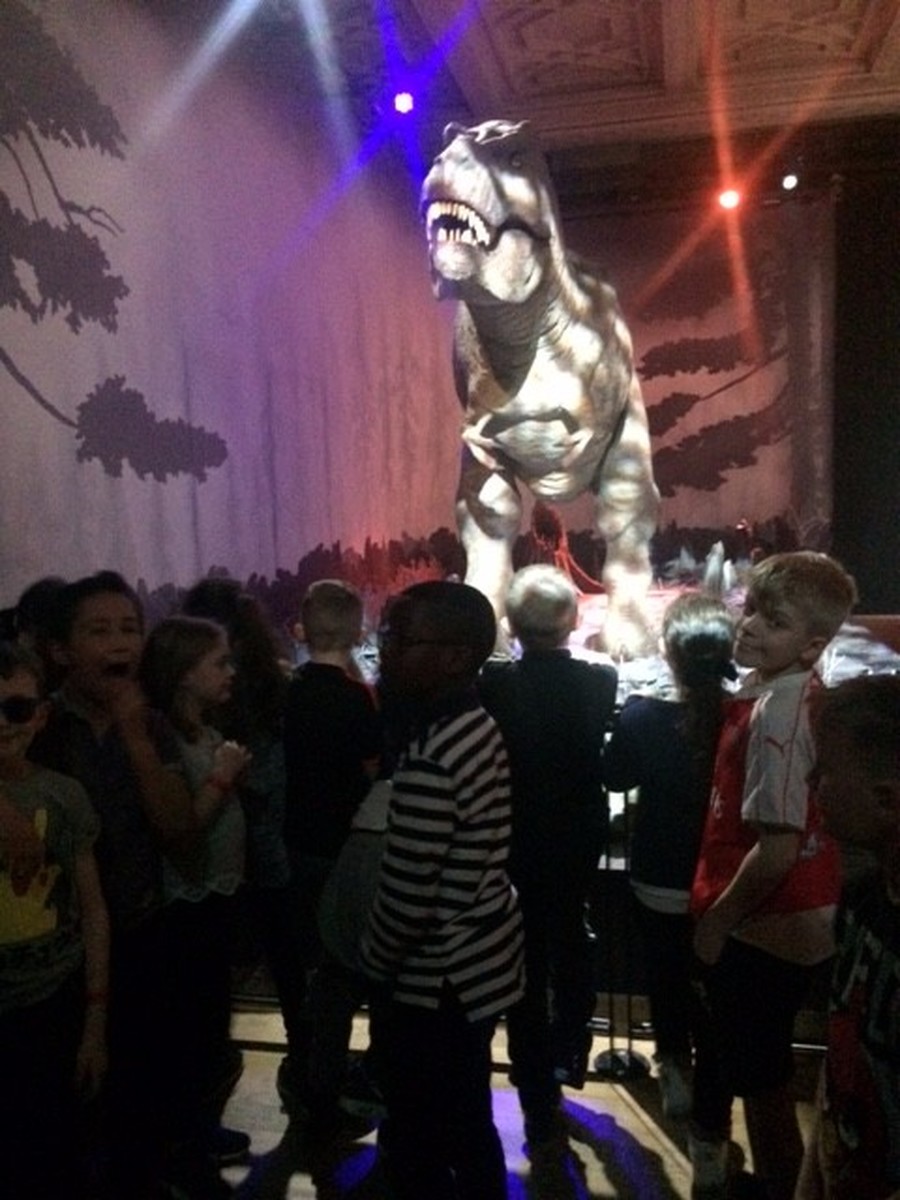 4.44pm- Spot the Dodo!!!
We are learning about nature and we have been in a Chinese supermarket that was in an earthquake zone. It rattled and shook and everything fell off the shelves, and the roof fell in!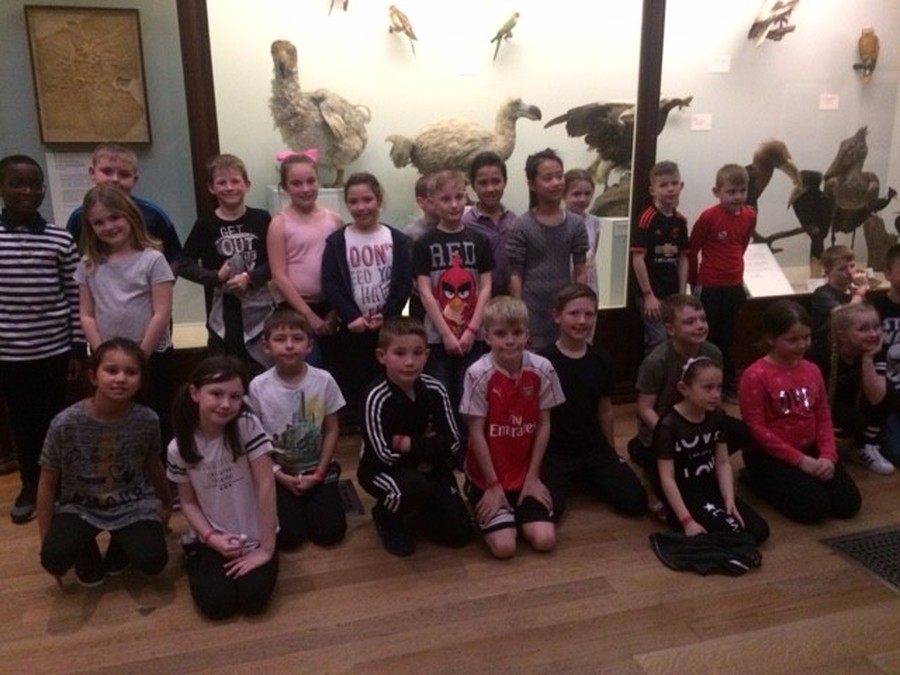 4.20pm
Exploring the natural history museum.
4.10pm
Here we are outside the hotel. We are off next door to the NHM.
4pm
We have checked into our rooms and are unpacking later.
The rooms are very fancy.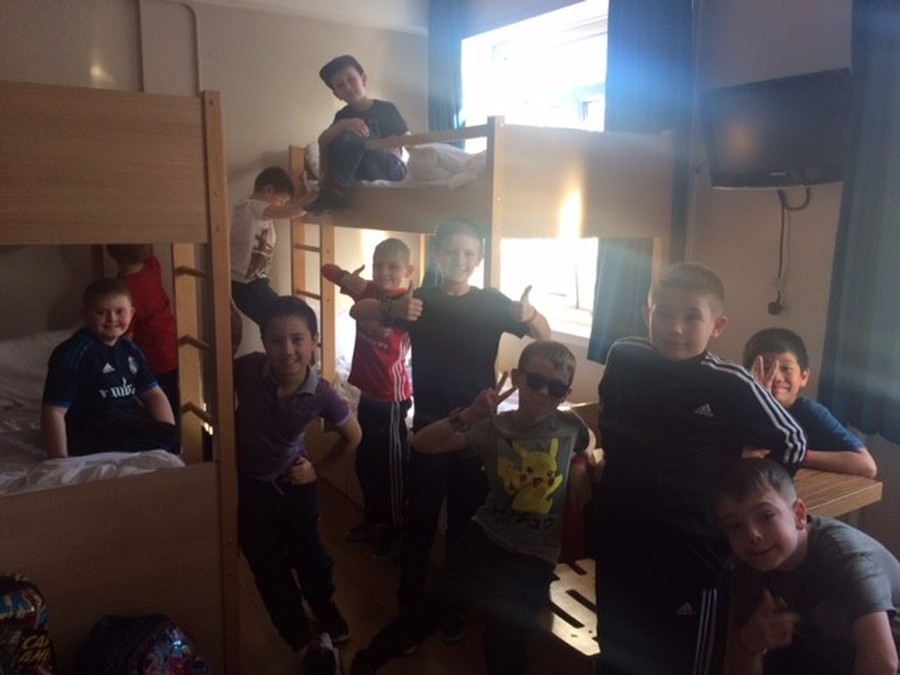 3.04pm
We are back on the coach now and off to our hotel to check in.
2.33pm
We are in the Diana playground, playing on all the different equipment.
The weather is glorious. Sunhat time!
1.44pm
Eating our lunch in Kensington Gardens.
1.11pm
Just left Madame Tussauds and heading for the playground now. We saw a brilliant 3D movie at the end of the waxworks.
12.23pm
We are on the Pride of London taxi ride.
12.09pm
Still spotting the celebs!
11.50am
Scary!!! The waxworks, not Miss Dacosta!
11.11am
Arrived at Tussauds and meeting the stars.
We are all excited about our trip, this is what we are looking forward to:
I love the London Thames boat ride. Miss Dacosta
London eye and river Thames Zane
London eye and river Thames Samuel
The giant slide and the Thames boat ride Ellie
The London eye and the huge slide Sienna
London eye Isaac
London eye Bailey
I love the London eye and the Thames boat ride Harry
I am looking forward to the London Eye Cody
London eye Ella
I'm looking forward to the Orbal slide Helen
London eye Brooke London eye Riley
I can't wait to have a go on the orbit slide. Whoo Hoo Mrs Degg
The London eye and the Thames boat ride oh my goodness Jake
I can not wait to go on the slide and the London eye Archer
I am looking forward to going to the natural history museum and the orbital Miss Walsh
I am looking forward to the London eye Destiny
I am looking forward to seeing the London eye Abigail
I am looking forward to the boat ride Nyal
I am looking forward to ORBITAL the giant slide William
I am looking forward to going to Madame Tussaud Mukhtar
I'm really excited for going to Madden Tussords and the London eye Alfie
I'm really excited for the London Eye and Madden Tussords Tom
I'm really excited for the first time going in the museum Ethan
I'm really excited to go on the orbit slide! Steiven
I am really excited to go to the measuam Erin
I'm really excited for madam to swords Milliejane
I am most excited for the orbital because we didn't go there last year. Miss Smid
9.29am
Just stopped at Oxford services for our snack. Driver come on M40 as quicker.
7.40am
We have had a quick loo stop at the services on the toll road. Going to stop again for snack a little further down the road.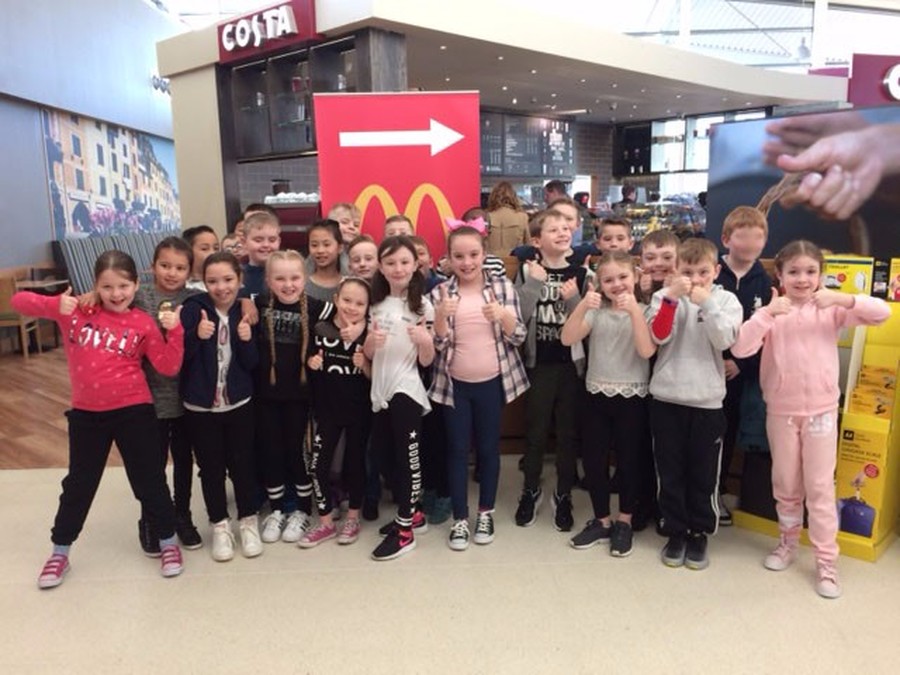 6.58am
Our coach driver is called Ray and he is funny. We are all playing games and reading, keeping busy. We are getting close to Birmingham now.
6.04am
Despite a delayed start because the driver went to the wrong school, we are now on our way. We are all very excited and we will share what we are looking forward to soon.