France Y6
8.50pm
On track to be back at school at 9.20pm. Be home very soon.
7.29pm
Have set off again. Watching our last DVD.
We are expected back at 9.15pm. But watch out for texts.Please do not park outside the main school entrance, as the coach will be parking there. See you all soon.
6.35pm
Having our Macdonalds at Watford Gap.
6.18pm
Just pulling into Watford Gap.
4.18pm
Stuck on a very busy motorway. Near St Albans, watching dvds.
2.31pm
We have now said goodbye to the white cliffs of Dover and we are on the A2. Hopefully not too many hold ups.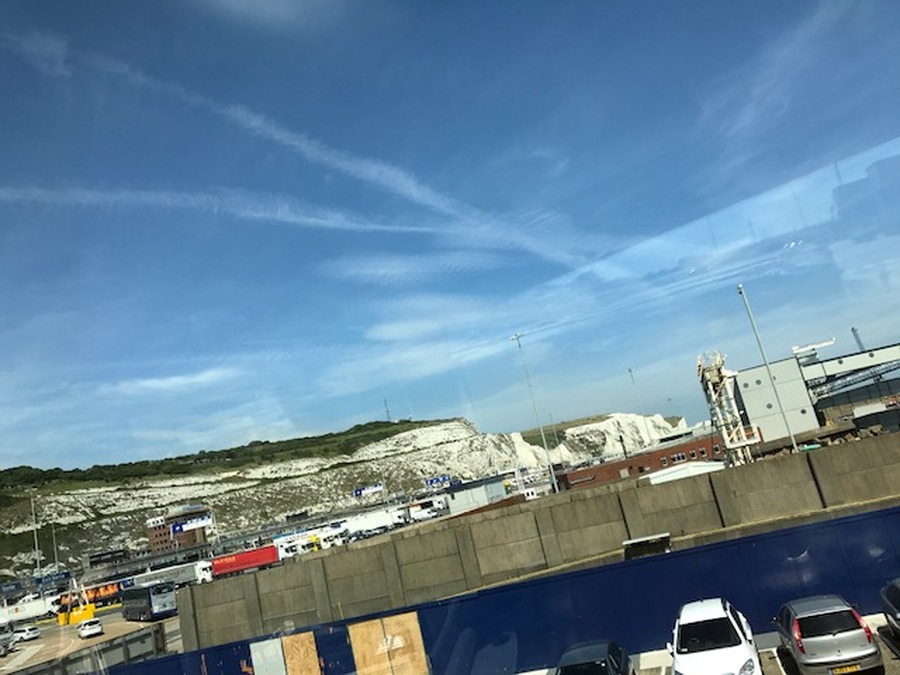 2.22pm English time.
The ferry has docked and we are waiting to get off.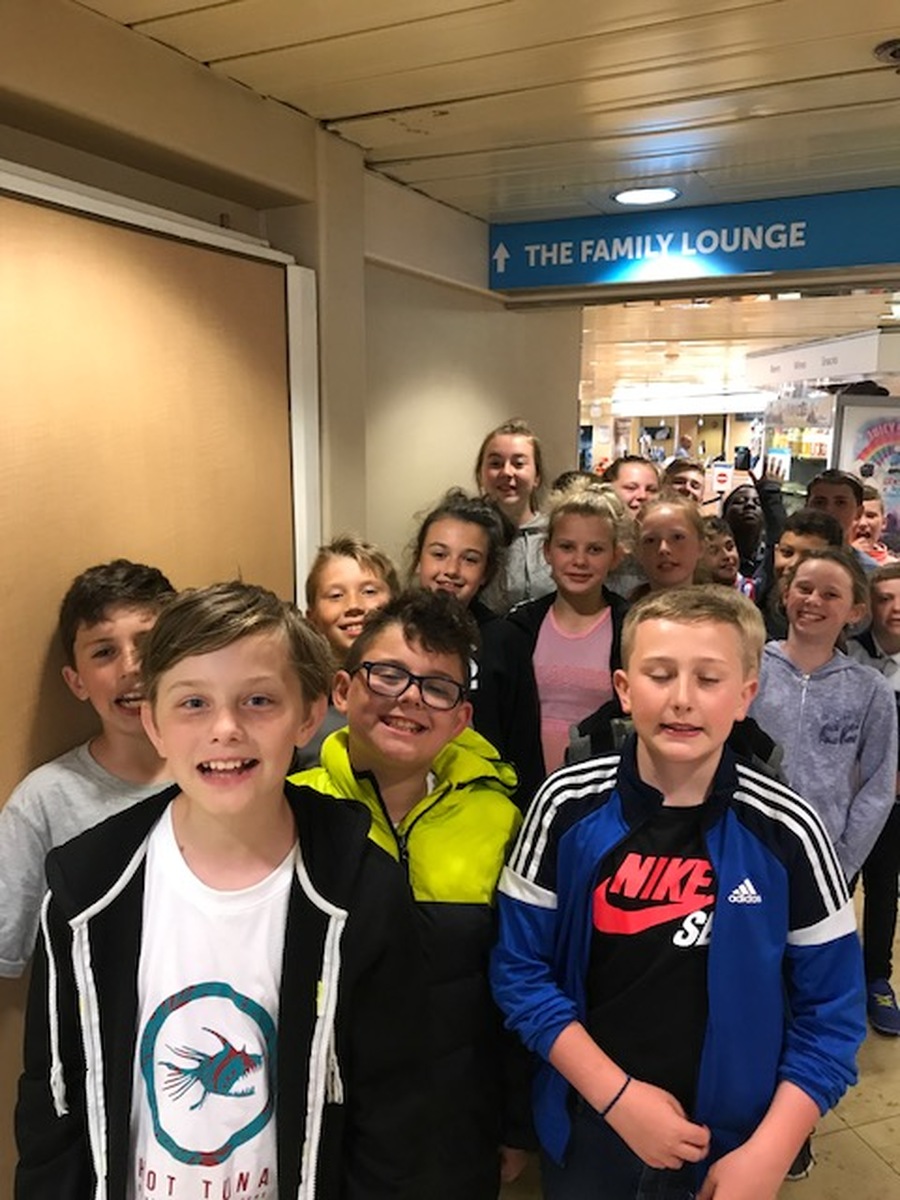 2.13pm
Outside deck after lunch.
1.49pm
Left Calais and now eating our lunch on the ferry.
3.31pm
Driving up the ferry ramp.
12.38pm
We have arrived at Calais.
We are on the 1.25pm ferry, so will be back on English soil by about 2pm British time. So may be seeing you sooner than we thought!
12.12pm
Just arrived at Calais Ferry port. Making good time today.
Keep checking texts and the blog for our expected time home. May be earlier, depends if we get an earlier ferry and UK traffic.
11.35am
We have left the cemetery now, back on the coach and we are heading back to Calais.
11.22am
At the top of the memorial looking at the books of remembrance. Our last activity was a very special place one.
11.11am
Looking at the war graves at Etaples cemetery.
We are looking for names we recognise, who may be distant relatives.
Max asked why there are stones and pebbles on top of some of the grave stones.
Miss Dacosta looked it up and we learned that it is an ancient Jewish tradition. Loved ones bring rocks or pebbles from their home and place on the graves. Many soldiers died a long way from home, so this brings a little part of home to them.
'Flowers, though beautiful, will eventually die. A stone will not die, and can symbolize the permanence of memory and legacy.'
10.55am
We have stopped at Etaples cemetery to see the war graves. We have been learning about the world wars in school.
10.20am
We have left the wheat farm and are on our way to see the war graves at Etaples.
10.08am
Eating cake and drinking lemonade outside the wheat farm. All home made!!
10am
Making our corn gifts.
9.55am
Listening to the instructions at the wheat farm.
9.33am
Madame Tuell is explaining how she makes special wheat ornaments.
8.23am
All on bus now, setting off for wheat farm.
8.03am
Up and packed ready to load the coach. We all had a great sleep and no messing. Stuff on coach and then off to breakfast.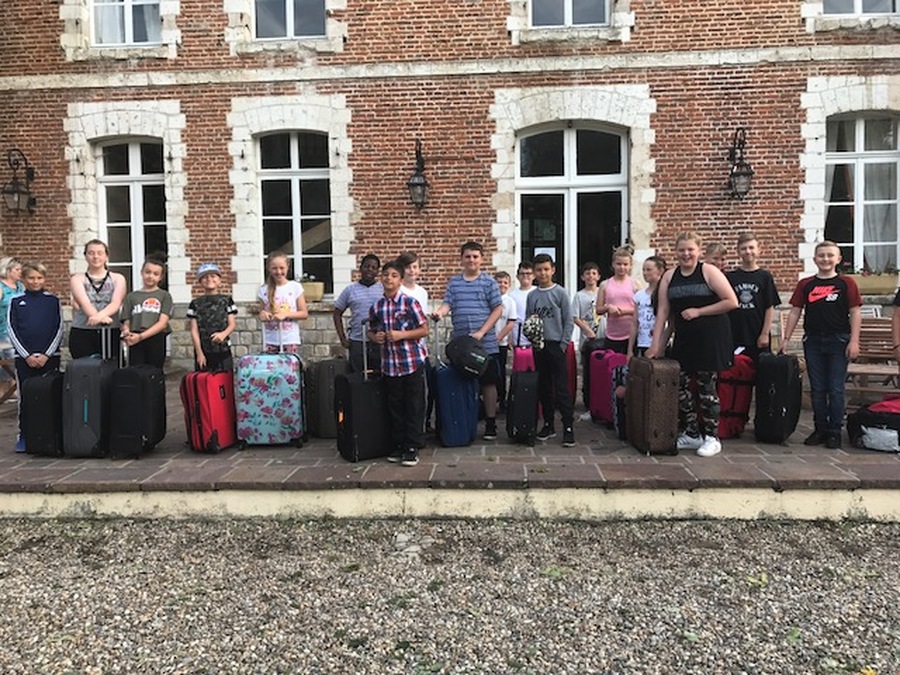 9.15pm
Disco has just finished and we are off to our room to pack and sort everything for the morning.
Thank you for letting us come, we have had an amazing time and lots of lovely memories of our last year at Irlam Endowed.
Lights out about 9.45pm, as up early for journey home.
Night night x
9.01pm
Last song of the last night.
Don't worry!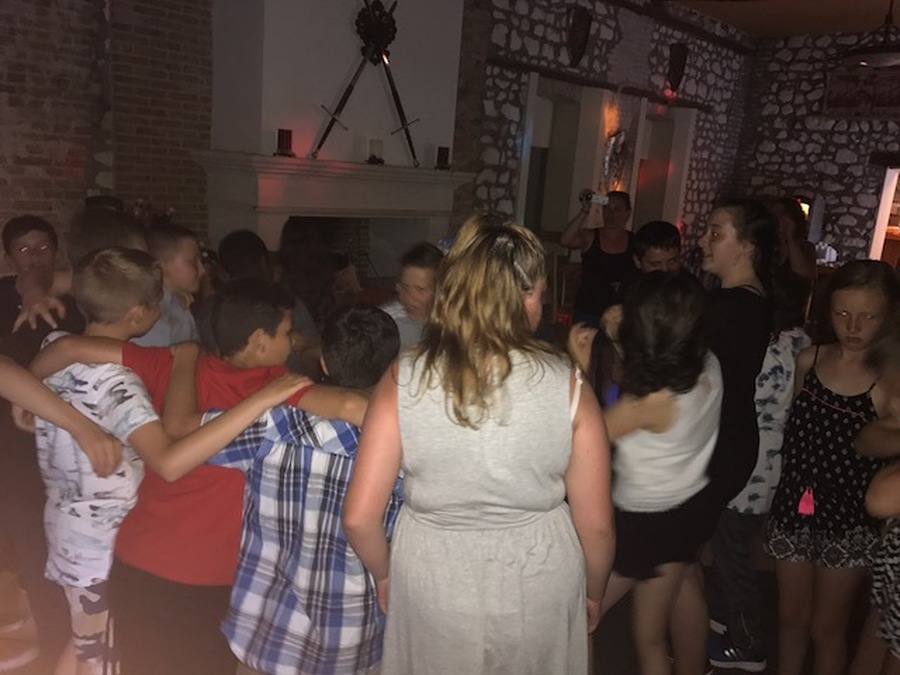 8.05pm
We are sad as it is our last night, but happy because we are partying at our disco!
Everyone is sharing the treats they have bought, sick bags at the ready for the journey tomorrow.
'Shut up and dance with me.'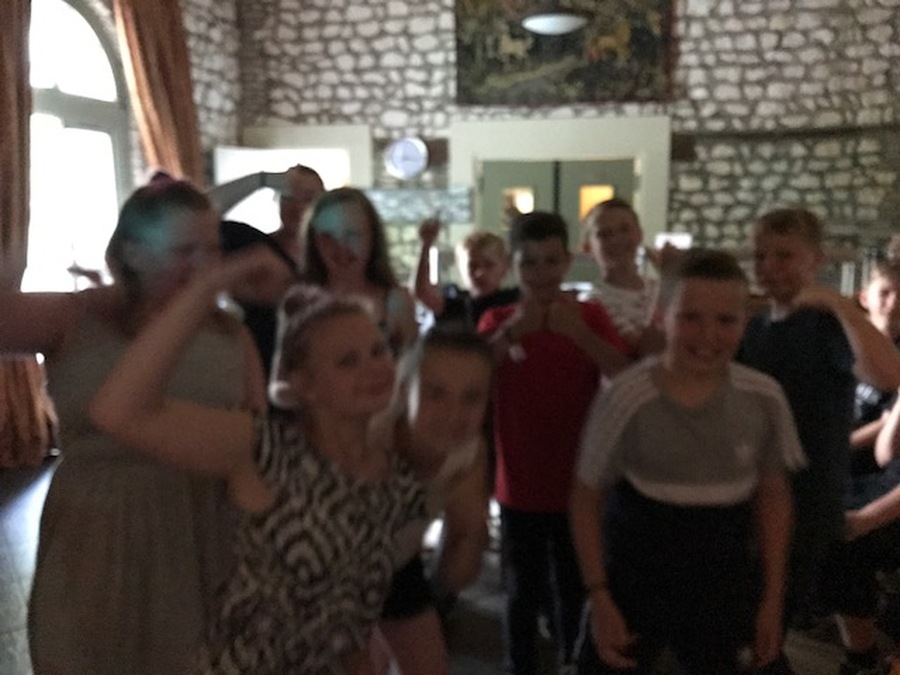 6.44pm
Ribs, veal or fish for tea with chips.
We also got the chance to try the traditional French food of l'escargot and frog legs. Most of us enjoyed it!!
6.21pm
The chateau was hit by a freak hail storm.
It has damaged Mrs Degg's window and the roof.
Look at the size of these !!!
All our rooms and stuff are ok. Lucky we were at Bagatelle!!
6.10pm
We cannot believe the hailstone storm which took place at the chateau whilst we were out!! Look at the huge hailstones!!! Good job we missed it!!
5.44pm
Back on the coach now and heading back to the chateau for tea.
5.16pm
Just in the gift shops spending the last of our money. Then back on the coach at 5.30pm.
5.14pm
We couldn't do it without them!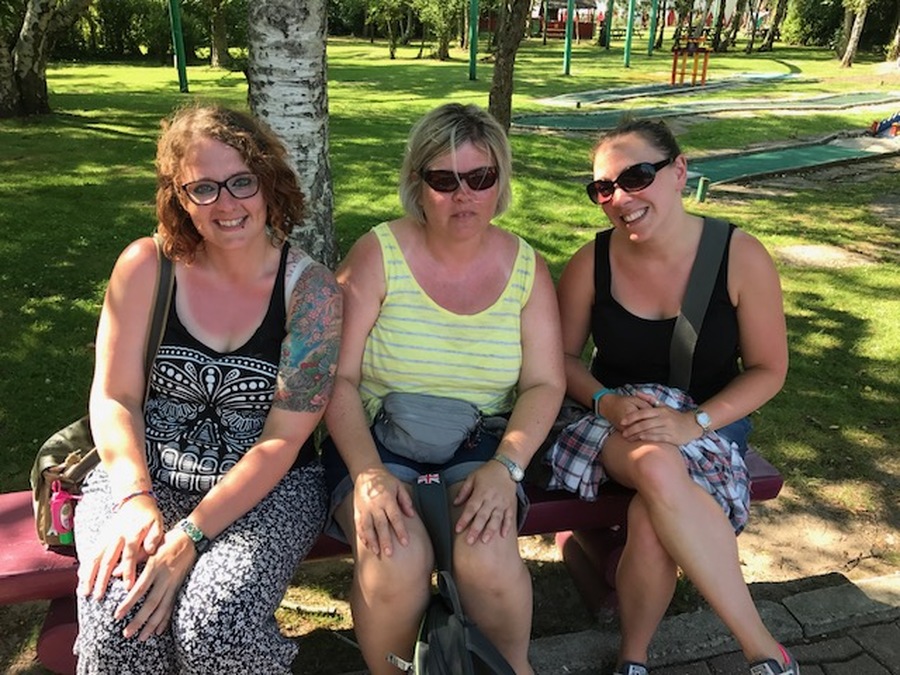 5.10pm
We always save the wettest ride till last!
4.09pm
Flying high at Bagatelle.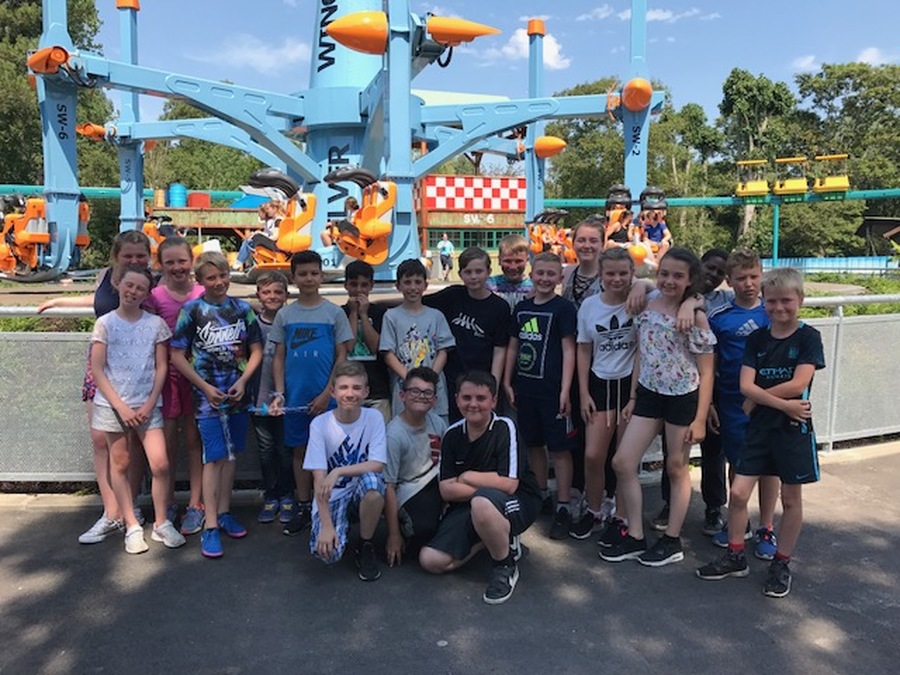 3.33pm
All on the dodgems, bit wild.
3.12pm
Bumper car madness.
3pm
Relaxing with a slush.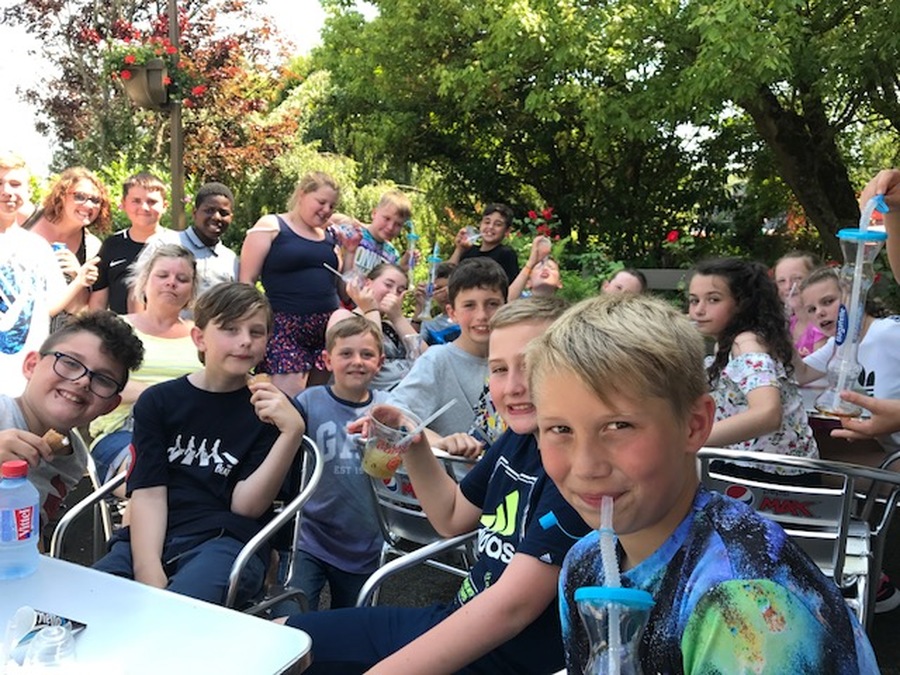 2.31pm
On the western waggon.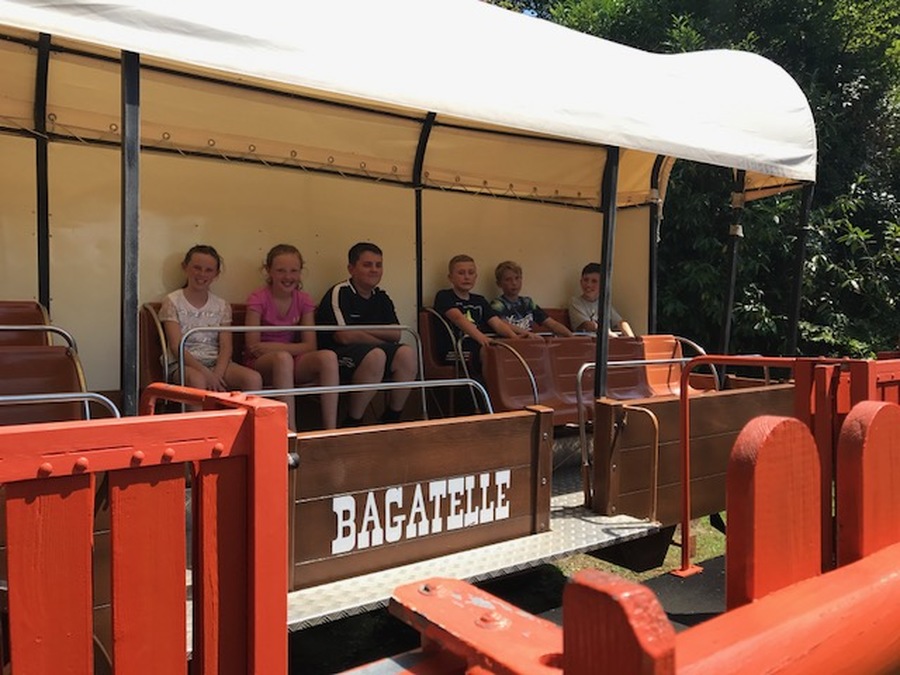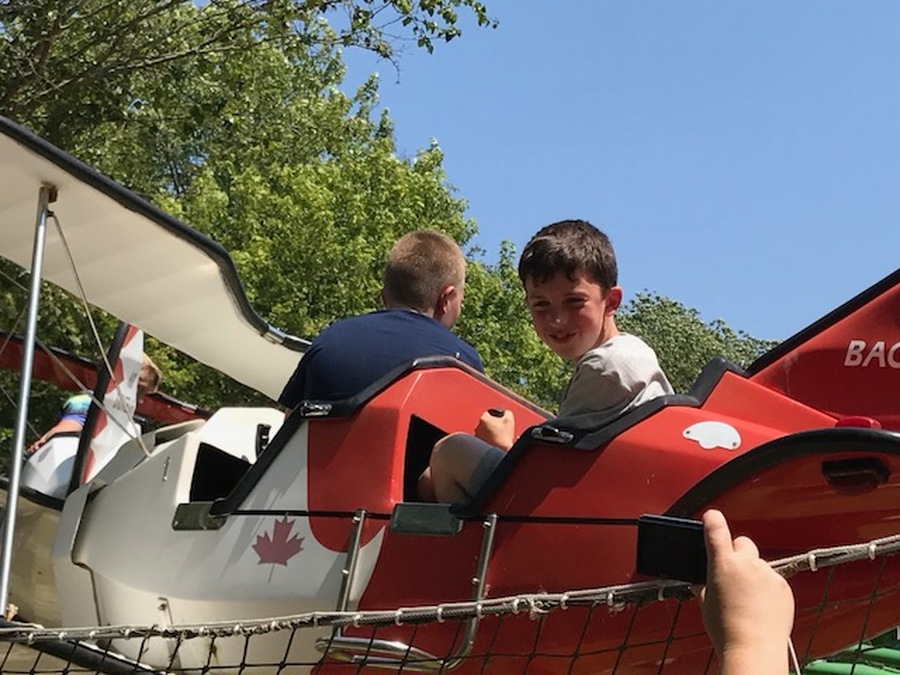 2.21pm
The scary one!!!! And we don't mean Miss Fraser!!!
1.16pm
Row, row, row your boat!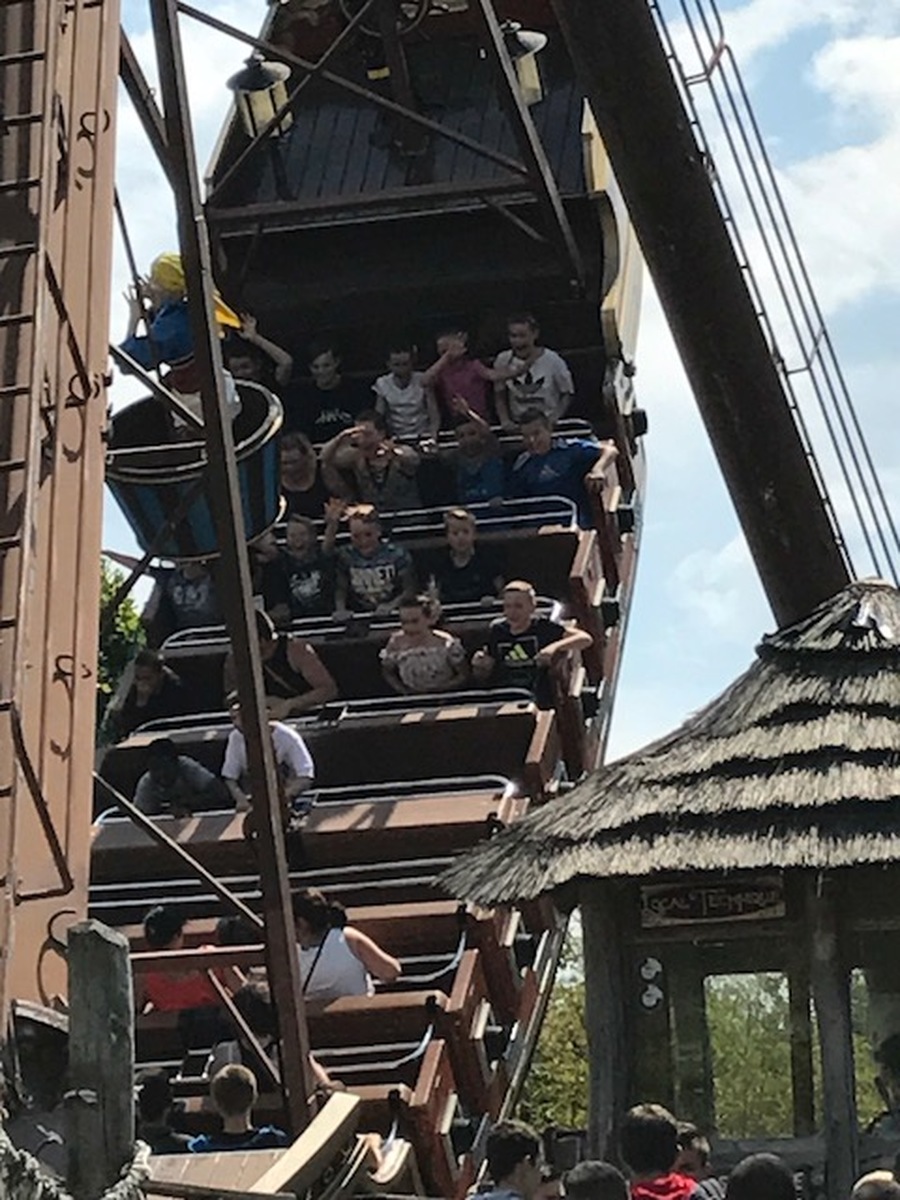 12.47pm
Le Raft ride. All drenched.
12.37pm
Just had lunch on picnic tables. Water rides next!!
12.17pm
Go Karts. Better drivers than Miss Dacosta!
11.56am
Pirate boats backwards and forwards. Mrs Walsh loves a ship.
11.45am
On the caterpillar roller coaster.
11.09am
The giant swings are brilliant!
10.36am
Had a bit of a downpour but stopped now and very warm.
Just entered Bagatelle and getting ready for first ride.
9.37am
Just left the chateau for a short journey to Bagatelle. Excited to go on all the rides, especially the water rides, so we can cool off. But may get wet anyway as rain forecast for later in the day.
8.33am
All up and dressed ready for a fun time at the theme park.
Having breakfast, lots of time to get ready today.
Leaving at 9.30am for Bagatelle.
9.39pm
Last blog of the day.
All just gone to our rooms to get ready for bed. Been a long but brill day.
Not too early start tomorrow. Bon Nuit!
8.44pm
All playing games or chatting at the end of another brilliant day.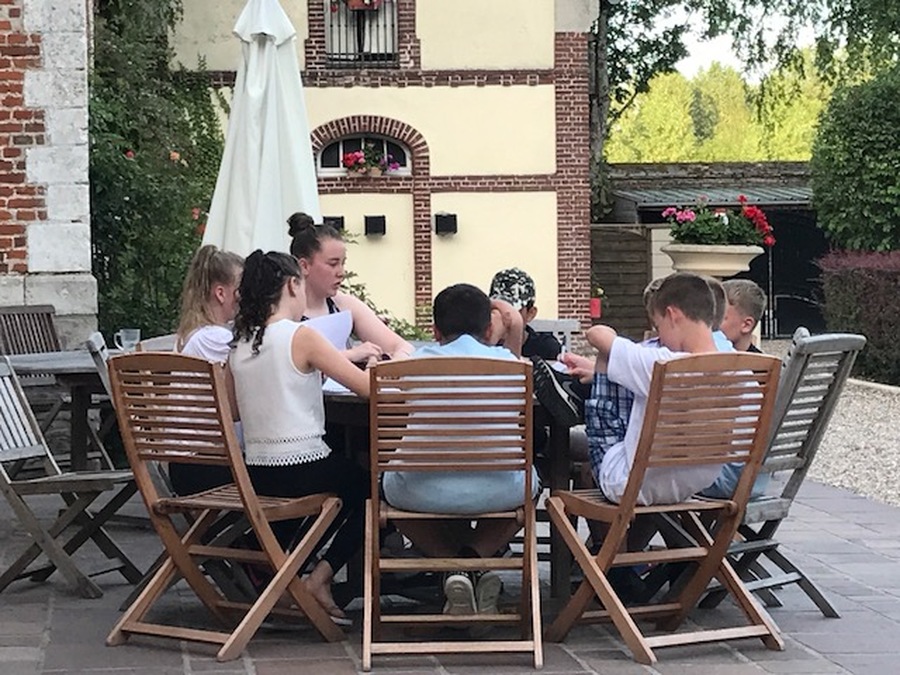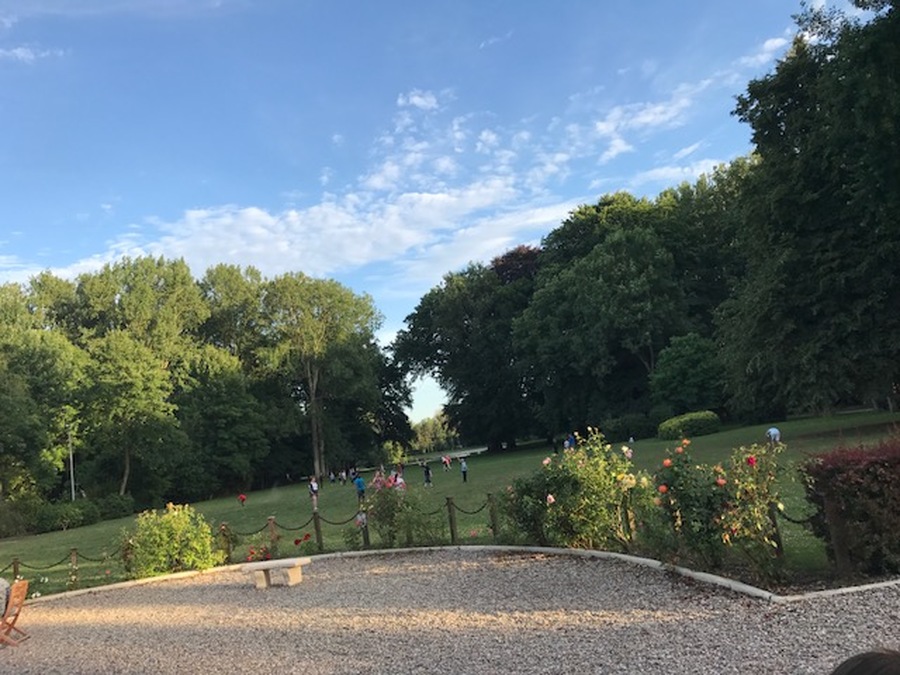 7.07pm
We have a couple of free hours now to play or chill. We are taking turns showering and then back to play out.
6.44pm
Eating our evening meal in the long dining room. Choice was chicken, pork, pasta, dauphinoise potato and vegetables. Pud tonight was chocolate eclair or chocolate mousse.
4.55pm
Well out of Paris now and half way back to the chateau. We are all chilling on the coach and will probably be back early for tea.
3.02pm
All back on the coach safe and sound now. Had a lovely, but very hot day in Paris. Heading out of Paris and back to the chateau now.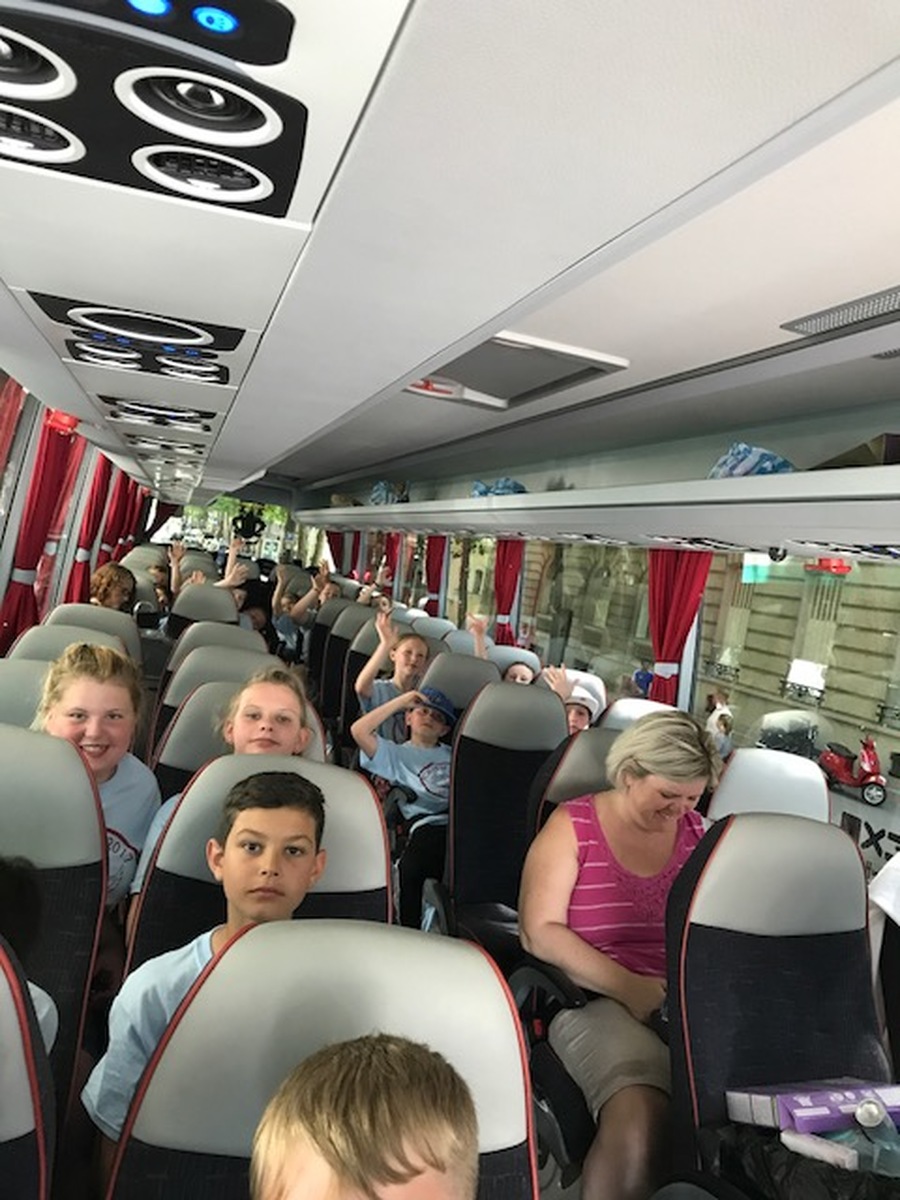 2.37pm
Had a good look at all the high sights, the people looked like ants!
Just getting in lift now to go loo then back to coach.
2.16pm
Very quick lift. Looking at the views from the second floor.
2.14am
Zipping up in the lift.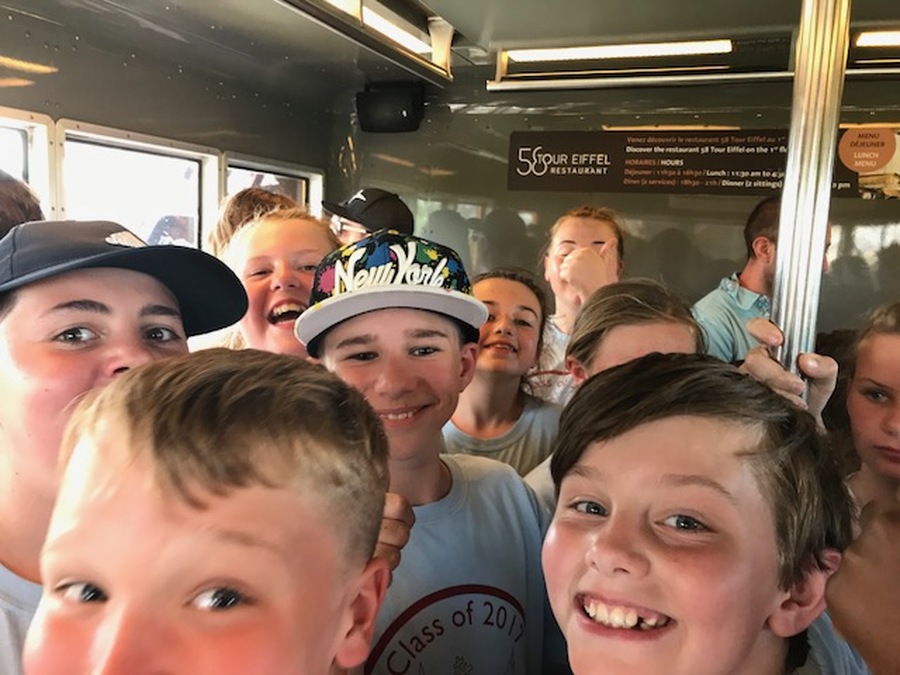 1.59pm
Just about to go in the lift to the top!!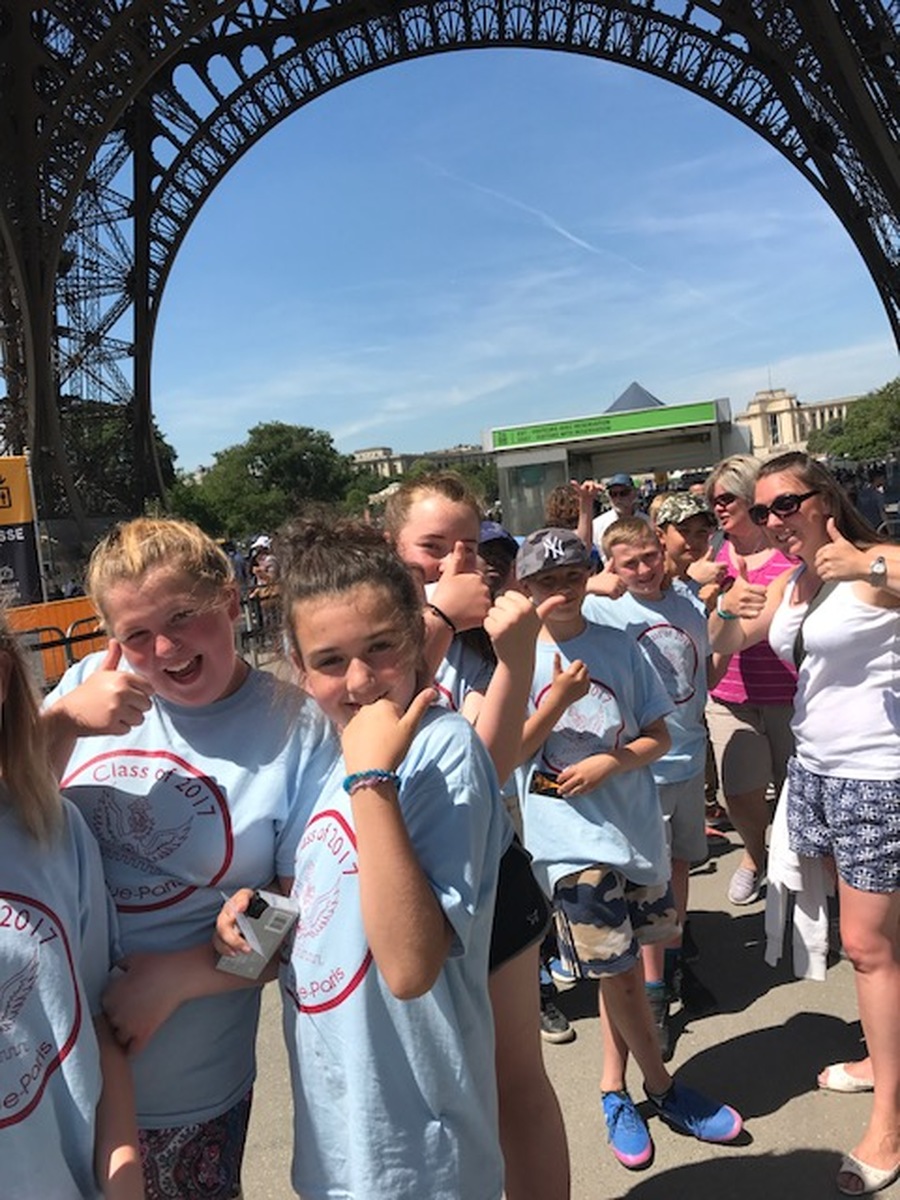 1.26pm
Eating our baguettes by the Seine.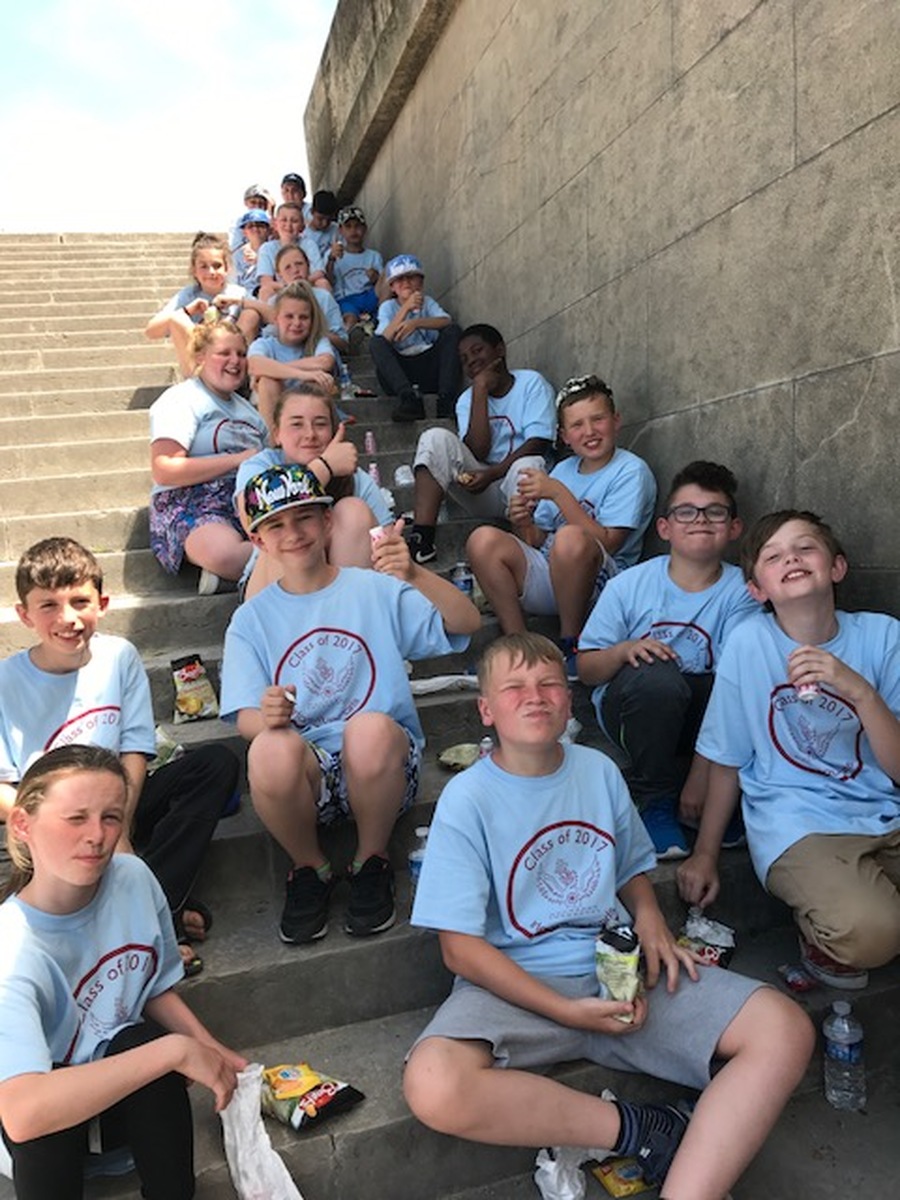 12.57pm
At the end of the boat tour, back next to the tower. Going to have lunch next to the Seine now.
12.27pm
Just passing Notre Dame cathedral. Miss Da Costa says the gargoyles look like the staff getting up in the morning.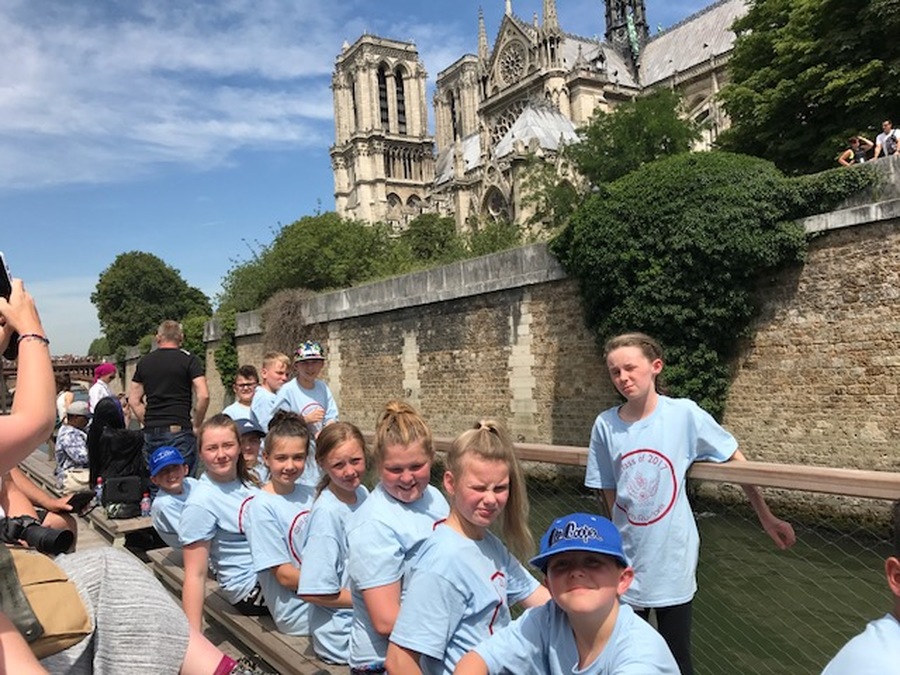 12.11pm
Enjoying the view.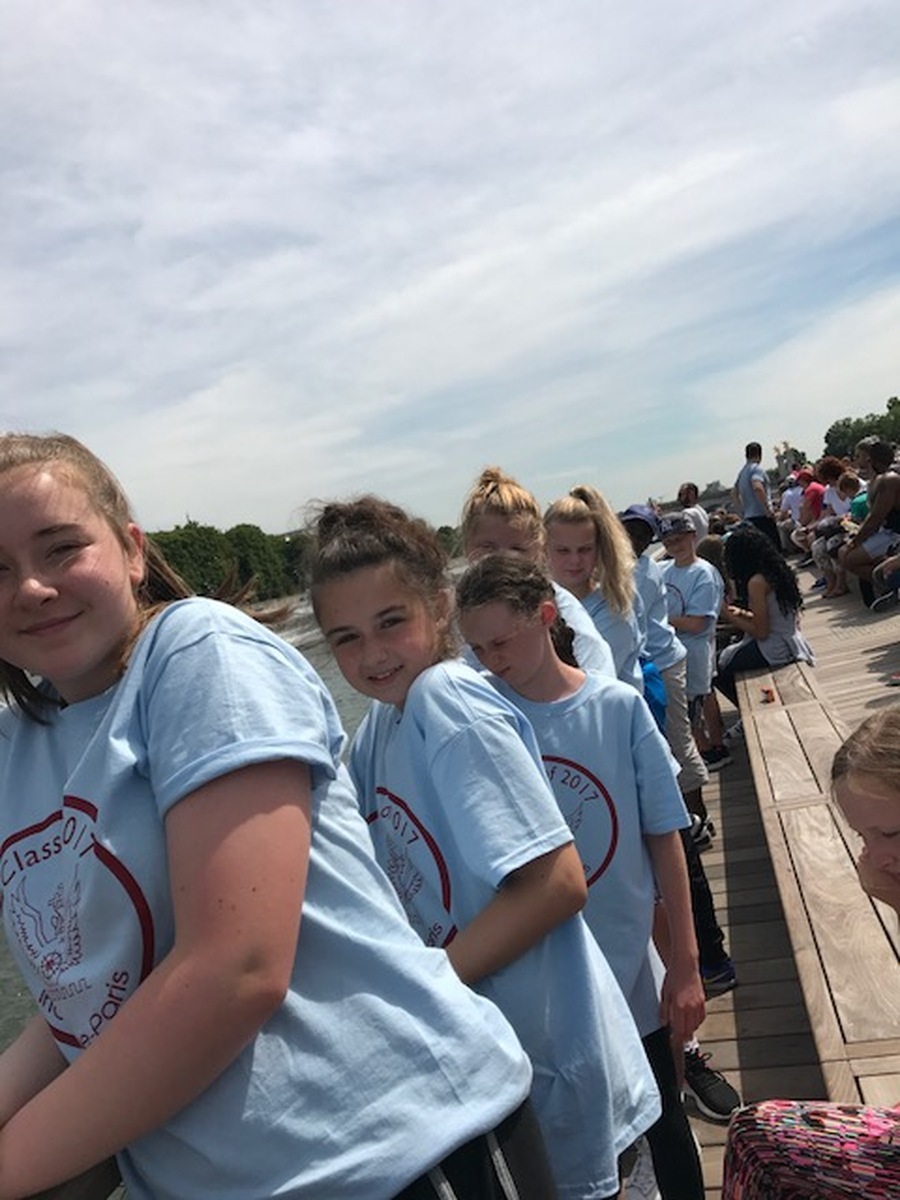 12.03pm
Just got on the boat, and setting off to see the sights of Paris. The weather is lovely again. Back in an hour.
11.39am
Our tickets to go up the Tower are for 1.30pm, so we are off on the boat tour first instead.
11.34am
Arrived and all of us under the Tower.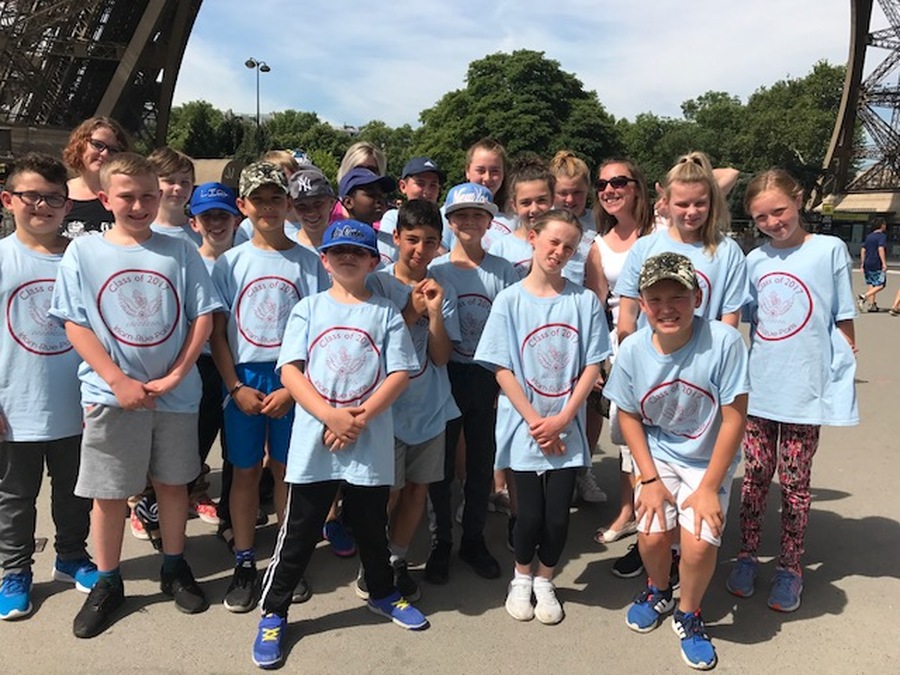 11.25am
Entering the Eiffel Tower.
11.01am
Just driving past the arc de triomphe.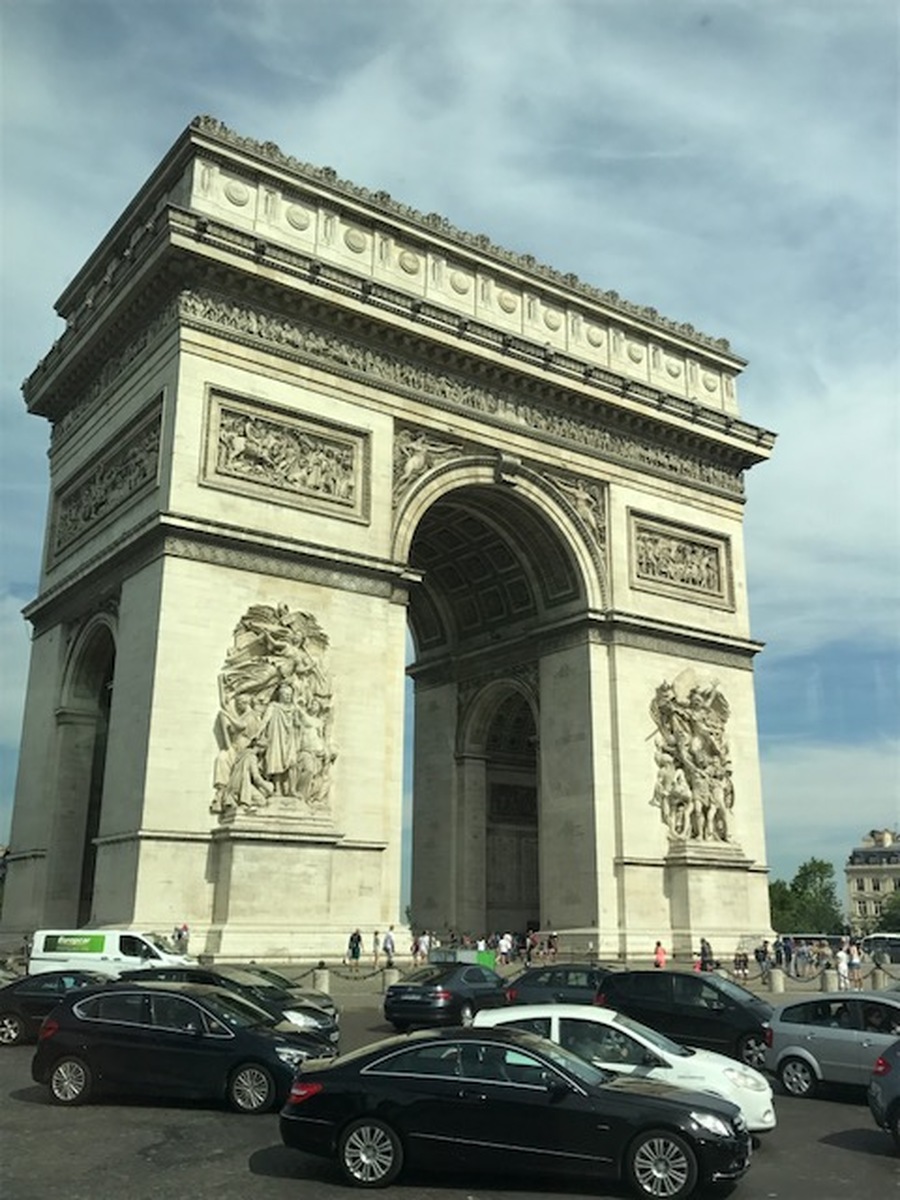 10.28am
Just entering Paris. Just passed PSG's football stadium. The traffic is very busy. We are getting ready for Miss Da Costa to get on the microphone and point out all the sights!
9.22am
Half way to Paris. First one to see the Eiffel Tower gets a Euro.
7.04am
All up and having breakfast ready for coach trip.
8.55pm
Finished our games, had our bedtime drink, now all in our rooms getting ready for lights out at 9pm. Need to get our beauty sleep, as up at 6.15am for breakfast at 7am.
Been a brilliant sunny day and cannot wait for tomorrow. Night night.
7.04pm
We have all had a shower and are back on the field doing team games. We are in two teams and are playing a rugby kicking and catching game.
Early night tonight, as have to be up early for Paris trip.
5.33pm
Had tea of beef

Bourguignon or breaded fish, with sweet potato mash, carrots and rice. Pudding was chocolate mousse or raspberry cheesecake.
We have all gone to have showers now, and then we have another activity at 7pm.
5pm
At the end of the Rue tour. Relaxing in a cafe eating well deserved glaces.
4.10pm
Learning all about the history of Rue.
3.45pm
Running from the Rue folklore spiders!!!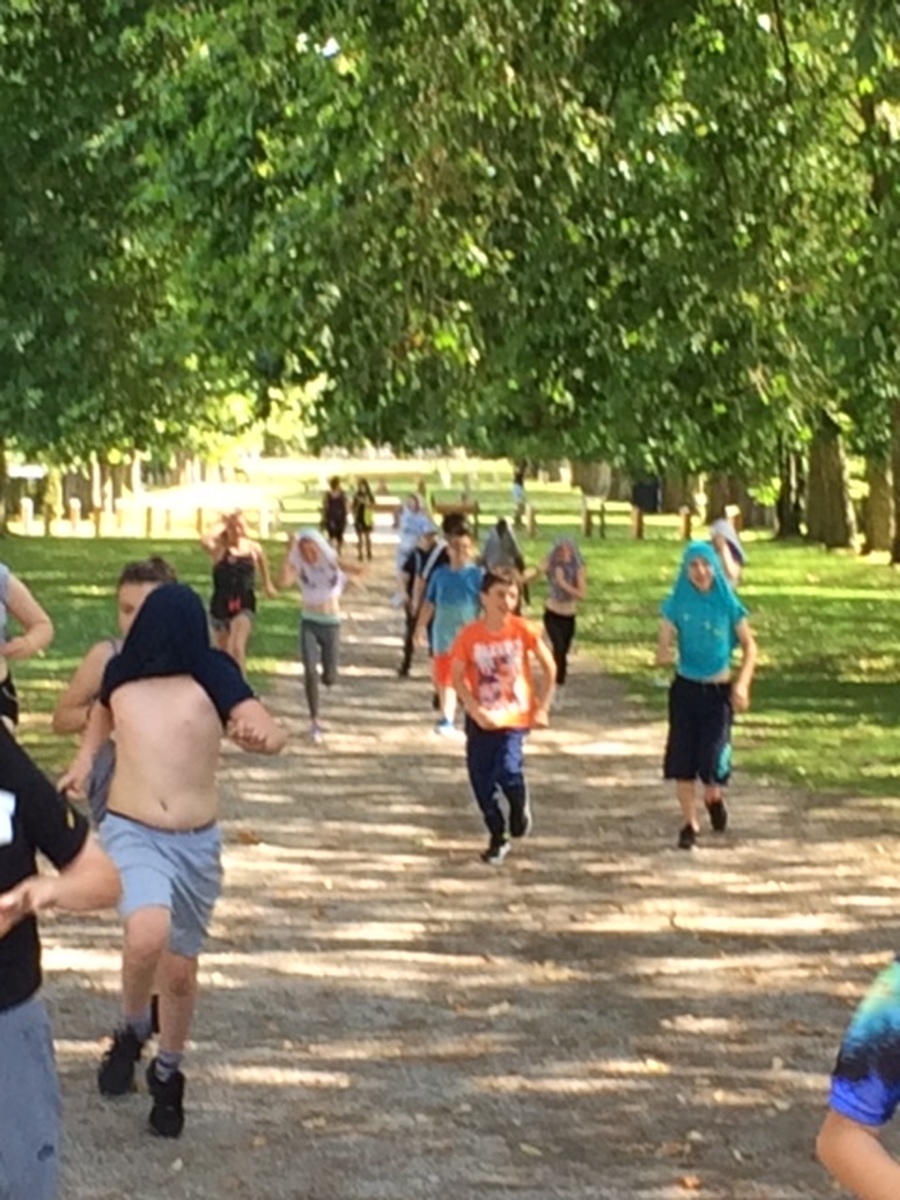 3pm
All back at the chateau now, going to get changed out of our sandy clothes and get ready for our walk to historical Rue. Cannot wait to get an ice cream as weather is cracking the flags now.
2.13pm
Paddling in the surf at Fort Mahon beach. Very shallow and quite warm. Splashing allowed, as long as not at Miss Fraser!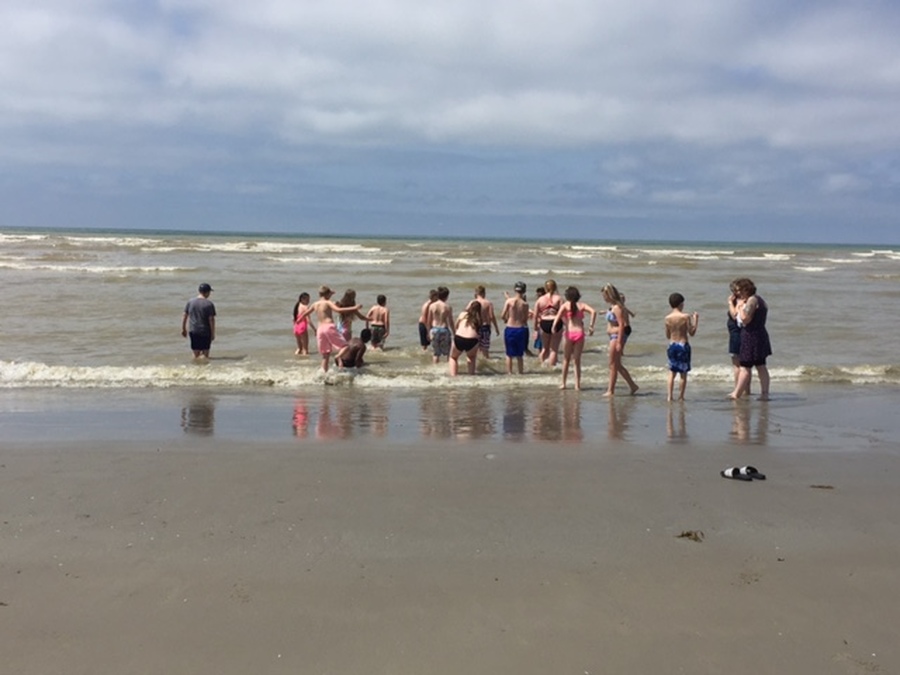 1.22pm
Had our picnic on the beach. Now playing games, burying friends, playing football, sun creaming etc.
11.01am
Combien s'il vous plait.
Spending lots at le marche.
10.34am
Groups outside La Poste in Etaples.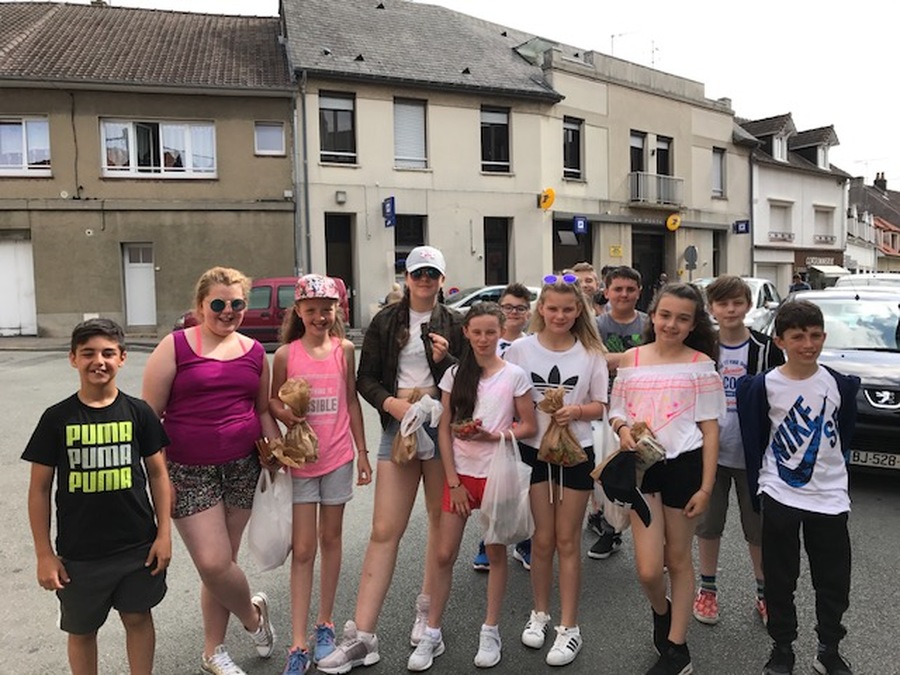 9.52am
Arrived at the market. Spend time.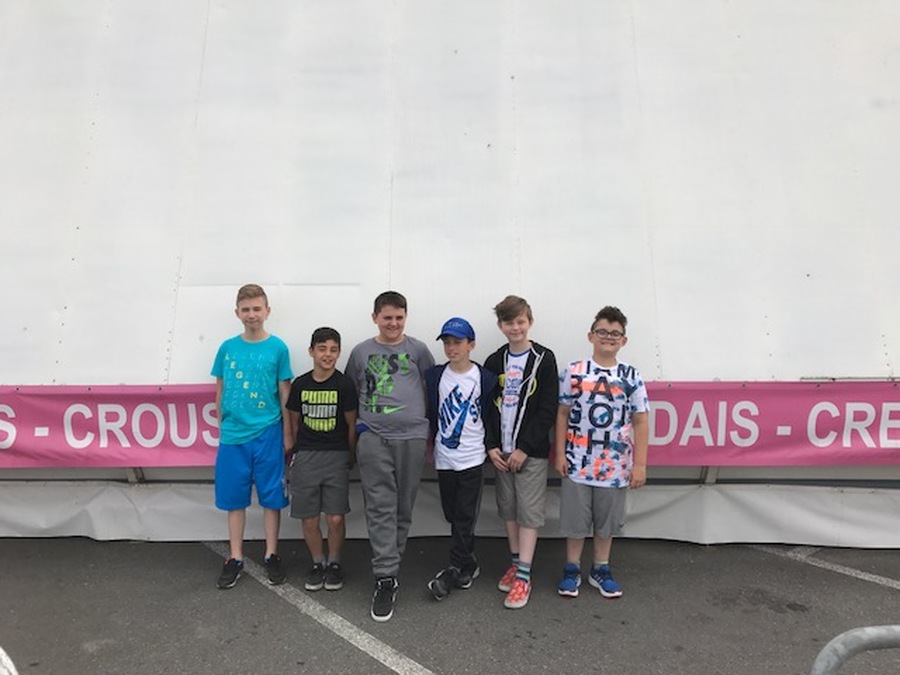 9.23am
Back on the coach again, heading to the local market at Etaples.
Looking to barter for lots of bargains. The weather is warm, but a little cloudy.
We have been practising our French on the coach, thinking about what we may want to buy, Bon bons, croissants, le chapeau, gateaux and le fidget spinners!!!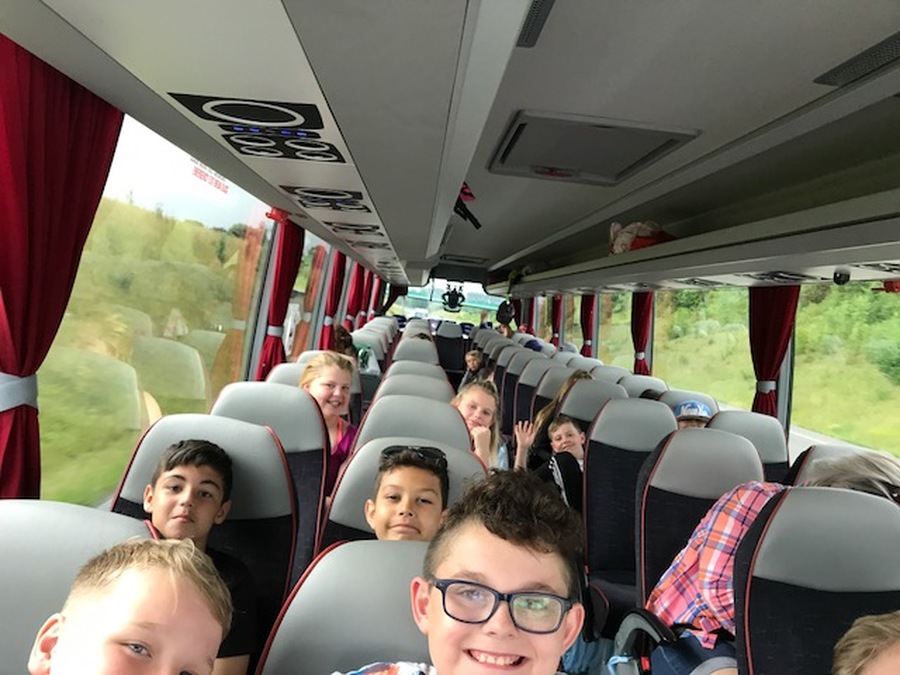 8.33am
Breakfast is lovely. Croissants, pain au chocolate and rice crispies.
Only 2 schools here this week, so lots of space for us.
Going after breakfast to the market and then beach.
8.02am
We are all up and about and going to breakfast.
Most of us had a quiet night, some of us not so! But we were all fast asleep by 11pm.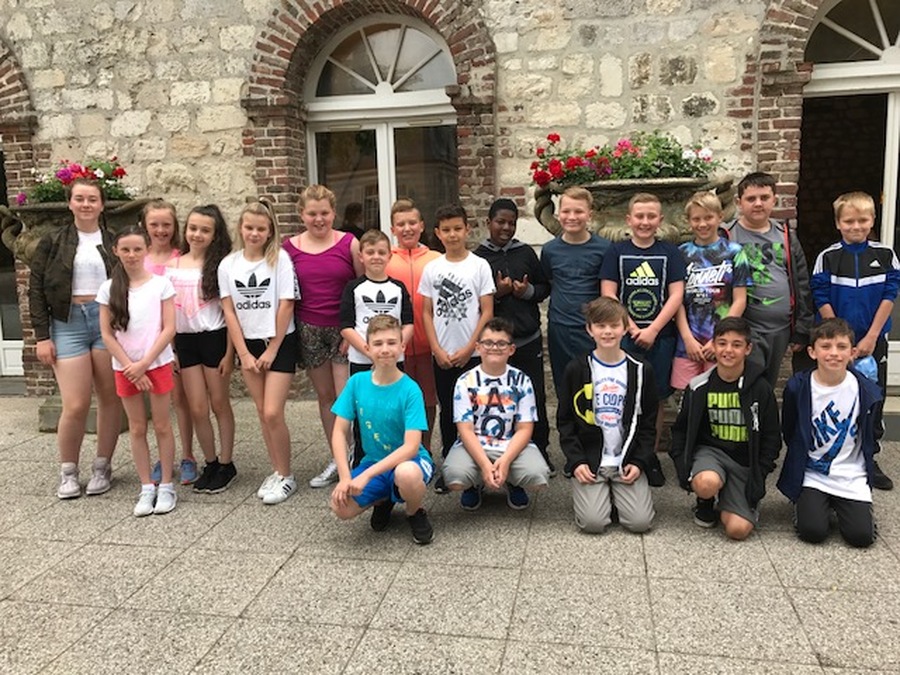 9.15pm

All in bed with lights off. Ms Dacosta says we will all sleep well... or else.

It has been a brilliant busy day. Goodnight, see you at breakfast.
6.40pm
Playing on the chateau lawn waiting for our games session to start.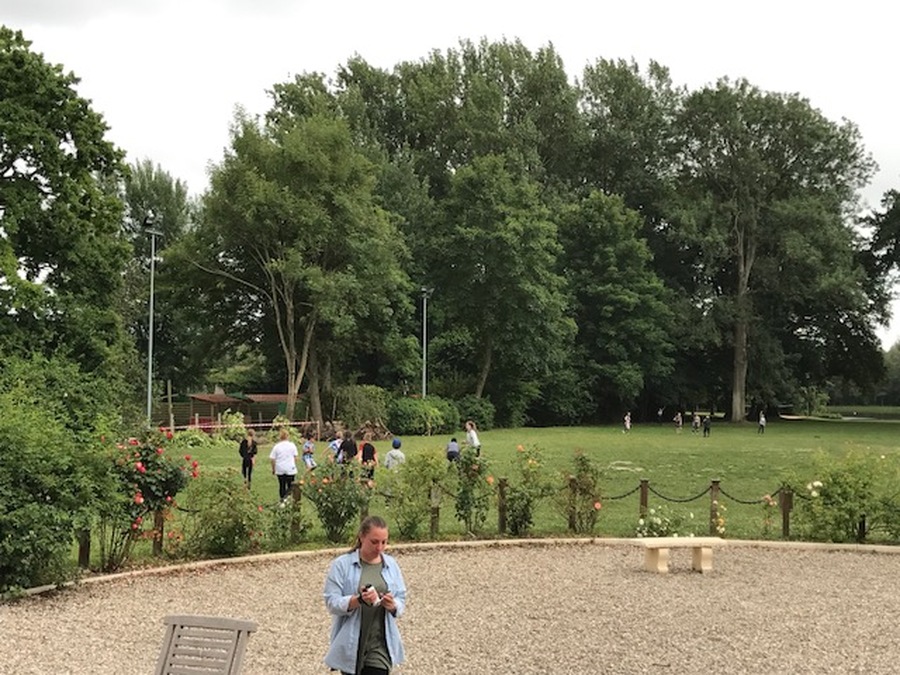 5.56pm
In the dining room having our tea, steak in peppercorn sauce, spicy chicken or salmon. All with fries. For pud it was chocolate brownie. Delicious.
5.34pm
The view from Mrs Degg's window.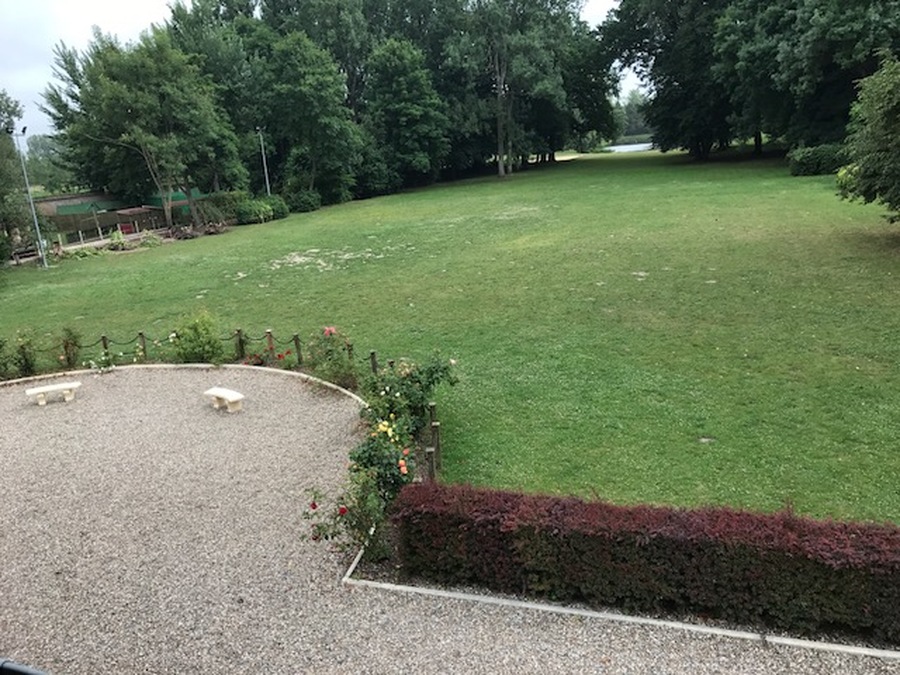 5.15pm
We have settled in our rooms and had a fire drill now. We are sorting our sleeping bags and clothes.
Our tea is at 5.45pm and we are learning pétanque at 7pm. We have explored the beautiful grounds and gardens too.
4.10pm
Just arrived at the chateau de broutel. It is beautiful.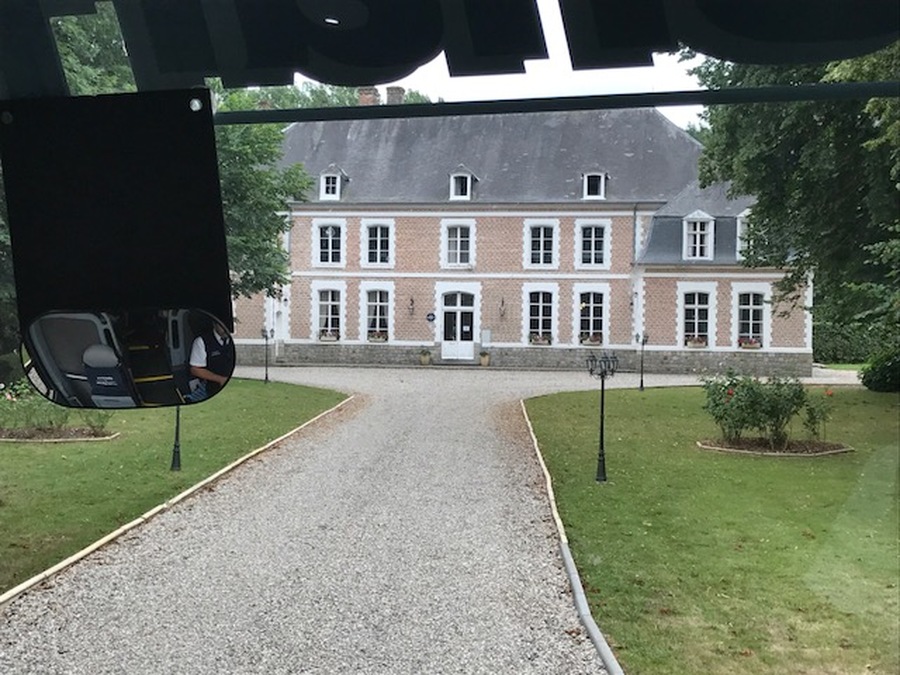 2.45pm French time
arrived at Calais. The boat ride was fab! It was quite choppy. Just about to drive onto French soil for the first time.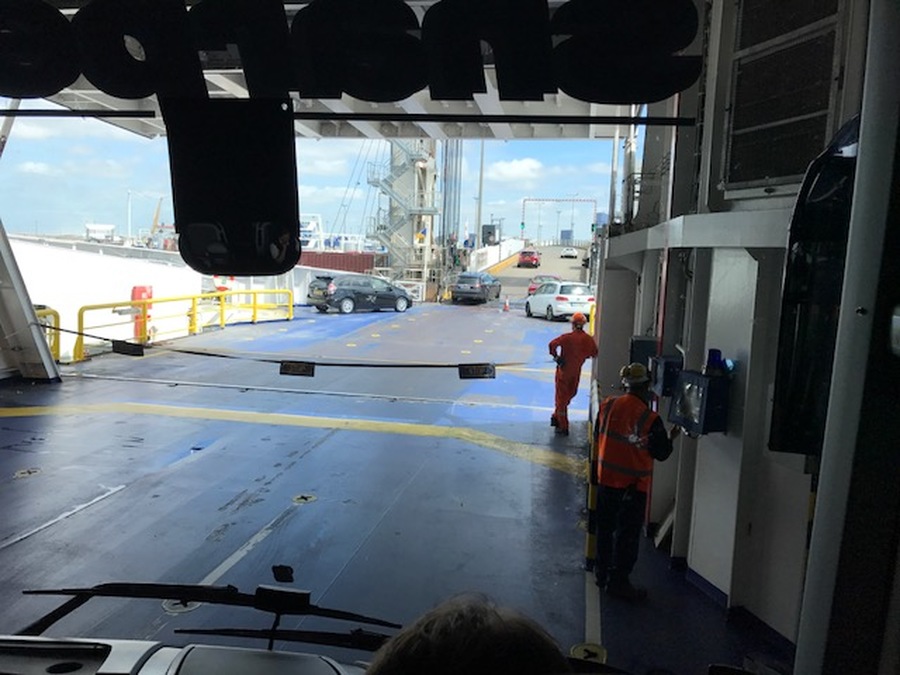 1.03pm
Finished our lunch and now on the outside deck waving goodbye to the white cliffs of Dover. Be saying bonjour to Calais very soon. We are halfway across the English Channel.
12.44pm
Eating our lunch on the ferry.
12.16pm
Just driving onto the ferry.
11.38am
We are booked on the 12.05pm ferry, so not long to wait.
11.23am
Just arrived at the White cliffs of Dover. Beautiful sunshine here, just queuing to get through all the checks to get in the line for the ferry.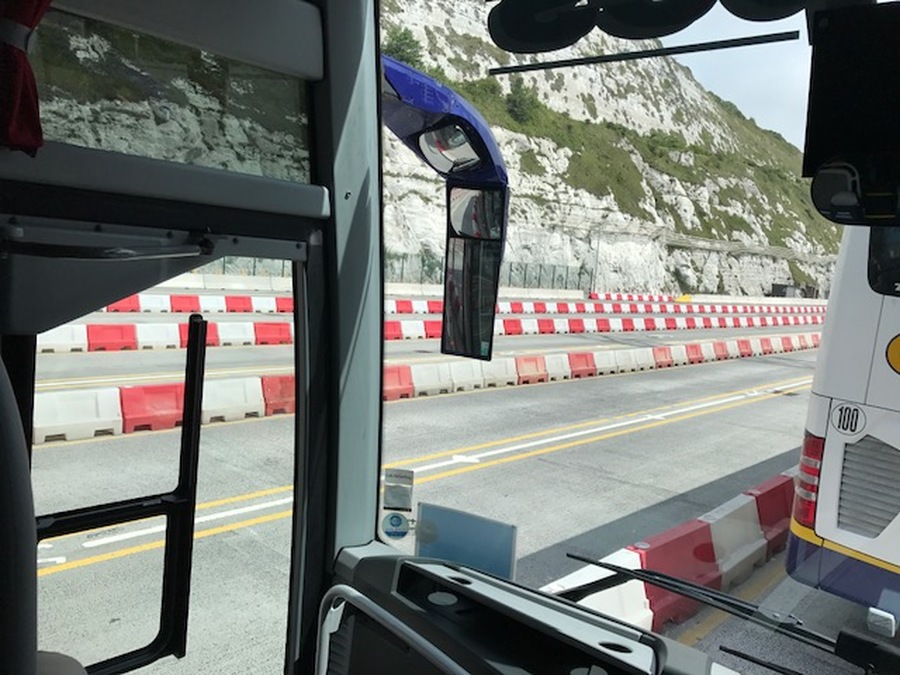 10.34am
Merrick has just filled the coach with fuel and it cost him £430 pounds!! He told us it holds 600 litres!
Just enough to get us to the chateau!
We are about 40 mins from Dover now.
9.40am
Getting close to the Dartford crossing. Then the last part of the journey down to Dover.
8.08am
Left the services now and so next stop Dover!
We have a new driver called Marrick.
The weather is quite cloudy but hopefully sunnier in France.
7.31am
Arrived at the services and eating our snack.
6.58am
Fast approaching the services where we are going to have our breakfast snack. So far there has been lots of sleeping, watched Nanny McPhee and no one has been sick yet!!!!
6.14am
We are just approaching Birmingham and we have been thinking about the things we are excited about.


Miss DaCosta- I am looking forward to walking up all the Eiffel Tower steps :)
Joshua R-I'm looking forward to the beach
Kayden- I am looking forward to going to the market
Max-I'm looking forward to going to the market
Joshua- I am looking forward to go up the Eiffel Tower
Mrs Degg- I'm looking forward to the trip along the river.......and the glorious sunshine
Katie - I'm looking forward to going to bagatelle
Ruby-I'm looking forward to going to the beach.
Luca-I'm looking forward to the water park
Callum-I am looking forward to go on the water park
Miss Walsh- I am looking forward to the trip along the river and the Eiffel Tower.
Liam Yarwood-I am looking forward to playing pétanque.
Matthew Walsh- I am looking forward to seeing bagatelle.
Charley eckersley- I am looking forward to go to the water park
Demi Callaghan-looking forward to the water Park!
Cameron Ennis-looking forward to Eiffel Tower
Brandon Nelson- I am looking forward to seeing the Eiffel Tower and getting to the
Joe Thorpe-I'm looking forward to go to the theme park
Coby- I'm looking forward to go to the river I'm looking forward to go to the water park
Jacob Fletcher- I am looking forward to it all
Godfrey - I'm looking forward to bagatelle parc
Isabelle- I'm looking forward to going to the theme park
Georgie- I'm looking forward to the Eiffel Tower and the theme park
Miss Fraser - I'm looking forward to a baguette and a croissant ;)
4.55am
Miss Da Costa says we were the best class ever for being on time, the quickest we have ever got away.
So off we go to France, keep checking our blog to see what we are up to.
Our driver Steve is taking us to Watford Gap and then a new driver will take us to the chateau.