Robinwood
7th - 9th February 2018
13:31pm
We're on the bus ready to set off after our goodbyes. We've had such a great time, an experience we're not soon to forget. We'll be setting off soon. You can collect us from school at the normal time.
12:38 pm
Just flew through the air on the Zip Wire and Forest have passed the Dungeon of Dooms puzzles. Having lunch now, we'll see you all soon!
10:05am
Hill and Wood have just finished putting their brains to the test in the dungeon of doom. We've just got some extra layers on and are on our way to the challenge course.
8:30am
We are all up, packed and going into breakfast soon. We are excited about our last activities but sad this is our last day. Keep watching us on the blog and we will see you later xx
Thursday 8th February 2018
9:10pm
Reflecting on the day and the challenges we've faced with a biscuit and hot chocolate. Now we're off to bed for a much needed sleep. Goodnight!
8:30pm
We were extremely lucky to get a second chance to challenge ourselves on the Trapeze as this activity is usually reserved for a second Team Challenge. A special mention goes to Jack, Loui, Ellie and Samuel who broke out of their comfort zone to stand triumphant atop the Trapeze.
7:10pm
Forest had tons of fun traversing around the Climbing Wall and being very supportive of each other.
6:50pm
The girls from Hill team really excelled and showed us all how amazing their team work is with their fantastic cooperation, listening and communication.
6pm
Just finished our evening meal and looking forward to our next activities. Hill and Wood will be challenging themselves with the Crate Challenge and Forest will be Climbing.
3:55pm
Forest are in the showers after braving the cold Piranha Pool. They only just made it with 3 seconds to spare before the piranhas were released!
Hill and Wood have just finished Night Line in the rain.
3:30pm
Hill and Wood got together at the lake as we all tried to pass our lake driving license test.
2pm
Hill & Wood had a fantastic time Climbing. Ellie conquered her fears and made it all the way to the top and Sienna proved herself to be more than capable of being the next Spider Girl.
12:30pm
We're all together again, and have finished our lunch. We are now spending our pennies on the tuck shop. After this, Wood & Hill will be facing the Climbing Wall and Forest will be challenging themselves on the Challenge Course.
11:30am
Had a few screams from Wood team in Caving, and Hill team did brilliant. Everyone took part in all the Caving game. Forest were all amazingly behaved on the Giant Swing, nearly everyone swung from the highest height.
9:38am
Wood team had great fun in Archery playing Robin Hood and Maid Marian and Hill team all managed to hit the target, even Mrs Dennett! Well done. Everyone got to level 10 in crate challenge by using great communication and team work.
8am
Good morning! We are up and have just finished our breakfast. Soon we will be getting ready for our first challenges of the day. Forest will be having a go at the Crate Challenge and Wood and Hill will be heading over to the Archery Room.
Wednesday 7th February 2018
10pm
All the kids are settled in bed after a brilliant first day. We're excited for what's to come tomorrow. The children have all pushed themselves today and made the staff very proud. Goodnight!
7.50pm
We're all fed and watered and facing each other in the team challenge! We've tried to squeeze through portals and bounced ping pong balls into buckets and are currently having a dance battle. Pictures will be added soon.
We'll be here until 9pm, then it'll be hot chocolate and bed. Lights out at 10pm
6.30pm
After Forest's try at the Knights Quest and Hill & Woods dip in the Piranha pool, we are all together again in the dining room for good meal.
3.58pm
Just switched over to our new activities. Forest are going Caving and Wood & Hill are tackling the Knights Quest.
3.10pm
Forest have been playing football on the lake in their canoes and Wood team have been conquering their fears on the Trapeze. They have all been to the top! Mrs Dennett tells me that Hill team have been giving it 110%.
Here are some pictures of the Canoeing.
2pm
Almost finished our first activity. Hill and Wood are on the giant swing, everyone did the best they could and were very brave! Forest are facing the brand new Trapeze. Everyone managed to climb to the top. Soon Hill and Wood will switch over to the Trapeze and Forest will have a go at canoeing.
11.15am
We have all arrived safe and sound and are making our beds and meeting our leaders before we have our lunch.
09:23am
Good morning! We are all in the hall saying our goodbyes to our parents and guardians. We are making our final preparations before setting off and are all very excited! We will set off in around 20 minutes.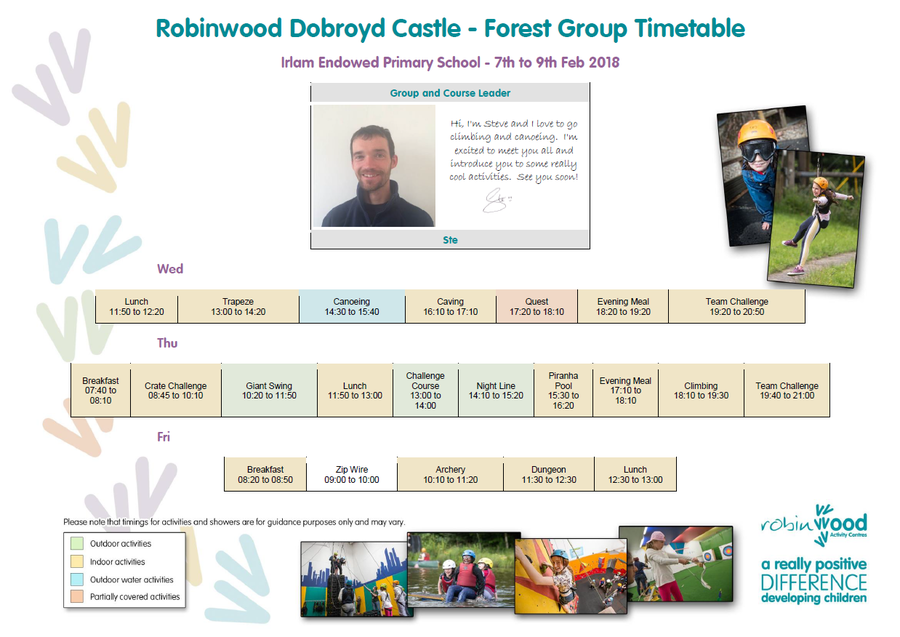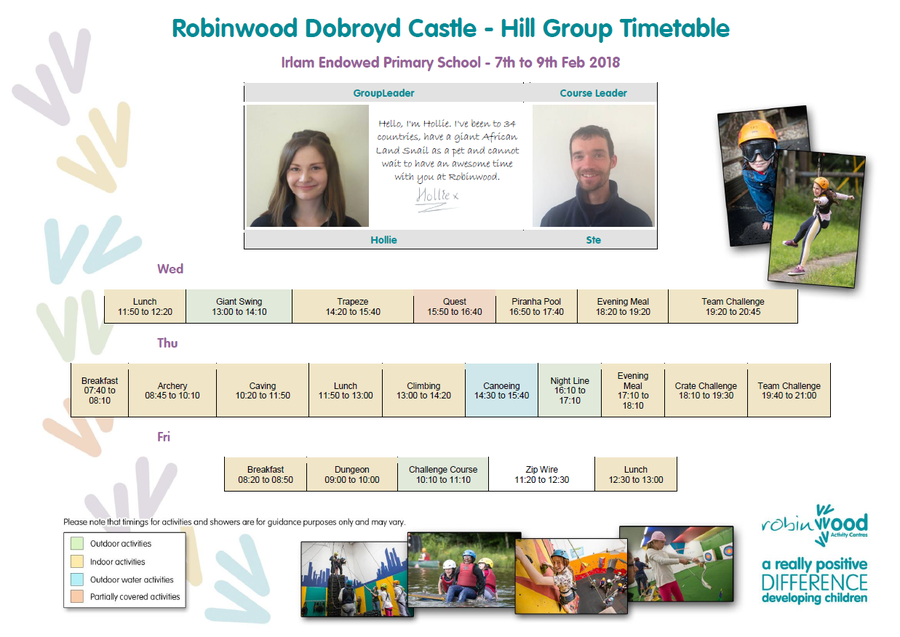 Suggested clothing list
3 T-shirts

3 Sweatshirts / tops

3 Pairs of trousers

1 Pair of shorts

6 Sets of underwear

6 Pairs of socks

1 Pair of trainers (indoor use)

1 Pair of outdoor shoes/boots

2 Towels

1 Coat (if required for the journey)

1 Warm hat

1 Set of nightwear

1 Bag of toiletries