News
Christmas Fair
We had a very busy Christmas with lots of fun being had by all at our events. We held our Christmas Fair in the school hall and it was very well supported. We would like to thank all those who came. We would also like to thank our sponsors for the event:
Barclays,
Tesco,
Kingsland Wine and Spirits,
Namco Bowling at the Trafford Centre,
Orchard Florest,
PTA Committee Elected.
We recently held our Annual General Meeting and the follow were elected to the committee this year:
Chair: Mrs Kelly Price (Year 5 Parent), Mrs Lisa Rabbetts (Year 3 Parent)
Treasurer: Mrs Diane Heaton (School Office Manager)
Deputy Treasurer: Mrs Tracy Whitaker (Teacher, Year 5 parent)
Secretary: Mrs Tracey Banks (Year 5 Teacher).
Summer Fair
This year we were beaten by the weather, with the worst rain we have seen on Summer Fair day for a long time. We were forced to cancel the main fair, however the children were still able to enjoy a range activities inside during the afternoon in the hall. We then held our tombola and raffles at the summer fair where lots of parents and carers supported us.
We would like to say a huge thank you to everyone who supported this years summer fair. activities We made a profit of £198.83, which will be used in school.
We would also like to thank our fabulous sponsors:
Party Delights
Tesco
The Trafford Centre
The Great Wok
Boysnope Golf Club
Delta Force Paintball
Christmas Fair
We held our Christmas Fair at the beginning of December. The event was well attended with everyone excited about the festive season. We had lots of games and craft stalls to get involved with. As a special treat we even had a candy floss stall.
Santa was very happy to see all our children and he chatted with them all afternoon.
We would like to say a very big thank you to all our sponsors for the event. These included:
Kingsland wine and spirits
Namco Bowling, Trafford Centre
Paradise Island Golf, Trafford Centre
Legoland Discovery Centre, Trafford Centre
Barclays Bank
PTA Sponsored Bounce
Thursday 17th October 2013
We held our Annual Sponsored Bounce on 17th October. This is the children's favourite PTA event, as they have fun on our big bouncy castle during the afternoon. All the children took part with some amazing bounces being spotted. We award prizes for this event, so to be considered for the prizes, sponsor forms and money should be returned to school by Friday 8th November 2013. Thanks for your support as always.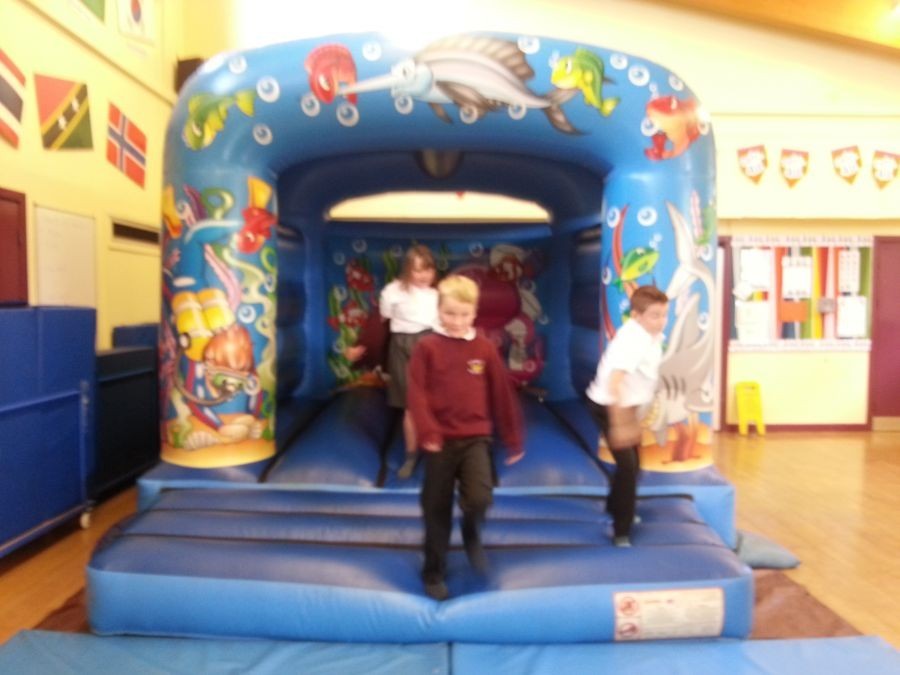 Halloween Infant Fun Night
Thursday 24th October 2013
We held our Halloween Infant Fun Night on 24th October. The event was well attended and the children looked truely terrifying in their spooky costumes. We all had a great time playing games and dancing the night away. Look how spooky we all looked.
Summer Fair 2013
We were lucky with the weather this year and the sun shone brightly all day. We were out on the school field with lots of fun and games during the afternoon. The children loved the bouncy castle and slide. There was cake decorating and lots of games and stalls.
We were joined after school by lots of mums and dads, aunties and uncles, grandmas and grandads and lots of friends, it was lovely to see you all.
We would like to thank the following businesses for sponsoring the event:
Tesco
Marks and Spencer
Forget Me Not
Namco Bowling
Paradise Island Golf
Boysnope Golf Course
Party Delights
The Trafford Centre
GMB Technologies Ltd.
With their help we raised £670.00 at the event
Grand Christmas Raffle
Congratulations to Mrs Brown (ticket number 00713) who won the Playstation 3, Mrs S Whitaker (ticket number 00338) who won the £40.00 M and S voucher and Mrs Murphy (ticket number 00533) who won the bottle of champaigne.
Thank you to all who took part and bought tickets, without your support we would not be able to run the activities and events we do. Have a very merry Christmas and a happy New Year from all on the PTA.
Christmas Fair 2012
We recently held our Christmas Fair and the turn out was fabulous. Santa was able to join us and said how lovely all of our children were and that they had beautiful manners. Our fair was supported by
Paradise Island Golf
Tesco
Richard's barbers
Beautifique
Thank you for your help and continued support.
We made £600 profit from the event which we will use to pay the funding for the new minibus.
Summer Fair 2012
This year we were unlucky with the weather and we had to postpone our summer fair. We rescheduled and then had to hold the event indoors. We had lots of activities, games and stalls to keep everyone having a fun filled afternoon, and the event was well attended.
We would like to thank our sponsors:
Paradise Island Golf
Namco Trafford Centre
The Great Wok
Forget-Me-Not
Kingsland wine and spirits
Tesco
Camelot
Limelight Photography
We would also like to thank all the children and parents who attended the event and all those how helped out organising the day or taking part in the activities.
We made £500 profit from this event and it will be used to support school trips like the Year 4 Robinwood trip and the Year 6 France trip. It will also contribute to the costs of our new mini bus.
Mini Bus Number Two
We have recently purchased a new second mini bus for school. It is similar to the existing minibus but will mean that as a school we will no longer need to hire a second mini bus or a coach for school trips. This will reduce the costs involved in school trips for both school and parents.
The bus has now arrived in school and will be being used in the near futre.