Sports Council
Our Sports Counsellors 2017 - 2018
| | |
| --- | --- |
| Year Six: | Adam & Kgomotso |
| Year Five: | Sean & Brooke |
| Year Four: | Freddy & Lissy |
| Year Three: | Jenson, Harli & Frankie |
| Year Two: | Mae & Kaya |
| Year One: | Isaac & Lacie |
Trip To The Theatre Of Dreams
These children had the once in a lifetime experience of playing on the Old Trafford pitch. This is very unusual as the old Trafford turf is rarely used for anything other than match days.
The children were welcomed onto the pitch with their school name read over the PA system and their school name flashing on the banner boards. The children had a fabulous day playing football activities on the hallowed turf whilst their parents watched from the stands.
This is a memory that they will truly never forget. Mr Scrutton and Mrs Aitken enjoyed the experience too.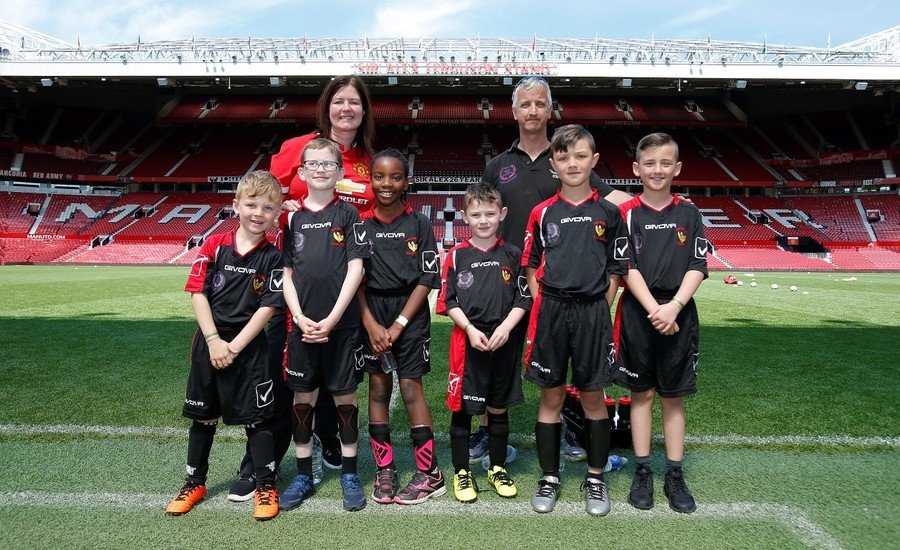 Decathlon
As part of their role. The sports council helped to write a school bid for £5000 to update our wheeled resource toys and to have some fabulous ramps made. The council also decided that we needed some better quality ramps.
Here they are shopping for the wheeled resources at decathlon and there are also some pictures of the children using the ramps and toys.
This programme will hope with the youth sports trust's agenda of 60 active minutes a day.
Last Year~
Meeting on Wednesday 23rd November
Mr Scrutton met with the sports councillors to talk about updating the sports section of the library. They had £100 to spend on books for the library. They discussed what books were already in the library and what books the councillors wanted. The sports councillors then worked in small groups to make a wish list to be given to Mrs Sutcliffe for approval. The list was approved and the books were ordered. The sports council was then given more money to spend.
Meeting on Wednesday 16th November
Absent: Year 3 due to sharing assembly.
Voting:
Today we selected our secretary, treasurer and Chairperson for the sports council:
Chairperson – Georgie
Secretary – Harley
Treasurer – Hannah
Use of School Field
The sports councillors brought class survey sheets to the meeting that their classes had completed. They discussed use of field. The results show that all children are disappointed with the lack of opportunities to use the field for playtimes. We discussed having outdoor and indoor shoes, or having proper facilities to scrap mud off of shoes when field is a little damp.
Sports Kit:
Some of the children have said that it is a shame that we always wear a football kit for all competitions and it would be nice to have a generic sports polo shirt for competitions that are not football based games (wrestling, hockey etc…).
Playground and Lunchtime Equipment:
Request to update rolling toys to have more stunt style scooters and more go-Karts. We discussed the lack of money for this.
There was a discussion about having a stage area and access to music so children could create their own dances and shows on here.
Also a request was made to update the lines on the playground as they have almost disappeared. Plus children asked for more specific lines for popular games they are playing at lunchtimes (dodgeball, basketball, tennis.)