Safe School Award
The Safer Schools Award Scheme
The aim of the award scheme is for schools to work with community partners and specialist officers to help them become safer and more secure places for pupils, staff and visitors. Each school must demonstrate the measures they are taking towards protecting themselves against crime and anti-social behaviour.
The Safer Schools Award benefits school in the following ways:
Demonstrates a commitment to effective security and risk management within school.
Provides official recognition of the schools achievements by the way of the Safer Schools Award Certificate.
Demonstrates a commitment to the empowerment of Salford's young people.
Develops stronger links with local agencies like the police, fire service and youth group organisations.
Offers continuous support and consultation services of specialist officers.
Provides an opportunity for visible signage to be displayed around the school premises.
Provides a consistent approach to school security audits.
Gold Award
We have now been awarded the Safer Schools Gold Award. It was presented to Mr Gerrard and some of the children recently. The certificate is now hanging proudly in our entrance hall. Mr Gerrard will continue to carry one working to maintain and improve the safety of the school for the children, staff and visitors. Well done to everyone who helped us to achieve this milestone.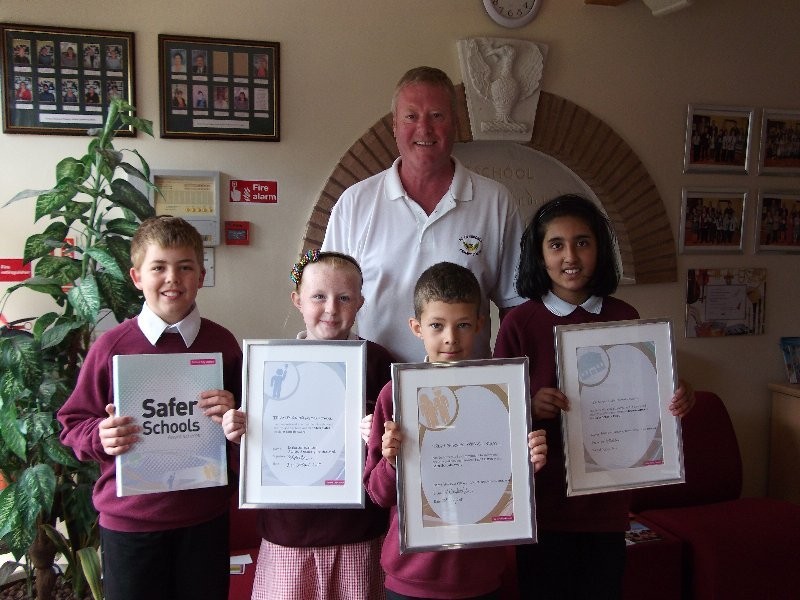 Gold Award
We have recently started working towards the Gold Award and when these activities are confirmed we will share them with you. Please check back and see our progress.
Year One have helped Mr Gerrard by taking part in a road safety programme called Ding Ding. We played games on the computer with Mrs Lek all about road safety and we learned about crossing the road and being safe. Here are some of the things we looked at on the computer.
Silver Award
We were awarded the Silver Award on 21 October 2010.
To achieve this we had to:
Carry out a Suzy Lamplugh 'Travelling to school safely' activity and complete a self-evaluation. We found out how children travelled to school, whether by car, bus, on foot or other means. We then looked at routes to school and thought about which would be the safest to take.
Develop a school travel plan with Urban Vision's School Travel Advisor. The plan set out initiatives to encourage more pupils and staff to walk, cycle or use public transport to get to school. The plan also covers issues like parking, travel patterns and measures that could be implemented to reduce these issues and provide us with a more sustainable travel pattern.
We worked with Urban Vision's Road Casualty Reduction Group to communicate the road safety message to our pupils, staff and parents. This included work on road safety for pedestrians, cyclists and passengers.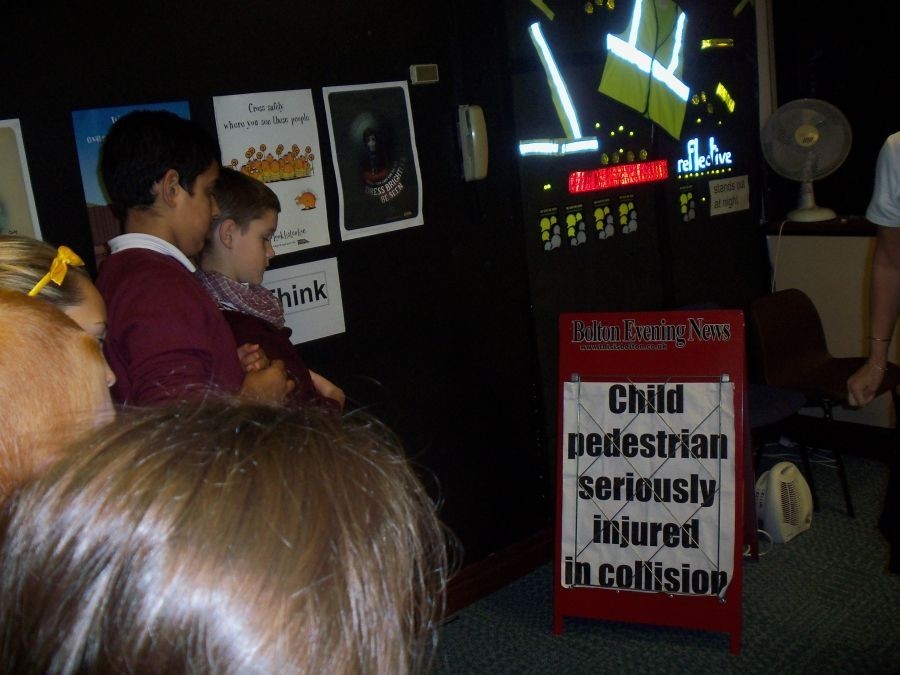 We did an 'Influences and Choices' sessions with the Salford City Council's Behaviour and Education Support Team (BEST). This aimed to raise awareness of the effects of positive and negative influences in the lives of our children. Topics explored included the importance of attending school, diversity awareness and drug and alcohol abuse. The children learned how the choices they make have a direct consequence on their lives, and how they can respond appropriately to negative influences.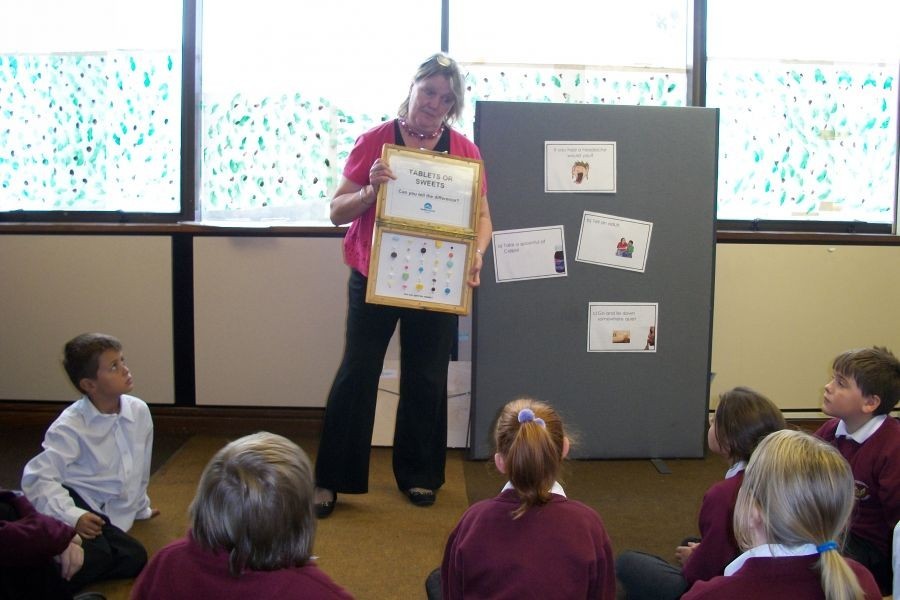 Bronze Award
We were awarded the Bronze award on 14th July 2010.
To achieve this award we:
We asked the juniors to complete a questionnaire about how safe they feel in school and the local environment. We used the information from this to update our school security policy. We also used the information to create a Fire and Safety summery for supply teachers and visitors.
We worked with the local Greater Manchester Fire and Rescue Service to introduce the Fire Watch Programme into our school. This involved direct involvement from pupils identifying potential hazards and increasing their awareness of fire risks at school and home.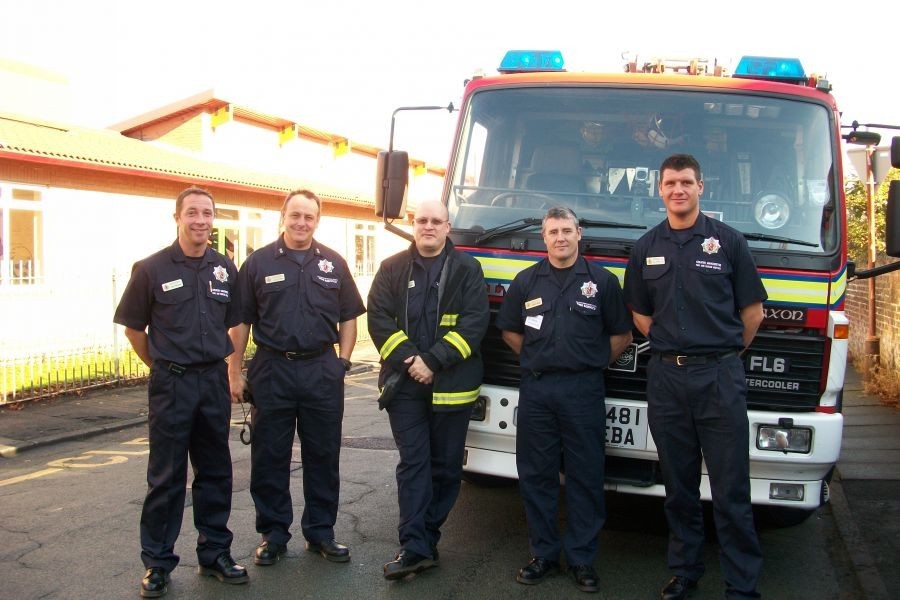 We organised a property marking drive for all valuable equipment throughout school. We arranged a separate event to mark pupil's personal items such as bicycles and mobile phones. We also encouraged pupils to register their valuables on

www.immobilise.com

which is supported by all UK police forces.

We encouraged pupils to explore the Crimestoppers youth website and play the interactive games at www.shadowcs.co.uk. This was a classroom based activity with the juniors.